| | |
| --- | --- |
| | WARNING: This series contains scenes of blood, occasional graphic violence, gun violence, and murder. Viewer discretion is advised! |
For the series' main character, Build, see Sento Kiryu.
Kamen Rider Build (仮面ライダービルド, Kamen Raidā Birudo) is a Japanese tokusatsu drama in Toei Company's Kamen Rider Series. It is the nineteenth and penultimate series for a full Heisei period run and the twenty-eighth series overall. The series started on September 3, 2017, joining Uchu Sentai Kyuranger

 in the Super Hero Time line-up after the finale of Kamen Rider Ex-Aid. After Kyuranger concluded on February 4, 2018, the series was joined by Kaitou Sentai Lupinranger VS Keisatsu Sentai Patranger

in the Super Hero Time line-up. After the finale of Kamen Rider Build, Kamen Rider Zi-O joined Lupinranger VS Patranger on the Super Hero Time block.
The tagline of the series is "Now, shall we begin the experiment? (さぁ、実験を始めようか。, Sa, jikken o hajimeyou ka?). One of the underlying motifs of this season is science and scientific principles.
The average ratings of the series was 3.22%.[1]
Plot
"It has been 10 years since the Pandora Box was discovered on Mars and caused the Sky Wall tragedy. Our country was divided into Touto, Seito, and Hokuto, resulting in untold chaos."
―Narrator
"It has been 10 years since the Sky Wall tragedy. In the attempt to open the Pandora Box and release its massive amount of energy capable of destroying the world...a new battle has begun."
―Narrator
"The Pandora Box, which contains enough energy capable to destroy the Earth, has finally been opened. The alien lifeform Evolto controls that power...but the Kamen Riders stand against him!"
―Narrator
10 years ago, the Pandora Box was discovered on the planet Mars and brought forth a catastrophe that would forever change the country of Japan. In the years following the Sky Wall Disaster, the rising of the Sky Wall divided the country into three warring territories: Touto (Eastern Capital), Hokuto (Northern Capital) and Seito (Western Capital), and created a series of unidentified monsters known as Smash that relentlessly attack the public. To combat this chaos, the Touto government requested the help of Sento Kiryu, a genius and prodigious physicist to help decipher the mysteries left behind by both the Pandora Box and the Smash. Alongside prison escapee Ryuga Banjo, who was wrongfully framed for a murder he did not commit, the duo embark on a journey as Kamen Riders to uncover the mysteries surrounding the Pandora Box, the Smash, and their own pasts. Their journey would not come easy as they face adversaries from Hokuto and Seito, whom they must ultimately confide in if they are to have any hope in stopping their mutual enemy, Evolto from destroying the planet that they hold dear.
Characters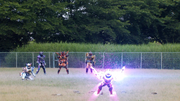 Kamen Riders
TV Show
Movie/Special-exclusive
Allies
Castle Hard Smash
Akaba
Castle Hazard Smash
Stag Hard Smash
Aoba
Stag Hazard Smash
Owl Hard Smash
Kiba
Owl Hazard Smash
Others
Villains
Washio Brothers
Touto
Ordinary
Hazard
Hokuto
Smash
Seito
Clone Smash
Other
Other
Lost Smash
Bugsters
Episodes
Main article: Kamen Rider Build Episodes
Similar to the previous series, half of each episode's title is an English word, though spelled in katakana instead of English letters, and the other is written in kanji, similar to the transformation announcements of most Best Match Forms. Most of the episodes contain formulas from mathematics or physics to form each episode number in the title cards.
This series is divided into 3 arcs:[2][3]
Episode 1-16: Chapter One: This arc deals with Sento meeting Ryuga as he attempts to help him clear his name while collecting bottles from Smash created by Faust. The main antagonists of this arc are Blood Stalk and Night Rogue.
Episode 17-28: Chapter Two: This deals with Touto's battle against the other two nations of Japan, Hokuto and Seito. It also features the debut of Grease, Rogue, the Hokuto Sanbagrasu, the Hell Bros, the Sclash Driver, and the Hazard Trigger.
Episode 29-49: Chapter Three: This deals with the rise of the Pandora Tower, the reveal of Evolto and his rider form, as well as the Riders uniting to save Earth from being destroyed by a black hole.
Movies
Specials
Stageshows
Kamen Rider Build: Special Event (

仮面ライダービルド スペシャルイベント

Kamen Raidā Birudo Supesharu Ibento

)
Kamen Rider Build: Final Stage (

仮面ライダービルド ファイナルステージ

Kamen Raidā Birudo Fainaru Sutēji

)
Other media
Manga
Kamen Rider Build: Science Creation Chapter (

幪面超人BUILD【科學創界篇】

Mung Min Chiu Yan Build Fo Hok Cong Gaai Pin

)
Novel
Kamen Rider Build (

小説 仮面ライダービルド

Shōsetsu Kamen Raidā Birudo

)
 
Games
The following video games feature characters from Build.
Cast
Suit actors
Theme songs
Main article: Kamen Rider Build: Best Song Collection
Opening theme
Episodes 1, 12, 16, 17, 38, and 49 do not feature the show's opening sequence. This song is used as the ending theme in episodes 1, 12, 38, and 49 and as an insert song in episodes 16, 17, and 39.
Insert themes
Notes
This series ran through 2018, the 80th anniversary of Shotaro Ishinomori's birth.
This series will be the final Rider series to have a full televised run in the Heisei Era; the series after Build will be in a similar position to Kamen Rider Black RX in that it will run during the transition of reigning emperors. Emperor Akihito will abdicate the throne in April 30, 2019[4] to his son Prince Naruhito, thus beginning the Reiwa era of Japan.
With this series, Kamen Rider's timeslot changes from 8am to 9am starting in October.
This series opening credits reuse the same font style that was used in Kamen Rider Ex-Aid.
This Kamen Rider series shares some similar elements with its first Super Hero Time partner, Uchu Sentai Kyuranger.

Both take place in separate universes from their respective franchises.
The heroes from both series visited their respective franchises' main universes and they met and fought alongside some of their predecessors who live there.

This is the first series since:

Kamen Rider Ghost to not have a Super Hero Taisen film air during its run.
Kamen Rider Gaim to not feature characters from the succeeding series to appear in the final episode.
Kamen Rider Wizard to premiere in September and to not to have a Spring Crossover with a co-airing Super Sentai series.
Kamen Rider Fourze to have a female vocalist sing its opening theme.
Kamen Rider W to not appear in the Spring film during its run and to feature a main item from the succeeding season.
Kamen Rider Decade to use only "Form" in naming the Rider's forms instead of using a unique term like Combo, States, etc.
Kamen Rider Kabuto to neither have a female Rider in the TV series, Movies or Specials.
The entirety of the franchise to have its opening theme song performed by a non-native Japanese vocalist.

In keeping with the science motif, a few of the equations, graphs, formula and matrix seen in the background or Rider's finisher in the show are based on math, scientific theories or scientific principles. These objects are provided by professors from Keio University, Kyushu University, Kyoto University and JSPS after a discussion of how to show characters' emotion symbolically.[5]
References
External Links
Community content is available under
CC-BY-SA
unless otherwise noted.