| | |
| --- | --- |
| | WARNING: This series contains scenes of blood, occasional graphic violence, gun violence, and murder. Viewer discretion is advised! |
For the series' main character, Build, see Sento Kiryu.
Kamen Rider Build (仮面ライダービルド, Kamen Raidā Birudo) is a Japanese tokusatsu drama in Toei Company's Kamen Rider Series. It is the nineteenth and final series for a full Heisei period run and the twenty-eighth series overall. The series started on September 3, 2017, joining Uchu Sentai Kyuranger

 in the Super Hero Time line-up after the finale of Kamen Rider Ex-Aid. After Kyuranger concluded on February 4, 2018, the series was joined by Kaitou Sentai Lupinranger VS Keisatsu Sentai Patranger

in the Super Hero Time line-up. After the finale of Kamen Rider Build, Kamen Rider Zi-O joined Lupinranger VS Patranger on the Super Hero Time block.
The tagline of the series is "Now, shall we begin the experiment?" (さぁ、実験を始めようか。, Sa, jikken o hajimeyou ka?). One of the underlying motifs of this season is science and scientific principles.
Plot
10 years ago, the "
Pandora Box
" was found on Mars. On Earth, it created walls that divided Japan into
Touto
(Eastern Capital),
Hokuto
(Northern Capital) and
Seito
(Western Capital) and brought along the Smash, unidentified lifeforms that attack people.
Sento Kiryu, a prodigy physicist, transforms into Kamen Rider Build to fight the Smash.
The Touto government requests his help in deciphering the mystery behind the Pandora Box and the Smash. There is one mystery not even Sento can solve: his own past. The only memory he has left for more than 20 years is the existence of a sinister figure called Night Rogue. There is one man who holds the key to Sento's memories: A prison escapee by the name of Ryuga Banjo, who adamantly denies committing the murder he is accused of. Misora Isurugi, who works with Sento, has the ability to purify the harmful components the Smash are made of.
Sento transforms into Kamen Rider Build in order to uncover the mystery surrounding the Pandora Box, the Smash and his amnesia.
Characters
Kamen Riders
TV Show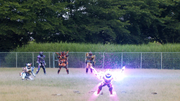 Movie/special-exclusive
Allies
Others
Villains
Namba Heavy Industries Ltd.
Washio Brothers
Touto
Ordinary
Hazard
Hokuto
Castle Hard Smash
Akaba
Castle Hazard Smash
Stag Hard Smash
Aoba
Stag Hazard Smash
Owl Hard Smash
Kiba
Owl Hazard Smash
Smash
Seito
Clone Smash
Other
Other
Lost Smash
Bugsters
Episodes
Main article: Kamen Rider Build Episodes
Similar to the previous series, half of each episode's title is an English word, though spelled in katakana instead of English letters, and the other is written in kanji. Most of the episodes contain formulas from mathematics or physics to form each episode number in the onscreen titles.
Movies
Specials
Stageshows
Kamen Rider Build: Special Event (

仮面ライダービルド スペシャルイベント

Kamen Raidā Birudo Supesharu Ibento

)
Kamen Rider Build: Final Stage (

仮面ライダービルド ファイナルステージ

Kamen Raidā Birudo Fainaru Sutēji

)
Other media
Manga
Kamen Rider Build: Science Creation Chapter (

幪面超人BUILD【科學創界篇】

Mung Min Chiu Yan Build Fo Hok Cong Gaai Pin

)
Games
The following video games feature characters from Build.
Cast
Suit actors
Notes
References
External Links