| | |
| --- | --- |
| | This article is about a/an rider form used by several identities in the Kamen Rider Series. |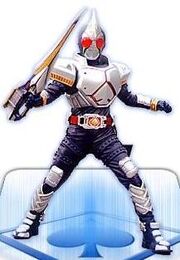 Kamen Rider Blade may refer to any the following characters.
Imitations
Forms
Kenzaki mostly assume as Kamen Rider Blade. As Blade, he harnesses the Beetle Undead DNA from the ♠A: "Change Beetle" Rouse Card, utilizing the Blay Buckle Rider System to fuse with the Beetle Undead's DNA. With the Blay Rouzer saber, he can "rouse" a sealed Suit-Spade Undead's power to utilize personally or use Proper Blanks to seal the Undead.
Rider Cards
Several Rider Cards allow Tsukasa Kadoya/Kamen Rider Decade to access the power of Blade.
KamenRide Card: Regained when Tsukasa shows Kazuma that even followers are important as leaders.Blade Blade Decade uses the card to assume the form of Blade's Ace Form. A KamenRide: Blade card is also possessed by Diend, which he uses to summon Blade. First used in the World of Agito to fight the Lords.
Final KamenRide Card: When Kamen Rider Decade is in his Complete Form, he uses the K-Touch to summon the Final Forms of the Nine Heisei Riders. After he presses the Rider's symbol, a card of that Rider's Final Form appears in a set of nine on Kamen Rider Decade's chest. The Blade King card summons Kamen Rider Blade King Form, armed with the King Rouzer. Using the Blade Final AttackRide card allows Decade to execute a Royal Straight Flush-style attack alongside Blade King Form.
AttackRide Cards: These cards allow Decade to perform any of their own attacks, Decade is also able to use any signature attacks of whatever Kamen Rider he has transformed into. The Blade Attack Ride Cards allow Decade as Blade to invoke the power of the Rouse Cards.

Metal: As Blade, Decade invokes the power of the Seven of Spades Rouse Card, Metal Trilobite, to enhance resilience to physical harm by transmutating his body into organic metal.
Mach: As Blade, Decade invokes the power of the Nine of Spades Rouse Card, Mach Jaguar, to enhance his speed and agility.
Final FormRide Cards: The Blade Blade card transforms Blade into a larger version of the Blay Rouzer.
Final Attack Ride Card: With the Blade Blade, Decade/Diend performs the Decade/Diend Edge where the Blade Blade charges with electricity then is slashed down to make a huge electric shockwave similar to Blade's Lightning Slash. The same card can be used by Decade while as Blade, executing Blade's Lightning Blast kick.
Equipment
Device
Weapons
Vehicle