This article is about a/an rider form used by several identities in the Kamen Rider Series.
Kamen Rider Blade may refer to any the following characters.
Imitations
Derivations
Forms
The Kamen Rider with a Spade (♠) Suit Rouse Card, use Blay Buckle to transform by wearing Blade Armor (ブレイドアーマー Bureido Āmā). With a beetle's motif, and red-colored compound eyes. Specializes in sword fighting with dedicated swords in all three forms.
Legend Rider Devices
Several Rider Cards allow Tsukasa Kadoya/Kamen Rider Decade to access the power of Blade.
KamenRide Card: Regained when Tsukasa shows Kazuma that even followers are important as leaders.Blade Blade Decade uses the card to assume the form of Blade's Ace Form. A KamenRide: Blade card is also possessed by Diend, which he uses to summon Blade. First used in the World of Agito to fight the Lords.
When Kamen Rider Decade is in his Complete Form, he uses the K-Touch to summon the Final Forms of the Nine Heisei Riders. After he presses the Rider's symbol, a card of that Rider's Final Form appears in a set of nine on Kamen Rider Decade's chest. The Blade King card summons Kamen Rider Blade King Form, armed with the King Rouzer. Using the Blade Final AttackRide card allows Decade to execute a Royal Straightflash-style attack alongside Blade King Form.
These cards allow Decade to perform any of their own attacks, Decade is also able to use any signature attacks of whatever Kamen Rider he has transformed into. The Blade Attack Ride Cards allow Decade as Blade to invoke the power of the Rouse Cards.
Metal: As Blade, Decade invokes the power of the Seven of Spades Rouse Card, Metal Trilobite, to enhance resilience to physical harm by transmuting his body into organic metal.
Mach: As Blade, Decade invokes the power of the Nine of Spades Rouse Card, Mach Jaguar, to enhance his speed and agility.
The Blade Blade card transforms Blade into a larger version of the Blay Rouzer.
With the Blade Blade, Decade/Diend performs the Decade/Diend Edge where the Blade Blade charges with electricity then is slashed down to make a huge electric shockwave similar to Blade's Lightning Slash. The same card can be used by Decade while as Blade, executing Blade's Lightning Blast kick.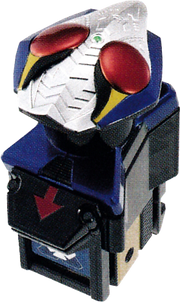 The Blade Module (ブレイドモジュール, Bureido Mojūru) is the legendary Fourze Module based off of Kamen Rider Blade, which is equipped on the right leg of Kamen Rider Fourze via the cross-based Blade Switch (ブレイドスイッチ, Bureido Suitchi). Reminiscent of Blade's Blay Rouzer, the Blade Module allows Fourze to perform Blade's Lightning Slash finisher
Blade Lockseed (

ブレイドロックシード

Bureido Rokkushīdo

): Allows the user to transform into Blade Arms, equipped with the Blay Rouzer. The core image depicts the Blay Buckle while the lid backside image depicts the Change Beetle Rouse Card. Baron/Gridon-styled Lockseed.

Transformation: Blade Arms: Sword of Spa~de! (

ブレイドアームズ・ソード オブ スペード!

Bureido Āmuzu - Sōdo obu Supēdo!

)
Signal Legend Blade (

シグナルレジェンドブレイド

Shigunaru Rejendo Bureido

, Based on Kamen Rider Blade's Blue Spader): Allows Mach to activate a Kourin Signal Legend. When used in the DX Drive Driver, it gives the sound for a Tire Exchange into Drive: Blade (

ドライブ・ブレイド

Doraibu - Bureido

).
"Kaigan! Blade! (Blay Buckle standby noises) Kazasu Blade! Trump wa Spade! (Blay Buckle transformation sounds)"
―Transformation announcement with Ghost Driver
"Tengan! Ghost! Mega Ulord!"
―Transformation announcement with Mega Ulorder
Blade Ghost Eyecon (ブレイドゴースト眼魂, Bureido Gōsuto Aikon) is one of the 16 title Kamen Riders' Ghost Eyecons. It shows the number R05 on its Startup Time setting, Blade's face on its Transformation Time setting, and Blade's symbol on its Move Invocation Time setting.
Blade Ridewatch (ブレイドライドウォッチ, Bureido Raidowotchi): Based on Kamen Rider Blade Ace Form, this Ridewatch provides access to the BladeArmor used by Zi-O. It is dated 2004.
Blade King Form Ridewatch (ブレイドキングフォーム, Bureido Kingu Fōmu Raidowotchi): Based on Kamen Rider Blade King Form, this Ridewatch would provide access to a corresponding Rider Armor. It is dated 2004, but shown on the Ziku-Driver's screen as FIN.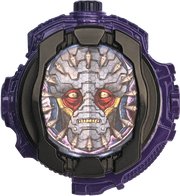 Another Blade Watch (アナザーブレイドウォッチ, Anazā Bureido Wotchi): A twisted version of the Blade Ridewatch used to transform into Another Blade.
TurnUpping Blade Progrisekey (ターンアッピングブレイドプログライズキー, Tānappingu Bureido Puroguraizu Kī): Based on Kamen Rider Blade, this Progrisekey's ability is "Joker".[4]
"Kouchuu Yuugi Blade!"
―Activation announcement
The Kouchuu Yuugi Blade Wonder Ride Book (甲虫遊戯ブレイドワンダーライドブック, Kōchū Yūgi Bureido Wandā Raido Bukku, lit. "Rhinoceros Beetle Game Blade Wonder Ride Book") is based on Kamen Rider Blade and his forms.[5]
Equipment
Appearances
References
Community content is available under
CC-BY-SA
unless otherwise noted.