| | |
| --- | --- |
| | WARNING: This series contains scenes of blood, graphic violence, occasional alcohol drinking, and scary images. Viewer discretion is advised! |
For the series' main character, Blade, see Kazuma Kenzaki.
Kamen Rider Blade (仮面ライダー剣[ブレイド], Kamen Raidā Bureido, Masked Rider ♠ or Blade), is a Japanese tokusatsu superhero television series. It is the fourteenth installment in the Kamen Rider Series. It aired on TV Asahi from January 25, 2004 to January 23, 2005. It aired alongside Tokusou Sentai Dekaranger

for Super Hero Time 2004. It is a joint collaboration between Ishimori Productions and Toei. It is also the last Kamen Rider series to run on 60 fps. Along with the standard insect motif of the Kamen Rider series, Kamen Rider Blade also uses a playing card motif. Each Rider is assigned one of the suits from a deck of cards. The series catchphrases are "Now your power is at its peak." (今、その力が展開する, Ima, sono chikara ga tenkai suru) and "Take the trump card of fate!" (運命の切札をつかみ取れ!, Unmei no kirifuda o tsukamitore!).
Blade was later released on DVD by Toei. There were twelve volumes released with the first eleven having four episodes per DVD and the twelfth volume with five episodes.
The average ratings of the series was 7.9%.[1]
Story
Ten thousand years ago, a massive battle known as the Battle Royal was fought by fifty-two demons known as the Undead, each representing a species fighting for dominance over all others. The winner was the Human Undead, known as Category Two of Hearts, giving dominion of the Earth to humanity. In the present day, archaeologists discover the sealed Undead, and accidentally set them free. Thus, a new Battle Royal begins.
Having developed the Rider System, based on the Joker's ability to copy sealed Undead, the organization BOARD (Board Of Archaeological Research Department) equips two young men, who become Kamen Riders: Kazuma Kenzaki and Sakuya Tachibana fight together as Kamen Rider Blade and Kamen Rider Garren to protect humans from Undead and seal them. Also fighting Undead is the mysterious Chalice, a Kamen Rider whose purpose is unknown. In addition, a young man struggles to free himself from the control of the sealed Undead powering his own Undead-made Rider System, fighting as Kamen Rider Leangle.
Characters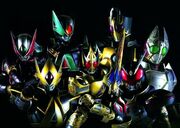 Kamen Riders
TV Show
Movie/Special-exclusive
Novel-exclusive
Stageshow-exclusive
Shirai Residences
Jacaranda Cafe
Kamen Riders
BOARD
Other
Undead
Main article: Undead
Category Ace
Category 2-10
Spade
Diamond
Clover
Heart
Royal Clubs
Spade
Diamond
Clover
Heart
Jokers
Others
Episodes
Main article: Kamen Rider Blade Episodes
Movies
Kamen Rider Blade: Missing Ace (

劇場版 仮面ライダー剣 MISSING ACE

Gekijōban Kamen Raidā Bureido Misshingu Ēsu

)
Specials
Kamen Rider Blade: Blade vs. Blade (

仮面ライダー剣(ブレイド) ブレイドVSブレイド

Kamen Raidā Bureido: Bureido Buiesu Bureido

)
Kamen Rider Blade: New Generation (

仮面ライダー剣(ブレイド) ニュージェネレーション

Kamen Raidā Bureido: Nyū Jenerēshon

)
Drama CD
Drama CD: Kamen Rider Blade -The Whereabout of Trump- (

ドラマCD:仮面ライダー剣 -切り札の行方-

Dorama CD Kamen Raidā Bureido Kirifuda no Yukue

)
Stageshows
Kamen Rider Chushingura (

仮面ライダー忠臣蔵

Kamen Raidā Chūshingura

)
Kamen Rider Super Live: Seal It! Blade Strongest Battle (

仮面ライダースーパーライブ 封印せよ!ブレイド最強バトル

Kamen Raidā Sūpā Raibu Fūin Seyo! Bureido Saikyō Batoru

)
Other media
Manga
Kamen Rider Blade (manga) (

仮面ライダー剣

Shōsetsu Kamen Raidā Bureido

)
S.I.C. Hero Saga
Novels
Kamen Rider Blade (novel) (

小説 仮面ライダーブレイド

Shōsetsu Kamen Raidā Bureido

)
Kamen Rider Blade: Twilight (

小説・仮面ライダー剣"たそがれ"

Shōsetsu Kamen Raidā Bureido Tasogare

)
Cast
Suit actors
Songs
Opening themes
After his performance in "ELEMENTS," Ricky was made into RIDER CHIPS' permanent vocalist.
Ending themes
Video game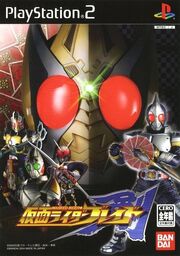 A video game based on the series was produced by Bandai for the Playstation 2. It is a fighting game that featured many of the characters from the TV series. It was released only in Japan near the end of the TV series on December 9, 2004.

Notes
External links
References
Community content is available under
CC-BY-SA
unless otherwise noted.