This article refers to the Black RX from Kamen Rider SD. For the original from Kamen Rider Black RX, see Kotaro Minami.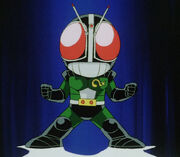 Black RX: The newest Kamen Rider and star of the animated short. Black RX is still new to being a Kamen Rider and often leaps before he looks. In the movie, he has fallen in love with an instructor at a local sports club, which GranShocker kidnaps in a plan to destroy the Kamen Riders once and for all. He has been paired up in a team with Kamen Rider #1 and Kamen Rider ZX, the latter of which has taken a liking to teasing the young Rider. His finishing move is slashing his enemies with his Revolcane sword. He rides in a modified version of the Acrobatter motorcycle.
Unlike later crossovers which feature Black and Black RX side by side, only RX appears in this OVA.
Video Game appearances
Kamen Rider SD: Sortie!! Rider Machines
The SD Kamen Rider Black RX is playable in the sidescrolling vehicular combat video game, Kamen Rider SD: Sortie!! Rider Machines.
Appearances