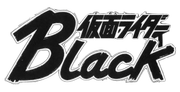 Kamen Rider Black (仮面ライダーBlack, Kamen Raidā Burakku) is a manga adaptation of Kamen Rider Black, which ran in Shōnen Sunday from 1987-1988. The focus of the story is on Kamen Rider Black, Kohtaro Minami. Created by Shotaro Ishinomori,
Synopsis
In a dark alley in New York City, A strange person was running from a monster. Unable to remember anything, he was attacked by someone. Meanwhile in another part of the town, a news crew investigates about monsters below the city.
They meet the monster and before they know anything, a giant crocodile attacks and they encounter a man, a dark-looking man carrying someone.
Trying to save the man, Sam attacks that person. But before understanding anything, they caught up in a real mess and Sam died when he was attacked by the monster. That big man showed up from the water and attacked everyone. When Keith tries to help the mysterious man, a crocodile attacks and brings the man into the water.
The monster doesn't seem to let anyone escape and attacks them, not realizing that something is showing up and attacking him. This makes Keith and Jack escape the scene. In their run, they meet the mysterious man whose name was Kotaro Minami from Japan. But he doesn't remember anything unless he was brought into a strange place that brainwashed him.
They then meet the monster. In that moment, Kotaro transforms into a monster and attacks another monster. Both collapse the place and Kotaro saves the TV crew. But the news about this is hidden away. Now Jack and Keith, with help of Kotaro, have a journey to discover Kotaro's memories and an organization behind this monster.
List of Volumes
Image
Vol No.
Chapters

Volume 1
New York: Underground
Paris : Phantom of the Opera
Paris - London : Winged Beast

Volume 2
London : Jack the Butcher
Kyoto : Return home to Ichijoji
Kohahusho : Legend of White Snake (Part 1)

Volume 3
Kohahusho : Legend of White Snake (Part 2)
Tokyo : Conceited City
Naha : Legend of Giant Lion Statue

Volume 4
Athena : Gods Empire
Korakuen : A Giant Egg
Hyogo : Treasure of the Dead (Part 1)

Volume 5
Hyogo : Treasure of the Dead (last part)
Kyoto : Silent House
Australia : Unique Continent (beginning)
Kyoto : Nobuhiko Returns
Tokyo : Monster Wang Wung
Kyoto : Shark Monster in the Pool
Australia : Unique Continent (Chapter 1)

Volume 6 (Final book)
Nara : Coronation Ceremony
Nepal : Last Fun before die
Australia : Unique Continent (Chapter 2)
Tokyo 1999
Characters
Notes
This manga also have a crossover with Ishinomori's another manga, HOTEL.
Kohtaro's birth parents' name was revealed in this manga: Un Minami (

南光 雲

Minami Un

) and Tomoko Minami (

南光 トモコ

Minami Tomoko

).
External Links