(86 intermediate revisions by one other user not shown)
Line 1:
Line 1:
 

{{ArticleAmazons|movie}}

 

{{ArticleAmazons|movie}}

 
+

{{ViewerAdvisory|movie|graphic violence, body horror, blood, cannibalism, gun violence, mild language and several slashes and body dismemberment}}

 
+

{{stub}}

 

{{MediaInfo

 

{{MediaInfo

 

|movie=yes

 

|movie=yes

 

|series = Kamen Rider Amazons

 

|series = Kamen Rider Amazons

−

|image =

+

|image =

−

|releasedate = Spring 2018

+

|releasedate = 2018

 
+

|writer = [[Yuya Takahashi]] (supervised by [[Yasuko Kobayashi]])

−

|writer =

 
−

|director =

+

|director =

 

|previous = AMAZONZ (season 2)

 

|previous = AMAZONZ (season 2)

 

|next =

 

|next =

−

|previousspecial =

+

|previousspecial =

−

|nextspecial =

+

|nextspecial =

 

|titlecard =

 

|titlecard =

 

}}

 

}}

−

{{nihongo|'''''Kamen Rider Amazons: Final Edition'''''|仮面ライダーアマゾンズ 完結編|Kamen Raidā Amazonzu Kanketsu-hen}} is the tentative title of the film set to conclude the story of ''[[Kamen Rider Amazons]]'', which aired on [[Amazon Prime]] over two seasons in 2016 and 2017. It is set to be released in theaters in spring 2018.<ref>https://natalie.mu/eiga/news/260248</ref>

+

{{nihongo|'''''Kamen Rider Amazons: '''''|仮面ライダーアマゾンズ |Kamen Raidā Amazonzu film the story of ''[[Kamen Rider Amazons]]'', which aired on [[Amazon Prime]] over two seasons in 2016 and 2017. It is released in theaters 2018.

 
+
 
+

It was announced in a teaser shown following the premiere of ''[[Kamen Rider Heisei Generations FINAL: Build & Ex-Aid with Legend Riders]]''. A teaser trailer was shown during the broadcast of [[The Devil's Trigger|Build's 20th episode]]. The first official trailer was released on March 3, 2018.

 
 
 

==Synopsis==

 

==Synopsis==

Line 20:
Line 24:
 
 
 

==Characters==

 

==Characters==

 
+

===Kamen Riders===

 
+

{|

 
+

| style="background-color: LimeGreen; " |<font color="#ee0000">Kamen&nbsp;Rider&nbsp;Amazon (New)&nbsp;Omega</font>

 
+

|[[Haruka Mizusawa]]

 
+

|-

 
+

| style="background-color: #ee0000; " |<font color="LimeGreen">Kamen&nbsp;Rider&nbsp;Amazon&nbsp;Alpha</font>

 
+

|[[Jin Takayama]]

 
+

|}

 
+
 
+

===Supporting Characters===

 
+

{|

 
+

| style="background-color: Brown; " |<font color="#ffffff">Squirrel&nbsp;Amazon </font>

 
+

|[[Muku]]

 
+

|-

 
+

| style="background-color: Blue; " |<font color="#ffffff">Sea Snake&nbsp;Amazon </font>

 
+

|[[Mina (Amazons)|Mina]]

 
+

|-

 
+

| style="background-color: DarkGreen; " |<font color="#ffffff">Snapping Turtle&nbsp;Amazon </font>

 
+

|[[Yoji]]

 
+

|-

 
+

| style="background-color: Gold; " |<font color="#ffffff">Tiger&nbsp;Amazon </font>

 
+

|[[Sango (Amazons)|Sango]]

 
+

|}

 
+

*[[Mizuki Mizusawa]]

 
+

*[[Yugo Tachibana]]

 
+

*[[4C]]

 
+

**[[Takeshi Kurosaki]]

 
+

**[[Ichiro Fudamori]]

 
+

*[[Nozama Peston Service]]

 
+

**[[Makoto Shido]]

 
+

**[[Nozomi Takai]]

 
+

**[[Kazuya Misaki]]

 
+

**[[Kota Fukuda]]

 
+

*[[Reika Mizusawa]]

 
+

*[[Takaaki Tenjo]]

 
+

*[[Nanaha Izumi]] (Hallucination)

 
+
 
+

===Villains===

 
+

====Kamen Riders====

 
+

{|

 
+

| style="background-color: darkgreen; " |<font color="#CFB53B">Kamen&nbsp;Rider&nbsp;Amazon&nbsp;Neo&nbsp;Alpha</font>

 
+

|[[Einosuke Mido]]

 
+

|}

 
+

*[[Buffalo Amazon]]

 
+

*[[Shark Amazon]]

 
 
 

==Cast==

 

==Cast==

 
+

*{{Nihongo|[[Haruka Mizusawa]]|水澤 悠|Mizusawa Haruka}} {{Nihongo|[[Tom Fujita]]|藤田 富|Fujita Tomu}}

 
+

*{{Nihongo|[[Jin Takayama]]|鷹山 仁|Takayama Jin}}: {{Nihongo|[[Masashi Taniguchi]]|谷口 賢志|Taniguchi Masashi}}

 
+

*{{nihongo|[[Mizuki Mizusawa]]|水澤 美月|Mizusawa Mizuki}}: {{nihongo|[[Rena Takeda]]|武田 玲奈|Takeda Rena}}

 
+

*{{Nihongo|[[Nanaha Izumi]]|泉 七羽|Izumi Nanaha}}: {{nihongo|[[Ayu Higashi]]|東 亜優|Higashi Ayu}}

 
+

*{{nihongo|[[Makoto Shido]]|志藤 真|Shidō Makoto}}: {{nihongo|[[Mitsutoshi Shundo]]|俊藤 光利|Shundō Mitsutoshi}}

 
+

*{{nihongo|[[Takeshi Kurosaki]]|黒崎 武|Kurosaki Takeshi}}: {{nihongo|[[Kota Miura]]|三浦 孝太|Miura Kōta}}

 
+

*{{nihongo|[[Nozomi Takai]]|高井 望|Takai Nozomi}}: {{nihongo|[[Kanon Miyahara]]|宮原 華音|Miyahara Kanon}}

 
+

*{{nihongo|[[Kota Fukuda]]|福田 耕太|Fukuda Kōta}}: {{nihongo|[[Kazuya Tanabe]]|田邊 和也|Tanabe Kazuya}}

 
+

*{{nihongo|[[Kazuya Misaki]]|三崎 一也|Misaki Kazuya}}: {{nihongo|[[Katsuya (actor, born 1986)|Katsuya]]|勝也|Katsuya}}

 
+

*{{nihongo|[[Ichiro Fudamori]]|札森 一郎|Fudamori Ichirō}}: {{nihongo|[[Yoshito Momiki]]|籾木 芳仁|Momiki Yoshito}}.

 
+

*{{nihongo|[[Reika Mizusawa]]|水澤 令華|Mizusawa Reika}}: {{nihongo|[[Takako Kato]]|加藤 貴子|Katō Takako}}

 
+

*{{nihongo|[[Yugo Tachibana]]|橘 雄悟|Tachibana Yūgo}}: {{nihongo|[[Yu Kamio]]|神尾 佑|Kamio Yū}}

 
+

*{{nihongo|[[Takaaki Tenjo]]|天条 隆顕|Tenjō Takaaki}}: {{nihongo|[[Takashi Fujiki]]|藤木 孝|Fujiki Takashi}}

 
+

*{{nihongo|[[Einosuke Mido]]|御堂 英之助|Mido Einosuke}}: {{nihongo|[[Nobuo Kyō]]|姜 暢雄|Kyō Nobuo}}

 
+

*{{nihongo|[[Muku]]|ムク}}: {{nihongo|[[Seina Kokufuda]]|国府田 聖那|Kokufuda Seina}}

 
+

*{{nihongo|[[Itsumi]]|イツミ}}: {{nihongo|[[Rion Okamoto]]|岡本 莉音|Okamoto Rion}}

 
+

*{{nihongo|[[Goro (Amazons)|Goro]]|ゴロウ|Gorō}}: {{nihongo|[[Yumeto Okuda]]|奥田 夢叶|Okuda Yumeto}}

 
+

*{{nihongo|[[Haichi]]|ハイチ}}: {{nihongo|[[Toma Onishi]]|大西 統眞|Ōnishi Tōma}}

 
+

*{{nihongo|[[Shinsaku Sakoshima]]|佐古島 晋作|Sakoshima Shinsaku}}: {{nihongo|[[Nobuo Shimazaki]]|嶋崎 伸夫|Shimazaki Nobuo}}

 
+

*{{nihongo|[[Mina (Amazons)|Mina]]|ミナ}}: {{nihongo|[[Tsukushi Suzuki]]|鈴木 つく詩|Suzuki Tsukushi}}

 
+

*{{nihongo|[[Sango (Amazons)|Sango]]|サンゴ}}: {{nihongo|[[Haruhi Kawano]]|河野 晴日|Kawano Haruhi}}

 
+

*{{nihongo|[[Yoji]]|ヨージ|Yōji}}: {{nihongo|[[Takeru Hayashi]]|林 タケル|Hayashi Takeru}}

 
+

*Farm Secretary: {{nihongo|[[Saori Uenoyama]]|うえのやま さおり|Uenoyama Saori}}

 
+
 
+

===Suit actors===

 
+

*[[Haruka Mizusawa|Kamen Rider Amazon Omega]]: {{nihongo|[[Yugo Fujii]]|藤井 祐伍|Fujii Yūgo}}

 
+

*[[Jin Takayama|Kamen Rider Amazon Alpha]]: {{nihongo|[[Hirokazu Iwakami]]|岩上 弘数|Iwakami Hirokazu}}

 
+

*[[Einosuke Mido|Kamen Rider Amazon Neo Alpha]]: {{nihongo|[[Yuya Nawata]]|縄田 雄哉|Nawata Yūya}}

 
+

*[[Muku|Squirrel Amazon]]: {{nihongo|[[Yasuaki Ishii]]|石井 靖見|Ishii Yasuaki}}

 
+
 
+

==Compilation Movies==

 
+

{| style="width:30%;float:right;"

 
+

|<tabber>

 
+

|-|1 =[[File:Movie_amazons_season1_logo.jpg|thumb|center]]

 
+

|-|2 =[[File:Movie_amazons_season2_logo.jpg|thumb|center]]

 
+

</tabber>

 
+

|

 
+

|}

 
+

Two compilation movies which tell the events of the two seasons aired separately on May 5th and 12th in order to promote ''Last Judgement''.

 
+

Titled {{nihongo|''[[Kamen Rider Amazons Season 1 the Movie: Awakening]]''|劇場版 仮面ライダーアマゾンズ シーズン1 覚醒|Gekijō-ban Kamen Raidā Amazonzu Shīzun Wan Kakusei}} and {{nihongo|''[[Kamen Rider Amazons Season 2 the Movie: Reincarnation]]''|劇場版 仮面ライダーアマゾンズ シーズン2 輪廻|Gekijō-ban Kamen Raidā Amazonzu Shīzun Tsu Rin'ne}}

 
 
 

==Theme song==

 

==Theme song==

 
+

*[[EAT, KILL ALL]] - {{PR|Project.R}} ([[Taro Kobayashi]] & [[NoB]])

−

*''to be added''

 
 
 
 

==Notes==

 

==Notes==

 
+

*This is the first spring film since ''[[Kamen Rider × Kamen Rider × Kamen Rider The Movie: Cho Den-O Trilogy]]'' to have the movie the premiere in May.

 
+

*This is the first Kamen Rider movie to have a {{W|4DX}} and [http://mx-4d.com/ MX4D] release.

 
+

*This is the first Heisei-Era movie with a horror genre since ''[[Kamen Rider: The Next]]''.

 
+

[[File:Amazons live in Peace!.png|thumb]]

 
+

*As an April Fools' joke for 2018, the [http://www.amazons.jp official site for the movie] changed the official poster image to a joke image showing Amazon Alpha and Omega posing together in a flowery background, so as to show that the Amazonz were "living in peace". A [https://www.youtube.com/watch?v=EfsWwONqS5s joke trailer] was also released featuring actors [[Masashi Taniguchi]] and [[Tom Fujita]] as their respective characters [[Jin Takayama]] and [[Haruka Mizusawa]] acting out of character. The end of the trailer also showed a brief scene where [[Rena Takeda]], portraying [[Mizuki Mizusawa]], is seen leaping happily together with Amazon Alpha and Omega.

 
+

*Unlike previous Spring films, this is the first to not feature a crossover with another series.

 
+
 
+

==External links==

 
+

*[http://www.amazons.jp Official site]

 
 
 

{{Ref}}

 

{{Ref}}

 

{{KR Movies}}

 

{{KR Movies}}

 

[[Category:Kamen Rider Movies]]

 

[[Category:Kamen Rider Movies]]

 
+

[[Category:Spring Movies]]
---
Revision as of 16:30, 13 March 2020
| | |
| --- | --- |
| | WARNING: This movie contains scenes of graphic violence, body horror, blood, cannibalism, gun violence, mild language and several slashes and body dismemberment. Viewer discretion is advised! |
"I desire to be complete."
This article is a stub, meaning it needs more info. You can improve this Kamen Rider Wiki article by expanding it.
Kamen Rider Amazons the Movie: The Last Judgement (仮面ライダーアマゾンズ THE MOVIE 最後ノ審判 Kamen Raidā Amazonzu za mūbī Saigo no Shinpan) is a film which concludes the story of Kamen Rider Amazons, which aired on Amazon Prime for over two seasons in 2016 and 2017. It is was released in theaters on May 19, 2018.
It was announced in a teaser shown following the premiere of Kamen Rider Heisei Generations FINAL: Build & Ex-Aid with Legend Riders. A teaser trailer was shown during the broadcast of Build's 20th episode. The first official trailer was released on March 3, 2018.
Synopsis
Plot
Characters
Kamen Riders
Supporting Characters
| | |
| --- | --- |
| Squirrel Amazon | Muku |
| Sea Snake Amazon | Mina |
| Snapping Turtle Amazon | Yoji |
| Tiger Amazon | Sango |
Villains
Kamen Riders
Cast
Suit actors
Compilation Movies
Two compilation movies which tell the events of the two seasons aired separately on May 5th and 12th in order to promote Last Judgement. Titled Kamen Rider Amazons Season 1 the Movie: Awakening (劇場版 仮面ライダーアマゾンズ シーズン1 覚醒 Gekijō-ban Kamen Raidā Amazonzu Shīzun Wan Kakusei) and Kamen Rider Amazons Season 2 the Movie: Reincarnation (劇場版 仮面ライダーアマゾンズ シーズン2 輪廻 Gekijō-ban Kamen Raidā Amazonzu Shīzun Tsu Rin'ne)
Theme song
Notes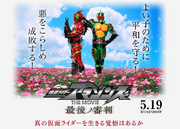 As an April Fools' joke for 2018, the official site for the movie changed the official poster image to a joke image showing Amazon Alpha and Omega posing together in a flowery background, so as to show that the Amazonz were "living in peace". A joke trailer was also released featuring actors Masashi Taniguchi and Tom Fujita as their respective characters Jin Takayama and Haruka Mizusawa acting out of character. The end of the trailer also showed a brief scene where Rena Takeda, portraying Mizuki Mizusawa, is seen leaping happily together with Amazon Alpha and Omega.
Unlike previous Spring films, this is the first to not feature a crossover with another series.
External links
References
Community content is available under
CC-BY-SA
unless otherwise noted.