Wiki Targeted (Entertainment)
Play Sound
"ONORE DECADE!!!"
Narutaki is angry at you for omitting important information from this article! Its factual accuracy has been compromised as a result. Check out the discussion page and revision history for further clues about what needs to be updated in this article.
Reason: The article does not include the plot.
| | |
| --- | --- |
| | WARNING: This movie contains scenes of graphic violence, body horror, blood, cannibalism, gun violence, mild language and several slashes and body dismemberment. Viewer discretion is advised! |
"My plan should have worked 1000%!"
This article is a stub, meaning it needs more info. You can improve this Kamen Rider Wiki article by expanding it.
Kamen Rider Amazons THE MOVIE: The Last Judgement (仮面ライダーアマゾンズ THE MOVIE 最後ノ審判, Kamen Raidā Amazonzu za mūbī Saigo no Shinpan) is a Japanese superhero film that serves as the conclusion to Kamen Rider Amazons, which premiered on Amazon Prime for over two seasons in 2016 and 2017.
The catchphrase for this film is "I want to protect everything; I want to kill everything. Are you prepared to live as a true Kamen Rider?" (全てを守りたい 全てを殺したい 真の仮面ライダーを生きる覚悟はあるか, Subete o mamoritai Subete o koroshitai Shin no kamen raidā o ikiru kakugo wa aru ka)
Production
It was announced in a teaser shown following the premiere of Kamen Rider Heisei Generations FINAL: Build & Ex-Aid with Legend Riders. A teaser trailer was shown during the broadcast of Build's 20th episode. The first official trailer was released on March 3, 2018.
Two compilation movies which tell the events of the two seasons aired separately on May 5th and 12th in order to promote Last Judgement. Titled Kamen Rider Amazons Season 1 the Movie: Awakening (劇場版 仮面ライダーアマゾンズ シーズン1 覚醒, Gekijō-ban Kamen Raidā Amazonzu Shīzun Wan Kakusei) and Kamen Rider Amazons Season 2 the Movie: Reincarnation (劇場版 仮面ライダーアマゾンズ シーズン2 輪廻, Gekijō-ban Kamen Raidā Amazonzu Shīzun Tsu Rin'ne)
Synopsis
The "Amazon Livestock Project," a mysterious care facility, the Amazon extermination organization 4C (Competitive Creatures Control Center) pursuing Haruka Misuzawa . . . all come together in a tale of symbiosis and competition; the mortal combat between the carnivore and herbivore. And, finally, an end to the troubles and conflicts of the Riders, two beings confronting a fierce fate.
Plot
Characters
Kamen Riders
Supporting Characters
| | |
| --- | --- |
| Squirrel Amazon | Muku |
| Sea Snake Amazon | Mina |
| Snapping Turtle Amazon | Yoji |
| Tiger Amazon | Sango |
Villains
Kamen Riders
Amazons
Cast
Suit Actors
Theme song
Release
The film was theatrically released in Japan on May 19, 2018. and on DVD and Blu-Ray on October 3, 2018.
Notes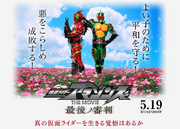 As an April Fools' joke for 2018, the official site for the movie changed the official poster image to a joke image showing Amazon Alpha and Omega posing together in a flowery background, so as to show that the Amazonz were "living in peace". A joke trailer was also released featuring actors Masashi Taniguchi and Tom Fujita as their respective characters Jin Takayama and Haruka Mizusawa acting out of character. The end of the trailer also showed a brief scene where Rena Takeda, portraying Mizuki Mizusawa, is seen leaping happily together with Amazon Alpha and Omega.
Unlike previous Spring films, this is the first to not feature a crossover with another series.
External links
References