| | |
| --- | --- |
| | WARNING: This series contains scenes of graphic violence, blood, body horror, alcohol drinking, cannibalism, sexual content, nudity, mild language, gun violence, several slashes and body dismemberment. Viewer discretion is advised! |
Kamen Rider Amazons (仮面ライダーアマゾンズ, Kamen Raidā Amazonzu) is a Japanese tokusatsu web-drama based on the 1974 TV series Kamen Rider Amazon and is a part of Toei Company's Super Hero Year

(スーパーヒーローイヤー, Sūpā Hīrō Iyā) project. The first season premiered on Amazon Prime Video on April 1, 2016 with an edited rebroadcast on BS Asahi and Tokyo MX that July, followed by a season season on April 7, 2017. A concluding epilogue film titled Kamen Rider Amazons: The Last Judgement premiered in May 19, 2018.
The show was also distributed internationally as Amazon Riders, with the first and second seasons being released on April 19, 2018 and September 21, 2018 respectively on each country's respective Prime libraries. As of currently, The Last Judgement has not been made for legal international release.
The catchphrase for season 1 is "Open Your Amazons", while it was changed to "Hunt, start" (狩り、開始, Kari, kaishi) for its television broadcast. For season 2, the catchphrase is "Who are you?" (おまえは谁だ?, Omae wa dare da?).
Production
"Do you think the recent Kamen Riders are interesting? I don't think so! I hope with Amazons the toothless Kamen Riders can get their fangs back."
―Shinichiro Shirakura[src]
Following the Kamen Rider 1 movie, Amazons was announced in one of the 2016 March Televi-kun magazine pages and later confirmed on March 18, 2016. It changed most of the settings from the original Amazon and doesn't interfere or alter continuity with anything of the recently airing TV series. With the legendary staffs and strongest action teams who produced the Heisei Riders, Amazon is fully reborn in a modern, darker style.
Continuity and Placement
Plot
Season 1 (Awakening)
The world is filled by thousands of monsters named Amazons, and the company of Nozama Pharmacy has hired a special team to hunt down and eliminate them. One day, the team were hunting down two Amazon riders, Amazon Riders Alpha and Omega, with their transformers being Jin and Haruka respectfully.
Haruka eventually joined the team to hunt down the Amazons. However, when they were trying to eliminate a group of Amazons that were hiding inside a restaurant, Haruka eventually divided his opinion with the group when he found out that those Amazons have no intention to harm humans. The restaurant has also changed Mamoru, one of the members in the team. He eventually started to have interests in eating human beings. After Jin and Haruka defeated Sigma, Nozama Pharmacy decided to launch a special plan named Tlaloc, a plan to kill all Amazons. Mamoru was in a struggle during Tlaloc because he previously ate one of his friends, Kazuya Mizaki's arm. Haruka eventually rescued him and both of them escaped.
Season 2 (Reincarnation)
In the past, a massive spill occurred at the Amazon experimental lab. Most of the survivors were destroyed, hot-blooded young men enjoyed hunting Amazons and the experiment seemed to be drawing to an end. Far than ending, however, it was entering a completely new phase. The number of cases of ordinary people turning into Amazon without warning was rising. The government formed a new extermination unit to assassinate people who had turned into Amazon secretly and struggled to hide the truth.
Chihiro/Kamen Rider Amazon Neo is a loner, a boy raised by Amazons who hates them but must suppress his cannibalistic urges. One day he meets Iyu, an Amazon girl who transforms into Crow Amazon and vanquishes Amazon enemies with her awesome fighting power. Chihiro is amazed at his first glance of Iyu, because she's the first human he's met without thinking, "I want to eat her." She's the first opponent he's ever wanted to get close to, but Chihiro is unaware of her story. Iyu is a "Sigma Type Amazons" a biological weapon brought back to life after her parents turned to Amazons and killed her.
Characters
Kamen Riders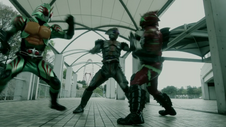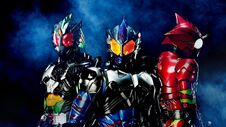 Movie-exclusive
Manga-exclusive
Supporting Characters
Villains
| | |
| --- | --- |
| Sea Snake Amazon | Mina |
| Snapping Turtle Amazon | Yoji |
| Tiger Amazon | Sango |
Episodes
Main article: Kamen Rider Amazons Episodes
All of the Season 1 episode titles are completely in English, while some of the Season 2 titles are in Latin, but they are both in all-caps. The first letter of each episode title cycles though the English alphabet, with the first episode's title starting with "A". The exception is the last episode, which shares the same name as the first and ends with "Z".
Season 1
Season 2
Movies
Stageshows
Kamen Rider Amazons Special Event: A to M Open Your AMAZONS (

仮面ライダーアマゾンズ スペシャルイベント

,

A to M Open Your AMAZONS Kamen Raidā Amazonzu Supesharu Ibento

)
Other media
Manga
Kamen Rider Amazons Gaiden: Light of Fireflies (

仮面ライダーアマゾンズ外伝 蛍火

,

Kamen Raidā Amazonzu Gaiden Hotarubi

)
S.I.C. Hero Saga
Kamen Rider Amazons: Beastman Syndrome (

仮面ライダーアマゾン 獣人症候群

,

Kamen Raidā Amazonzu Kemonohito Shōkōgun

)
Theme song
Cast
Season 2
Suit Actors
Notes
Similar to Kamen Rider 555, the Riders - except for Amazon Neo - are named after a letter from the Greek alphabet.
Next-episode previews for Season 1 are titled "NEXT HUNT", and "LAST HUNT" for final episodes. In Season 2, they are changed into "NEXT TARGET" and "LAST TARGET" respectively.
Due to its violence and dark premise, the show is targeted towards the adult demographic. Because the series is written by Yasuko Kobayashi, some fans view this series as an attempt by Toei to compete/capitalize on the recent return of the GARO franchise.
It is the only entry in the Kamen Rider franchise to get a second season of the same show with the same title.
The international release was announced to air in September 2016 as the first round of the exportation of the Amazon Prime Original Videos, but wasn't actually released until April 19, 2018.
The description for the international release of the series mistakenly calls this series "the fourth production in the Kamen Rider series" in their synopsis, presumably referring to 1974's Kamen Rider Amazon.
This is one of the few Heisei series to not have Kyoritz present to provide lighting equipment, due to the company already working on Kamen Rider Ghost at the time.
References
External Links