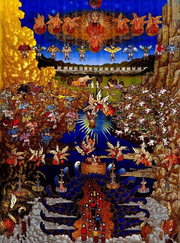 The Kamen Rider Agito Art Archives Icon (仮面ライダーアギトアートアーカイブスイコン画, Kamen Raidā Agito Āto Ākaibusu Aikon-ga) is a religious painting seen in the show's opening sequence. It told a story about the Lords and the Agitos.[1]
Explanation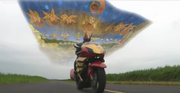 At the top of the painting is the Overlord with seven El Lords and 10 Lords, staring at a paradise where humans and animals live together. But only the Overlord of Light turned back.
In the middle, one of an El Lord giving a baby to humans, but they are surrounded by two armies — humans (some of them are Gills) and Lords are at war.
In the bottom, Overlord of Light was stabbed by a sword and died while other six El Lords created a tsunami presumably to kill the servants of the Overlord of Light. Some humans were sitting in a boat. On the shore, Agito Flame Form and G3 are holding some peoples' hands and walking.[2]
Behind the Scenes
This painting was drawn by students at Tama Art University.

The inspiration was from Dante's Inferno.
The actual original painting is 434mm in height by 314mm in width.
Notes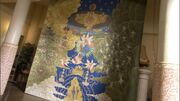 References
↑

Instructions in the Premium Bandai merchandise
Community content is available under
CC-BY-SA
unless otherwise noted.