For the first user of Kamen Rider Abyss from Kamen Rider Decade, see Kamata.
This unnnamed man participated in the new Rider Battle in 2019 as Kamen Rider Abyss (仮面ライダーアビス, Kamen Raidā Abisu).
History
One of the 13 Kamen Riders chosen in the Rider Fight which was restarted in 2019, this man was the new wielder of the Abyss deck. He was swiftly defeated by Kamen Rider Knight and disintegrated.
Kamen Rider Abyss
Kamen Rider Abyss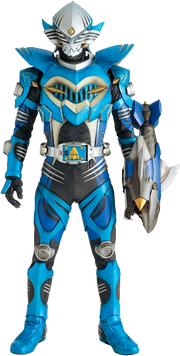 Rider Statistics:[1]
Rider height: 187 cm
Rider weight: 92 kg
Ability Parameters:[1]
Punching power: 200 AP (10 t)
Kicking power: 300 AP (15 t)
Maximum jump height: 30 m
Maximum running speed: 100 m per 5 seconds
Special Abilities:
Advent: Abysslasher: 5000 AP (250 t)
Abyss Saber: 3000 AP (150 t)
Abyss Claw: 3000 AP (150 t)
Abyss Dive: 7000 AP (350 t)
One can transform into Kamen Rider Abyss using an Advent Deck and V Buckle upon forming a contract with Abysslasher. Abyss also has an additional contract with Abysshammer. His Visor, the Abyssvisor (アビスバイザー, Abisu Baizā), is mounted on his left arm. Abyss' punching power, kicking power, and running speed are identical to Raia's, while his jump height is lower.
Through the use of his Sword Vent Advent Card, Abyss can arm himself with the Abyss Saber (アビスセイバー, Abisu Seibā), Abysslasher's pair of swords. His Strike Vent arms him with the Abyss Claw (アビスクロー, Abisu Kurō), a gauntlet capable of firing high-pressure streams of water Abyss Smash (アビススマッシュ, Abisu Sumasshu) that is derived from Abysslasher's head.
By using his Final Vent, Abyss can execute the Abyss Dive, which combines Abysslasher and Abysshammer into Abyssodon (アビソドン, Abisodon).
Appearances: Part 2: Rider Time Ryuki

Contract Monsters
Equipment
Behind the scenes
Portrayal
The user of Kamen Rider Abyss is portrayed by Kenji Tominaga (富永 研司, Tominaga Kenji), who is also the suit actor. After transformed, Abyss is voiced by Yasunao Sakai (坂井 易直, Sakai Yasunao).
Notes
This version of Kamen Rider Abyss is the replacement of Kamen Rider Femme, one of the original 13 Riders, who didn't appear in Rider Time: Kamen Rider Ryuki.
As Rider Time: Kamen Rider Ryuki serves as a sequel to Kamen Rider Ryuki, this officially makes Kamen Rider Abyss the 14th Ryuki Rider.
Appearances
References
Community content is available under
CC-BY-SA
unless otherwise noted.