Wiki Targeted (Entertainment)
Play Sound
Kamen Rider Abaddon (仮面ライダーアバドン, Kamen Raidā Abadon)[1] is an alias used by a group of Kamen Riders who serve S.
Users
History
Forms
The generals of Thinknet transformed into a variant of Abaddon named Kamen Rider Abaddon (Commander's Type) (仮面ライダーアバドン (指揮官仕様), Kamen Raidā Abadon (Shiki-kan Shiyō)), which has higher stats and is designated by a colored pauldron.
Crowding Hopper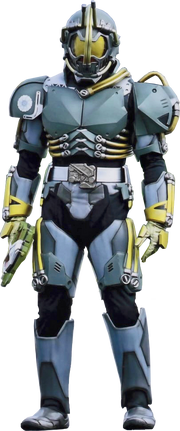 "Thinknet Rise! Crowding Hopper! An attack method using various group tactics."
―Transformation announcement
Rider Statistics
Rider Height: 199.0 cm
Rider Weight: 62.1 kg
Ability Parameters
Punching Power: 10.8 t
Kicking Power: 32.5 t
Maximum Jump Height: 38.2 m
Maximum Running Speed: 100 m per 3.8 seconds
Crowding Hopper (クラウディングホッパー, Kuraudingu Hoppā) is Kamen Rider Abaddon's default form accessed by Thinknet members using the Crowding Hopper Progrisekey in the Abaddorisers.
Kamen Rider Abaddon's stats are a compromise between Zero-One Rising Hopper and Vulcan Shooting Wolf, resulting in it being more balanced but lacking Zero-One's exceptional kicking power and jump height as well as Vulcan's running speed. Because the standard members of Thinknet are normal civilians using mass-produced technology, a single Abaddon is not much of a threat in neither offensive nor defensive capabilities. This was best shown when even the non-Rider members of A.I.M.S. could hold off a small group of Abaddons with standard firearms due to being highly trained, and later when several Abaddons are instantly crushed to death by the Rising Hopper and Zero-Two Rider Models. In large groups however, the Abaddons can overwhelm stronger opponents such as other Riders.
Shot Abaddoriser finishers:
Crowding Burst (

クラウディングバースト

Kuraudingu Bāsuto

):
Crowding Burst Cannon (

クラウディングバーストキャノン

Kuraudingu Bāsuto Kyanon

):
Slash Abaddoriser finishers:
Crowding Energy (

クラウディングエナジー

Kuraudingu Enajī

):
Crowding Energy Fall (

クラウディングエナジーフォール

Kuraudingu Enajī Fōru

):
This form is exclusive to Kamen Rider Zero-One: REAL×TIME.
Equipment
Behind the Scenes
Portrayal
Kamen Rider Abaddon are portrayed by the following actors:
Concept Arts
To be added
Etymology
Kamen Rider Abaddon's name is derived directly from Abaddon, a biblical term referring to either a bottomless pit or an angel who commands an army of locusts, with the latter corresponding to Kamen Rider Abaddon's grasshopper motif. This name was given by scriptwriter Yuya Takahashi, who originally gave the tentative name Kamen Rider Inago (仮面ライダーイナゴ, Kamen Raidā Inago, lit. "Grasshopper").[2]
Notes
During the production of REAL×TIME:[2]

There was initially a miscommunication when the design team was told by the producer that Abaddon was going to be in the movie. At the time Abaddon was under the tentative name "Locust Rider", which the design team misunderstood as "Locust Raider". As a result, Abaddon shares the same basic undersuit as the Raiders.
The Abaddons are inspired by the Shocker Riders, another grasshopper-themed Rider Troop working under a villainous organization. The colored right shoulder pad of the higher-ranking members is based on the Shocker Riders' colored muffler. However, the pipes next to Abaddon's neck are a more direct reference to the aforementioned mufflers due to their placement.

Although not mentioned in the interview, Abaddon's hands, pipes, and visor are yellow, mirroring the the Shocker Rider's gloves and boots.

According to producer Takahito Omori, Abaddon operating as a group is inspired by a locust outbreak in early 2020.
References
Community content is available under
CC-BY-SA
unless otherwise noted.