Wiki Targeted (Entertainment)
Play Sound
"I desire to be complete."
This article is a stub, meaning it needs more info. You can improve this Kamen Rider Wiki article by expanding it.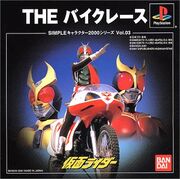 Kamen Rider: The Bike Race is a 2001 racing video game for the Playstation/PSX system made by Bandai Entertainment and the 3rd installment of their Simple 2000 game series.[1]
Uniting the majority of Kamen Rider protagonists up to Kamen Rider Agito, this game served as one of the commemorative projects for the 30th anniversary of the Kamen Rider Series.
Game Modes
Grand Prix
Player Vs Player: Players race each other around a track
Time Attack
Playable characters and Rider Machines
Gameplay
Unlock Characters
The game only allows the players to choose the Showa Riders from the start. To unlock Kuuga, Agito, Rider 1 and 2's old appearance, the player must win the race on the Grand Prix mode.
About the race
Player will be prepared an item to perform a special attack to take down his opponent or get a boost. There is meter gauge and don't let it go to the max as it will show that the player will fall after getting a hit from his opponent.
During the race, there are Shocker Combatmen. You can kick them to gain more points.
After you win the race, the Riders will make their henshin pose. If you lose, the rider will keep on racing.
References