| | |
| --- | --- |
| | WARNING: This series contains scenes of blood and occasional graphic violence. Viewer discretion is advised! |
This article is about the original series. "Kamen Rider (1971)", "Kamen Rider (TOS)" and "Kamen Rider (original series)" redirect here. For other uses, see Kamen Rider (disambiguation).
For the series' main character, Kamen Rider 1, see Takeshi Hongo.
Kamen Rider (仮面ライダー, Kamen Raidā, "Masked Rider"), is a Japanese tokusatsu drama and the very first installment in what would be known as the Kamen Rider Series. The debut entry of the Showa Era, the series was created by manga artist Shotaro Ishinomori and aired from April 3, 1971 to February 10, 1973 on the Mainichi Broadcasting System and NET TV (now TV Asahi). To date, the series is the longest entry with 98 episodes.
On March 10th, 2020, Shout! Factory began streaming the series on Tubi TV before being removed the next day. On March 16, 2020, Shout! Factory announced it would stream the show on a dedicated tokusatsu channel called TokuSHOUTsu. The series also became available on the Shout! Factory TV site and app.[1]
The average ratings of the series was 21.2%
Legacy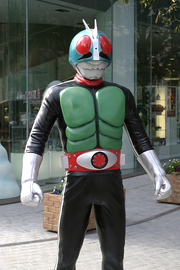 Since its end, it has spawned many sequels and spin-offs, ultimately shaping its own franchise. A manga adaptation was also featured in Shōnen Magazine around the same period. The cultural impact of the series in Japan resulted in Akimasa Nakamura naming two minor planets in honor of the series: 12408 Fujioka, after actor Hiroshi Fujioka, known for his portrayal of Takeshi Hongo/Kamen Rider #1, and 12796 Kamenrider, after the series itself.
Story
The story took place in a world plagued by Shocker, a mysterious terrorist organization. To further its plans for world domination, Shocker recruited its agents through kidnapping, turning their victims into mutant cyborgs and, ultimately, brainwashing them. However, one victim named Takeshi Hongo escaped just before the final brainwashing. With his sanity and moral conscience intact, Hongo battled Shocker's minions as the grasshopper-themed cyborg (改造人間, kaizō ningen) superhero Kamen Rider #1. Another of Shocker's victims, freelance photographer Hayato Ichimonji, had also been given cyborg implants, but was saved by Kamen Rider from the brainwashing process to become Kamen Rider #2. Assisted by motorcycle race team manager Tobei Tachibana and FBI agent Kazuya Taki, the Kamen Riders fought in both solo and partnered missions against both Shocker and its successor organization Gel Shocker.
Characters
Kamen Riders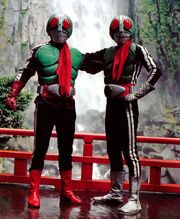 TV Show
Manga-exclusive
Novel-exclusive
Others
Concepts
Kamen Rider One

Kamen Rider (Arewa Kamen Rider)
Debatable Riders
TV Show
Other media
Allies
Other Heroes
Villains
Shocker
Main article: Shocker
Gel Shocker
Main article: Gel Shocker
Episodes
Main article: Kamen Rider Episodes
The series is divided into four story arcs:[2]
Episode 01-13 - "Birth! Kamen Rider" Arc (

「誕生!仮面ライダー」編

,

"Tanjō! Kamen Raidā"-Hen

), this arc introduces the main characters and plot. It features the early fight of Takeshi Hongo as Kamen Rider against Shocker.
Episode 14-52 - "Kamen Rider 2! His Name Is Hayato Ichimonji" Arc (

「仮面ライダー2号!その名は一文字隼人」編

,

"Kamen Raidā Ni-Gō! Sono Na wa Ichimonji Hayato"-Hen

), this arc features the arrival of Hayato Ichimonji, the second Kamen Rider, replacing Takeshi as Kamen Rider 2.
Episode 53-79 - "Takeshi Hongo Returns! Kamen Rider New 1" Arc (

「本郷猛帰還!仮面ライダー新1号」編

,

"Hongō Takeshi Kikan! Kamen Raidā Shin Ichi-Gō"-Hen

), this arc features the return of Takeshi who will be retroactively be named Kamen Rider 1. The costume of the Double Riders would also be upgraded.
Episode 80-98 - "Gel Shocker's Debut! Fierce Fighting Double Riders" Arc (

「ゲルショッカー出現!激闘ダブルライダー」編

,

"Geru Shokkā Shutsugen! Gekitō Daburu Raidā"-Hen

), this arc showcases the final fight of the Double Riders.
Movies
Specials
Ultraman vs. Kamen Rider (

ウルトラマンVS仮面ライダー

,

Urutoraman Tai Kamen Raidā

)
Youth Kamen Rider (

青年仮面ライダー

,

Seinen Kamen Raidā

)
Stageshows
Kamen Rider: A Combatman's Diary (

仮面ライダー 戦闘員日記

,

Kamen Raidā Sentō-in Nikki

)
Other media
Manga
Kamen Rider (manga) (

仮面ライダー

,

Kamen Raidā

)
Kamen Rider (TV Magazine manga) (

仮面ライダー

,

Kamen Raidā

)

Kamen Rider (Adventure King manga)

(

仮面ライダー

,

Kamen Raidā

)

Kamen Rider (Tanoshi Youchien manga)

(

仮面ライダー

,

Kamen Raidā

)

Kamen Rider (O Tomodachi manga)

(

仮面ライダー

,

Kamen Raidā

)

Kamen Rider (Disneyland manga)

(

仮面ライダー

,

Kamen Raidā

)
Kamen Rider (1978 manga) (

仮面ライダー

,

Kamen Raidā

)
S.I.C. Hero Saga
Special Episode: Escape (

SPECIAL EPISODE -脱出-

,

SPECIAL EPISODE: Dasshutsu

)
From Here to Eternity (

ここより永遠に

,

Koko yori Towa ni

)
Kamen Rider: Episode 99 (

仮面ライダー #99

,

Kamen Raidā Dai Kyūjukyū

)
Novel
Kamen Rider Eve -Masked Rider Gaia- (

仮面ライダーEVE-MASKED RIDER GAIA-

)
Kamen Rider: 1971-1973 (

仮面ライダー 1971-1973

)
Reboot Films
Kamen Rider have rebooting into the movie two times: one in the Heisei Era and one in the Reiwa Era. Kamen Rider The First was released in 2005 and Shin Kamen Rider has been announced on the day of the 50th Anniversary of Kamen Rider and was scheduled to released in 2023.
Title cards
Cast
Suit Actors
Kamen Rider 1: Hiroshi Fujioka (

藤岡 弘

,

Fujioka Hiroshi

)
Kamen Rider 2 (episodes 14, 15 & 25): Takeshi Sasaki (

佐々木 剛

,

Sasaki Takeshi

)
Kamen Rider 1, Kamen Rider 2 (understudy), Kamen Rider 2 (part of episode 72), Monsters (Man Spider, etc.): Masaru Okada (

岡田 勝

,

Okada Masaru

)
Kamen Rider 2, Kamen Rider 1 (sub), Monsters: Bunya Nakamura (

中村 文弥

,

Nakamura Bun'ya

)
Kamen Rider 1 (sub), Kamen Rider 2 (understudy), Monsters (Sabotegron, etc.):

Tatsuyoshi Sejima

(

瀬島 達佳

,

Sejima Tatsuyoshi

)
Kamen Rider 1 (sub), Kamen Rider 2 (understudy), Monsters (Hitodanger, etc.):

Kenji Amari

(

甘利 健二

,

Amari Kenji

)
Kamen Rider 1 (sub), Kamen Rider New 2, Monsters, Shocker Rider: Kazuo Niibori (

新堀 和男

,

Niibori Kazuo

)
Kamen Rider 1 (Sakurajima 1), Kamen Rider 2 (understudy; episode 46), Kamen Rider New 1: Tetsuya Nakayashiki (

中屋敷 哲也

,

Nakayashiki Tetsuya

)
Kamen Rider 1 (trampoline), Gel Shocker Combatmen (episode 84): Jyunichi Haruta (

春田 純一

,

Haruta Jun'ichi

)
Kamen Rider 2 (understudy):

Minoru Iizuka

(

飯塚 実

,

Īzuka Minoru

)
Kamen Rider New 1, Monsters:

Yutaro Osugi

(

大杉 雄太郎

,

Ōsugi Yūtarō

)
Kamen Rider New 2: Keisuke Chiyoda (

千代田 恵介

,

Chiyoda Keisuke

) (episodes 72 & 73), Hiroo Kawarazaki (

河原崎 洋夫

,

Kawarazaki Hiroo

) (episodes 93, 94 & 98)
Monsters (Bat Man, etc.):

Boshin Sano

(

佐野 房信

,

Sano Bōshin

)
Monsters (Jaguarman, etc.):

Hiroshi Namekawa

(

滑川 広志

,

Namekawa Hiroshi

)
Songs
Opening themes
Ending themes
"Kamen Rider no Uta" (

仮面ライダーの歌

,

Kamen Raidā no Uta

, "The Song of Kamen Rider")

Lyrics: Saburō Yatsude
Composition & Arrangement: Shunsuke Kikuchi
Artist: Masato Shimon (as Kōichi Fuji) with Male Harmony
Episodes: 1–71

"Rider Action" (

ライダーアクション

,

Raidā Akushon

)

Lyrics: Shōtarō Ishinomori
Composition & Arrangement: Shunsuke Kikuchi
Artist: Masato Shimon
Episodes: 72–88

"Lonely Kamen Rider" (

ロンリー仮面ライダー

,

Ronrī Kamen Raidā

)

Lyrics: Mamoru Tanaka
Composition & Arrangement: Shunsuke Kikuchi
Artist: Masato Shimon
Episodes: 89–98
Other Songs
External links
References