Kamaki-Roid (カマキロイド, Kamaki Roido): A mantis monster created by Badan Empire.

Manga Appearances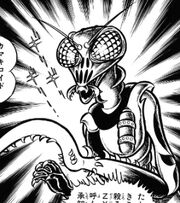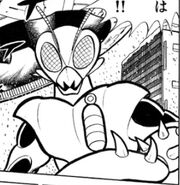 Kamen Rider Spirits
Main article: Kamakiroid
Kamakiroid - A personal attendant of Ambassador Darkness with Jigokuroid and Kaniroid. Though they have human forms, appearing as a motorcycle gang, they do not interact with humans and thus do not have human names. Kamakiroid appears as a beautiful woman in her twenties or thirties; she seems to be attracted to Ambassador Darkness. She can release a chemical from her fingernails that immobilizes people. The three can combine with each other, and in this form they are dismembered by ZX after JUDO's influence is purged from his body. A backbone from each survives, but they are killed by Needle before they can regenerate.
Community content is available under
CC-BY-SA
unless otherwise noted.