Obi-Wan Finale - The Loop
Play Sound
"I will destroy this world! Then take Mai and the Golden Fruit! Let's settle this, Kouta Kazuraba."
―Kaito before battling Kouta for the final time[src]
Kaito Kumon (駆紋 戒斗, Kumon Kaito) is the 20-year-old leader of Team Baron who transforms into Kamen Rider Baron (仮面ライダーバロン, Kamen Raidā Baron).
Biography
Background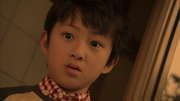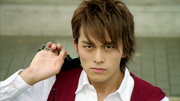 Kaito Kumon was born to his unnamed parents. His father had worked as a construction worker but was laid off following a company redevelopment project by Yggdrasill Corporation, which sent his family into poverty. As a result, his father became an alcoholic and physically abused both Kaito and his mother. Eventually both committed suicide, and Kaito was sent to an orphanage near the Takatsukasa Shrine with a personal vendetta against Yggdrasill. Kaito then reached a point where he wanted to die, but found a reason to live through the dancing of Mai Takatsukasa. As a result of his search for power, he lamented Kouta Kazuraba's positive and polite attitude in high school. At the age of 22, Kaito left the orphanage on his own and joined Azami's dance team, which included Zack and Peko, taking leadership of the team and naming it Team Baron.
Beat Riders Saga
As Team Gaim started to get popular with Kouta Kazuraba's possession of the Sengoku Driver, he finds himself with Sid, obtaining his own Sengoku Driver along with the Banana Lockseed. By accepting this new profound power, he also obtains the Lock Vehicle: Rose Attacker.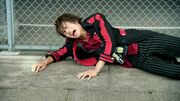 Once realizing that plucking the fruits from the forest grants him a Lockseed, he creates his own alliance with Hideyasu Jonouchi and Ryoji Hase, providing them with Lockseeds of his own. However, the alliance is short-lived and he is almost defeated by Gaim and Ryugen. Then the new Armored Riders: Gridon and Kurokage transform in front of him, but soon betray and gang up on him. Thankfully, Gaim and Ryugen intervene, defeating the two Armored Riders.
After the appearance of Kamen Rider Bravo, Kaito is challenged by the man himself, Oren Pierre Alfonso, and loses severely, but Bravo chooses to let him keep his Banana Lockseed due to being impressed by his skill.
Kaito, striving to become stronger formulates that his Banana Lockseed is the most well-rounded for offense and defense. It isn't until he protects Mai and later sees Kouta utilizing his Pine Arms to gain an advantage against a rampant Inves does Kaito switch out his Banana Lockseed for the Mango Lockseed. To his shock, Mango Arms provided major strength and easily defeated the Inves with Gaim's Pine Arms.
During a brand new Inves Game devised by Mitsuzane and Kouta, Kaito is easily eliminated along with Oren by the White Armored Rider and is taken out of the forest.
Yggdrasill Saga
With the Beat Riders names slandered, Kaito challenges Oren, who is publicly criticizing the Beat Riders, however Peko is injured and Kaito swears on his name to settle things the next time they see each other. When Kouta struggles against Oren, Kaito comes to his aid creating a temporary alliance with Gaim donning the Banana Arms alongside Baron donning the Mango Arms. After defeating Oren, the two see a rampant Inves being destroyed with relative ease by Zangetsu Shin (Takatora). Kaito provides support for Kouta as he runs to help Hase, who is turned into an Inves. Kaito is easily defeated by Takatora.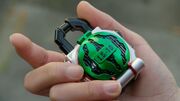 Later while meeting Ryoma Sengoku, he realizes that they were merely guinea pigs for the Sengoku Driver. Kaito, later in an attempt to challenge Yggdrasill's power, joins Kouta into sneaking into the forest and dons the Suika Arms against Genesis Armored Rider Sigurd. However, Kaito is later intercepted by Sigurd as he passes through the crack into the Yggdrasill Headquarters.
Helheim Saga and Over Lord Saga
Kaito reveals his ideals stating that humanity is weak and that only the strong should survive. He unintentionally joins Ryoma's faction as he becomes the test subject while trying to find the Red Over Lord, Demushu while trying to understand Yggdrasill's motives.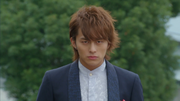 But during his search, Kaito meets an South Asian prince named Shapool whom he bares a resemblance to. Shapool, fearing his adoptive father is planning his death as he has a biological child to succeed him, drugs Kaito to take his place. When assumed to be Shapool by the prince's butler Alfred, Kaito escaped while learning of the plot to kill the real Shapool and got involved after Alfred attacked his friends. As Baron, Kaito managed to overpower Alfred as New Generation Tyrant before the Lockseed he acquired from Ryoma mutated him into an Overlord. Kaito receives the Ringo Lockseed and defeats Tyrant as Baron Ringo Arms, quickly destroying the Lockseed before it warped his mind and turned into an Inves. Upon Alfred's defeat, having told his look-alike to never run even in a life-or-death situation, Kaito inspired Shapool to face his father.[Gaim Gaiden: Kamen Rider Baron]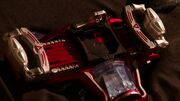 Kaito eventually finds Demushu, but realizes that he is outclassed by the Over Lord before being saved by Yoko. Soon after, Kaito is bestowed with a gift from Ryoma Sengoku: a Genesis Driver and a Lemon Energy Lockseed. Now able to combat Demushu on equal terms, Kaito is stopped by Gaim. However, Gaim is shot by Ryugen, who now holds a strong sense of animosity towards Kouta. However, despite Kaito finding Kouta a nuisance, he finds that Mitsuzane is an enemy for being a sneak, attacking a man from the back. He later puts Kouta in a tree and camouflages him so that he doesn't attract any wild Inves. Kaito, realizing Mitsuzane's deception, aids Kouta as the two battle Zangetsu Shin (Mitsuzane in disguise). Despite Kaito's attempts to warn Kouta of Mitsuzane's betrayal, the latter is completely oblivious to it. In an attempt to find the Over Lords, Kaito fights Sid, both trading blows before Sid runs away.
Together with Kouta, they fight Sid, Zangetsu Shin, and Demushu. However, Demushu escapes, forcing Kaito and Kouta to enter Zawame City to stop the Over Lord's rampage. Separated from his Genesis Driver, Kaito watches to his horror that Yggdrasill is attacking Kouta, critically injuring him. Kaito, disgusted at Yggdrasill's tactics, leaves the rest of the Kurokage Troopers and Marika to die. When asked why Kaito cares so much about strength, he reveals that it is because he's one of the weak who grasps to be stronger, the one who grasps power in order to stop oppressors and stand up against them. Kaito returns to the battlefield with Zack against the Over Lord. Even though Demushu is over powered by the two riders, Marika and the Kurokage troopers interfered, so the Over Lord took the opportunity to escape. Later, Kaito and Zack aid Marika in battling the Inves that are invading the city. They are soon joined by Bravo and Gridon. Even though battling the Inves was a success, the evolved Demushu arrives and overpowers them all. Just when he was about to finish them, Kouta shows up and transforms into Kiwami Arms. The Riders watched as Gaim defeated the Over Lord with his new power.
Forbidden Fruit Saga
Protecting the remnants of Zawame City
"Mai... Just dance if you want to. That's what makes you strong, isn't it? Who knows, perhaps they'll come back. If they do, it will be the result of your power. You have the ability to gather people around you."
―Kaito encouraging Mai over a radio broadcast.[src]
Later at Team Gaim's meeting place, Kaito and others agree to evacuate the citizens of Zawame City to a new place and contact each other with the communication devices Yoko suggested. After fighting an Inves, Kaito communicates with Mai and encourage her to dance as a way to show her power, and that one day people will return to the city before heading to a Crack.
Upon Mitsuzane's return, Yoko knowing that Mitsuzane is siding with the Over Lords and is the impostor Zangetsu Shin decides to tell him his place. Kaito stops Yoko as he will go to Mitsuzane and ask him to talk with Yoko outside in private. After being informed by Reydue that she will declare war on the human race, Kaito and Kouta went out to save the captured citizens and face-off Grinsha. However, Reydue interferes and the two riders witness the King of the Over Lord destroy the missiles in a single attack. Gaim and Baron soon destroy Grinsha shortly after Reydue takes her leave.
His left arm was infected as the result of Redyue's attack while trying to save both Takatora and Kouta from Mitsuzane. When Mitsuzane and Redyue escaped, he tells Kouta the reason why he's trying to warn about Mitsuzane's allegiance back when he, Yoko and Kouta were trying to get inside Yggdrasill, but there were too many Inves guards until they were spotted. Kaito later went to Mai, seeing her still dancing, reiterating that she's strong in her own way.
Infiltrating Yggdrasill Tower
"You won't leave anyone behind, that's your strength. But what about you, Kazuraba? You two are worlds apart. Her strength comes from looking forward to her own future. But what about you? You fight only for others, but not yourself. Do you even have a future in mind for yourself?"
―Kaito questioning Kouta's resolve and what he will do after the Helheim invasion.[src]
When Ryoma arrives at the base, Kaito finds him beating up Kouta and Zack. He halts Ryoma by preparing to shoot him from behind as a warning. When learning about Ryoma's cooperation, he doubts it alongside the others. In the evening, he discusses it with Kouta. When Mai asks a favor from Kouta, Kaito dislikes Kouta's response, telling him that he never thinks about what his future will be and warns him about Mitzusane. The next day, he and Kouta find Peko is beaten up and being told by him that Mai was kidnapped by Mitsuzane. Kaito teamed up with Kouta against Mitsuzane, but even teaming up with Kouta, in their final forms no less, are unable to defeat the insane Mitsuzane. Discovering the odds, he forces Kouta to retreat. After retreating, he warns Kouta that Mitsuzane is no longer the person they knew. He tells Kouta that Mitsuzane has gained an insane kind of power and no longer fears anything and they will need to make new preparations to beat him.
Back at the garage, Kaito decides to follow Kouta with the others. When Inves have attacked the outline of Zawame city, he alongside Kouta, Hideyasu, and Oren fight them all to protect the van they use to go to the hidden path to Yggdrasill Tower. Soon, he continues the journey while leaving Oren and Hideyasu as they tell him to go without them. After arriving, he punched Ryoma as he slacked off and warn him if he messes up again, then he needs to prepare himself. Going inside, suddenly Ryoma's alarm security turned on and summoned Suika Arms and Tulip Hoppers. He tells Kouta and Ryoma to continue while he, alongside Yoko and Zack will hold them all. After they destroyed the Suika Arms armors and Tulip Hoppers, they managed to find the kidnapped citizens as Kaito breaks the machine, freeing them. Later, Mitsuzane appears to stop him from reaching Kouta as they transform and fought each other.
Kaito has a brawl against Mitsuzane before leaving Oren and Jonouchi to handle Mitsuzane. Kaito and Kouta are intercepted by Rosyuo. However, Kaito is gravely injured and is also in extreme agony due to the infection across his arm. Kaito witnesses the deaths of Rosyuo and Redyue.
Avenging Mai and Obtaining a New Power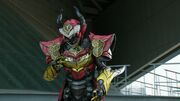 "I've been in pain all my life since I was a child...The pain of being weak. The venom of Helheim is already in my veins. I'm going to die either way. My life isn't worth much anyways. You like your pathetic experiments, right? I've built a tolerance to this poison. So what do you hypothesize will happen if I eat it?"
―Kaito on the brink of death, before eating the fruit of Helheim.

[src]
Kaito and Yoko learn of Mai's disappearance and rushes to the hospital where Ryoma was operating on her at. Confronting Ryoma and seeing Mai's dead body causes him and Yoko to attack Ryoma, however Ryoma destroys their Genesis Drivers using a switch that enabled the self-destruct mechanism. Kaito resorts back to using the Sengoku Driver, but is easily overpowered. Ryoma ends destroying the Sengoku Driver and notices the wound Kaito kept hidden from everyone. He laughs and told him he without any Drivers to supress it, the poison will either claim Kaito's life or he'll spend the rest of his life in agony. Recalling about how Hase became an Inves, he eats a Helheim fruit, his body is able to resist the Helheim fruit ability to overcome the mind and becomes Lord Baron. Easily able to overpower Ryoma, he smashes Ryoma into the wall shortly before the latter tumbles over the edge of the building and falls to his death.
Kaito and Yoko return to Mitsuzane, who is standing over a disappearing Mai. Mitsuzane assumed she died, but DJ Sagara appears telling them she's not, and that she's only lost in time. The only way to bring her back is by selecting a Man of the Beginning, the champion who the Woman will claim as the King. Desiring the Forbidden Fruit to remake the world to suit his own ideals, Kaito decides to settle things with Kouta, the only remaining competitor for the fruit. After defeating Kamen Riders Bravo and Gridon by smashing their drivers, Kaito seemingly convinces Zack to join forces with him and Marika. However, using a bomb assembled by Oren, Zack attempted to assassinate Kaito but failed when Yoko jumped between Kaito and the bomb, taking the blast for herself and falling to her death as Kaito smashed Zack's driver but spared him out of respect for his determination and their former friendship.
The Fated Battle and Death
"I will fill this planet with a form of life that will not seek the power to oppress. With Mai and the Fruit of Knowledge. Our history is proof of that. As humans gain strength, they lose their compassion. Their compassion kept them from achieving true strength! You are the same, Kazuraba Kouta."
―Kaito clashing ideals with Kouta about his ideal world.[src]
While the now powerless Armored Riders were evacuated by the Self Defense Force, Kaito summoned an army of Inves and went to meet with Kouta who marched at the head of his own Inves army. Despite Kouta's attempts to reason with him, Kaito remained adamant in his belief that it was impossible to change the world without power and the two engaged in the final battle for the Forbidden Fruit, their armies clashing around them as they fought. Despite gaining the advantage in his Over Lord form and inflicting a crippling wound to Kouta's shoulder, Kaito falls when Kouta snaps off the end of Kaito's sword and stabs him through the stomach. Falling into his rival's arms, Kaito asks Kouta how he found the strength to defeat him and Kouta answers that like Kaito and his rage, he had his desire to protect and that no matter how much it hurt or how many tears he shed, he would continue fighting to protect everyone; to which Kaito admitted that Kouta had obtained true strength before dying.
Seven months after Earth has been saved from Helheim, the shrine tree returns to its rightful place with Kaito's spirit bonded to it as its guardian. As a trio of children practice dancing in front of the tree, Mai appears before him and assures him of humanity's future. Though Kaito claims that in time humans will repeat the same mistakes of the past, Mai replies that making mistakes and learning from them is how humans become both stronger and more compassionate. Satisfied by her assurance, Kaito compliments Mai on her resolve before passing on, finally having obtained peace with himself.

Other Events
Sengoku Battle Movie
The event takes place before a Lockseed hunt Inves Game event. He, along with the other Beat Riders' Armored Riders are competing for special Rider Battle event, until the event were interrupted by a sudden appearance of Nepenthes Monster, who is ordered by Kamen Rider Bujin Gaim to kidnap Mai as he mistakes her for The Priestess of Fate. This is also led him, Gaim and Ryugen to follow Bujin Gaim's right hand monster in a suddenly raining Helheim, but also resulting them brought by Bujin Gaim into his world of alternate Sengoku period where the previous Heisei Kamen Riders are called "Bujin". When Mitsuzane spots smoke from the sky, the three Riders goes to the place where the smoke is coming from, which turns out to be a burning castle where the Bujin OOO faction are defending themselves against a horde of Yummies. When Nobunaga and Ranmaru go inside into the burning castle, Kaito sought him, until one of the hordes of Yummies and Greeeds entered the castle. Nobunaga sacrifices himself to get his loyal follower, Ranmaru, safely into Kaito's care, he throws to Kaito a Core Taka Medal as a remnant, and is told to escape, and leave him behind to die with the hordes of Yummies and Greeeds inside the castle.
In a village, Kaito saved Nobunaga's loyal servant from the thugs, thus promoting him as a new Bujin and reformed the Bujin OOO faction into the Bujin Baron faction. After meeting Mai, whose also enters the Sengoku world, his faction goes to Ieyasu's castle and challenges Gaim for a duel. If he wins, the Riders will surrender to Bujin Gaim, if he loses, he'll help the Kamen Riders against Bujin Gaim. Apparently he loses the challenge and will help Gaim and Wizard, joined by Zangetsu against Bujin Gaim's faction, releasing Kosuke Nitoh/Kamen Rider Beast and Mitsuzane from Nepenthes' imprisonment. When the real Priestess of Fate appears in front of the Riders and Bujin Gaim, she lends some Helheim fruits to the Armored Riders to fuse the Bujin Riders' remnants into Legend Rider Lockseeds for the Riders to assume their Rider Arms, with Wizard and Beast assuming their final forms. He, along with Beast, Zangetsu, and Ryugen finished off other past Monsters and Nepenthes. With the war against Bujin Gaim over, the Riders leave the world in separate ways. Having returned along with Kouta, Mitsuzane and Mai into their world, they saw that the tournament still continued without them, as the three Riders and Mai rushed back to return to the fight.
Kamen Rider Taisen
The event begins in the prequel of the movie and takes place after his first initial encounter with Over Lord Demushu. He appears, assisting Gaim and Ryugen against an infamous evil organization, named Badan Underground Empire. Though he refuses to join Gaim, Ryugen and the ToQgers against Badan at first, he changes his mind instead because he has nothing else to do. Baron and Ryugen plan to lure Moguraroid out of the building by pretending to battle each other, so that Kouta and Right can get Mai out of the Badan's turf. With the revelation that there are two Moguraroid brothers, the three Riders and ToQ 1gou are joined by the other four main ToQgers for a final battle. With Gaim and the ToQgers taking care of the Moguraroid twins separately, Baron and Ryugen finish off Badan's remnants. As the ToQgers leave, Kaito sees the Rainbow Line leaving, due to having a bit of imagination left in him.
In the movie, Kaito, along with the Kureshima brothers aids Gaim to keep Badan away from Shu Aoi, until he witnesses Zangetsu Shin's defeat at the hands of Fifteen, turning into an unseen Lockseed. Arriving at Drupers, Tsukasa sent Kaito to Futo to help Shotaro with searching for missing pets. He would appear to aid Joker from Black and Black RX as they manage to defeat RX. However Baron sacrificed himself protecting Joker, having Super-1 and Amazon finish him off and turned into an unseen Lockseed. Once all the defeated Riders are released from the Lockseed seals, he later appears with Ryugen and Zangetsu-Shin as they finish off one of Badan's monsters. After the battle, Kaito was seen in the pet store planning to buy a turtle.
Soccer World
Main article: Kaito Kumon/Soccer World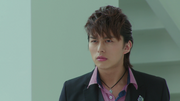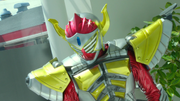 After Mitsuzane from the original world finally reveals his true face to the Beat Rider resistance, Kaito is approached by DJ Sagara to challenge Gaim from another world, until he is brought by Lapis into that particular world, where the Beat Rider teams compete in soccer matches. He finds out that Zack is the only Rider in Team Baron, while Bravo, Jonouchi and a still alive Hase are a team in Team Charmant. Being new to that world, his arm that was infected by Redyue's attack is suddenly cured, due to the alternate world's Helheim not invading Earth. He also receives soccer training from famous J-League player Kengo Nakamura and finally becomes captain of this alternate world's Team Baron. He meets Lapis, the one who brought him to this world, for the first time when suddenly, an unknown grasshopper kaijin called Inago comes out from Lapis. Kaito transforms into Baron and battles it, forgetting that the Armored Rider suits are only used for soccer in this world, and have no fighting spirit. He challenges Team Charmant for a showdown, until a Kaijin Inago interrupts the match. However, Kengo and Kosuke Ota kicks the ball onto Inago's head, with Baron in Lemon Energy Arms finishing off the Kaijin with his Sonic Arrow and Lemon Energy Sparking. After the battle, he meets Lapis again, who kicks a ball towards him. As Kaito catches the ball, he receives a vision of the events that will happen in the future, before waking up in his original world to find that it was all a dream.
Movie War Full Throttle
Main article: Mecha Kaito Kumon
Using Kouta's memories, Megahex recreated a version of Kaito.
D-Video Special: Kamen Rider 4
Duel! The True Identity of Shocker's Great Leader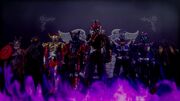 Due to the re-alterations of time made by Shocker, Baron later appeared, along with Kamen Riders 4, Dark Kiva, Sasword, and Ouja to fight against the Kamen Riders as they catch onto Shocker's latest schemes. During the final loop, Baron is destroyed alongside Sasword by Zeronos Zero Form's Buster Nova Full Charge. [Duel! The True Identity of Shocker's Great Leader]

Gaim Gaiden: Knuckle
Although he doesn't appear in the present day scenes, he does appear in flashbacks, having exiled Shura from Team Baron. Kaito would appear as a spirit to Zack after the latter fought Shura.

Kamen Rider Ghost: Legendary! Riders' Souls!
Gaim Chapter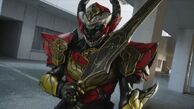 Kaito is resurrected as Lord Baron and summoned by Frey alongside Sagittarius Nova, immediately making clear that he doesn't take orders and is fighting for himself. He confronts Takeru Tenkuji who is looking for signs of Frey with Akari. He scoffs at Takeru's question of being Frey's servant, saying that he came to test his strength. Engaging Takeru in a brief skirmish when he transforms into Kamen Rider Ghost, Kaito is unimpressed and insists that Takeru tells him why he fights, with Takeru replying that he fights to protects his friends. Kaito derides Takeru's words, telling him that he is too weak to save them, but Takeru persists that he will still fight, continuing to become stronger until his life burns out. This grants Ghost an Orange Lockseed, from which he unseals the Gaim Parka Ghost, creating the Gaim Ghost Eyecon which he uses to assume Gaim Damashii, granting him the power of Kamen Rider Gaim and allowing him to turn the tide against and quickly defeat Lord Baron, who is satisfied to feel Takeru's true strength, telling him to continue to seek out a power of his own as he is destroyed again. [Gaim Chapter]
Fourze Chapter
According to Takeru, Lord Baron and the other past monster's real objective is that Takeru and Makoto Fukami have the Riders Eyecons. [Fourze Chapter]
OOO Chapter
Ultimately, it was revealed that Kaito and the other past enemies were brought back in order for the Kamen Riders to gather the Kamen Rider Ghost Eyecons so they could defeat the monster Xibalba, as Frey and Freya secretly planned together. [OOO Chapter]
Kamen Sentai Gorider
Maze 1: Emu, is dead?
Along with Yoko Minato, Kaito found himself in a chapel inside a pocket dimension in the shape of an amusement park. Confronting Emu Hojo, Kaito and Yoko were met by another deceased Kamen Rider, Kaoru Kino as well as the undead Kazuma Kenzaki. Content with his death and not interested in learning why he and the other Riders were gathered, Kaito walked out of the chapel with Yoko following him. Soon realizing that some force was preventing them from leaving the space, leading them back to the chapel, Kaito and Yoko transformed again as the Riders were confronted by the forces of Shocker, with Baron destroying Space Ika Devil. It was during this battle that Kiriya Kujo, the deceased friend of Emu Hojo, made his appearance. Convening back at the chapel, the deceased Riders realized that Emu was the odd one out with the fact that only his reflection appeared in the mirror proving that he was still alive. With Kino's suspicion that this is all Emu's scheme arising, the five deceased Riders transformed and confronted him. [Maze 1: Emu, is dead?]
Kamen Rider Build: Be The One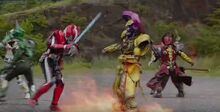 In an event witnessed by Sento Kiryu, Lord Baron was among numerous monsters whom engaged the first 18 Heisei Riders before being wiped out by the Vortex Time Break of Kamen Rider Zi-O BuildArmor. [Kamen Rider Build: Be The One]

Kamen Rider Zi-O
Blade Joker!? 2019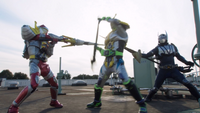 Diend gets the upper hand by summoning Kamen Rider Baron and Knight to gang up on Woz. He tells Woz that they can have those treasures back and uses his Attack Ride: Neo Invisible card to get away. The summons of Baron and Knight vanish soon after. [Blade Joker!? 2019]

Video Game Appearances
Kamen Rider Battle: Ganbarizing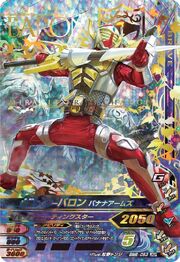 Baron is among the vast majority of Kamen Riders that are available in Kamen Rider Battle: Ganbarizing. Notably, he is shown to use additional Legend Rider Lockseeds to assume Den-O Arms and Wizard Arms. Lord Baron joins as a playable burst-side exclusive form in later series.

Kamen Rider Battride War Series
Kamen Rider: Battride War II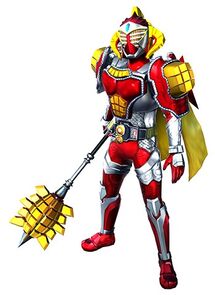 Baron, alongside Gaim and Ryugen were dragged for creating movies for Cinema in Kamen Rider: Battride War II. Baron used Mango Arms as his Final Form.
Kamen Rider: Battride War Genesis
Baron returns in Kamen Rider: Battride War Genesis with Lemon Energy Arms as his Final Form and Lord Baron as his Ultimate Form.
Kamen Rider Riderbout
Kamen Rider Baron and Lord Baron appears as a playable character with the other Heisei and Showa Kamen Riders in Kamen Rider Riderbout.
Kamen Rider Break Joker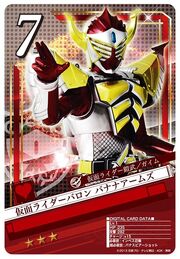 Kamen Rider Baron appears as a playable character with other Riders and monsters in Kamen Rider Break Joker.

Kamen Rider Battle Rush
Baron appears in Kamen Rider Battle Rush with Banana Arms as his default form. His finisher is the Spear Victory and also has the Ringo Arms form that uses Cavaliend as its finisher and Mango Arms, that use the finisher, Punish Mash, and as well as Lord Baron, who uses a slash attack as his finisher
Battle Spirits
It is the tenth collaboration pack and the fifth collaboration with the Kamen Rider franchise. CB10 was released in Japan on December 21st, 2019. This set includes spirit, magic, and nexus cards in all six color,Kamen Rider Baron with his Arms and Lord Baron appears with other Kamen Riders and Monsters in Battle Spirits.
Baron Battle Spirits Cards Included
Kamen Rider Baron Banana Arms (Rare)
Kamen Rider Baron Mango Arms (Common)
Kamen Rider Baron Apple Arms (Rare)
Kamen Rider Baron Lemon Energy Arms (Rare)
Lord Baron (X-Rare)
Kamen Rider Climax Fighters
Baron appears in Kamen Rider Climax Fighters with Banana Arms as his default form. His attack form is Mango Arms and his skill is Lemon Energy Arms. Lord Baron returns as his Evolution Form.
Kamen Rider City Wars
Kamen Rider Baron Banana Arms and Lemon Arms, is a playable character in Kamen Rider City Wars alongside the other Kamen Riders. Lord Baron also appears as a boss enemy.
Personality
Outwardly cold and ruthless, Kaito believes firmly in the doctrine of "the survival of the fittest" in that the weak are nothing but prey for the strong. Ironically, he views himself not as one of the strong but actually as one of the weak and that it's imperative for the weak to obtain power to prevent oneself from being preyed upon and abused. This attitude was born when the Yggdrasill Corporation shut down his father's construction company as part of their efforts to gain control over the city, This leads Kaito to hold a grudge against them and desiring the power to get back at them, as well as realize Ryoma was the mastermind behind all recent events which angers him more. Though he hates cruelty and those who abuse their power, Kaito also believes that compassion holds one back from obtaining the strength necessary to protect oneself; essentially dooming oneself no matter what stance a person takes and creating a never ending cycle of wrath and violence. Thus, after becoming an Over Lord Inves, Kaito plans to break the cycle by taking the Forbidden Fruit and remake the world into one where the weak will never be trampled by replacing mankind with a new form of life that will not seek power to oppress, believing that "rage" is power, this fears/worries Kouta that Kaito may end up like Demushu, after hearing the first seen Over Lord declaring that he took pleasure in destroying weaklings, including innocent people. Kouta tried to warn Kaito many times what he could become, but to no avail. Upon his defeat and before dying peacefully, he realized the ambition he sought is nothing more than an empty pipe dream, and finally understood what makes humanity strong.
He is always prepared to do anything that has impressed him and he will almost never hesitate to do it, as he has stated to Lapis. Such as joining the Sengoku's period battle by taking the title of Bujin Baron and accepted to be taught to play soccer in the alternate world. He will join anything as long as it is a race to be a strong person in some case. The reason of almost is, he can have the feeling of fear when not fully prepared as being seen when he tagged up with Kouta to defeat the maddened Mitsuzane, telling him to retreat after seeing how powerful he is, but still selfish.
Despite his ruthless personality, he has a soft spot towards kids and humanity, and the safety and care of his teammates, such as what happened when Bravo's weapon hits the stage sign and caused Peko's arm to be broken. When he realized that premature Lockseeds mutate humans, such as when Ryoji Hase eats it and turned into an Inves, he shows a more human side by preventing Zangetsu-Shin from killing the mutated Hase. He also quits Team Baron and left Zack (now Kamen Rider Knuckle) in charge as he didn't want his teammates to get hurt due to him being an Armored Rider and being hunted by Yggdrasill. Kaito also does care for his rival, Kouta. While Kaito claims that he doesn't care about Kouta, he does respect his strength and values him as an ally. Kaito risks his life numerous times to aid him during fights such as fighting against the Seiryu Inves, working together with Kouta against Bravo, covering Kouta while being the decoy against Zangetsu Shin, becoming a decoy once again while fighting Kurokage Troopers, covering Kouta again and having a showdown with Sigurd, protecting Kouta from a deadly trap against Zangetsu Shin II, and takes a deadly shot meant for Kouta by Demushu.
Unlike his teammates in Team Baron, he dislikes cheating and dirty tricks as he likes to win fair and square, knowing the risks of out of control Inves and how it could endanger humanity, especially if the Inves are in a higher class states. After Kamen Rider Gaim defeated Raid Wild's Ryoji Hase in Inves Game, Kaito became aware that the Rider didn't know how to use the Sengoku Driver properly and stating that his foolishness is far more than Kaito's. After obtaining the Lockseeds from Helheim Forest, he has a respect on a previous winning with teams like Raid Wild and Invitto such as giving them Lockseeds (except for Mango as his safe-keep) with no hard feelings. During his encounter with Bravo/Oren, Kaito is honored by Oren as a worthy opponent with a fighting spirit. Thanks to this, he is immune to mind control from villains, as seen when he was revived by Megahex to serve, yet he would never kneel to some villains like Ryoma did. The only time Kaito has fallen to mind control is due to Shocker, but how this was achieved is unknown.
In fact when Gaiden was shown, although he has his father's greediness after Yggdrasill bought the factory, yet resulting in his family life being ruined, such as his father's downfall into an alcoholic abuser, he still has his father's former kindness prior to Yggdrasill's arrival and his mother's kindness. When he sees something that reminds him of his dark past, like what Alfred did to his own master, Shapool, whose greed led the butler to take over Shapool's family fortune by attempting to murder him. Kaito became angered and decided to teach the abuser and the civilian a lesson, starting with saving the civilian from the abuser first, and teach the weak civilian how to stand up and be strong against the abuser.
In the Soccer World, with his memories altered, Zawame City wasn't engulfed by Yggdrasill to the extent where they focused on researching Helheim, as the world wasn't connected to Helheim, allowing Kaito to believe that he had lived a different life. While similar to his original personality in the sense that he believes in honor, chivalry, and strong opponents, he is open to admit that he was bested by another opponent. He also wears a different outfit than his traditional Team Baron clothing, hinting that he's well off in the Soccer World compared to the original world where his clothes remained roughly the same and the majority of his luggage being a few bags that he took with him to the Helheim Forest.
Powers and Abilities
Powers
Imagination: Being one of the few adults possessing imagination, he can see the Ressha of the ToQgers.
Over Lord Physiology: When he ate the Fruit of Helheim, Kaito gains some of the Over Lords' abilities.

Helheim Phytokinesis: He can freely control Helheim flora.
Crack Creation: He can open countless cracks to summon Inves from the Helheim Forest. Kaito gains this ability after becoming an Over Lord when he eats the Fruit of Helheim.
Smoke Mimicry: He can transform into a kind of dark red smoke that can interact with anything within the mass.[1]
Regenerative Healing Factor: He has increased health regeneration, allowing him to take lethal damage and still able to recover shortly afterwards. Although he has a limit that is lower than Kouta.
Abilities
Forms
As with the other Armored and Genesis Armored Riders, Kamen Rider Baron's forms are called Arms (アームズ, Āmuzu). His personal Lockseeds are styled in pure English that is sung in a chorus-like manner with a "[Noun 1] of [Noun 2]" theme, With the exception of Lemon Energy Arms, all of Baron's European Knight-themed Arms' helmets share the title Casque (カスク, Kasuku), while his visors share the title Sight (サイト, Saito).
As an Armored Rider, Baron's Sengoku Driver plays European trumpet music and announces "Come On" (カモン, Kamon) before every transformation. By pressing the Sengoku Driver's Cutting Blade down on the Lockseed after transforming from one to three times, he can activate one of three finishing moves based on his current Arms form: Squash (スカッシュ, Sukasshu), Au Lait (オーレ, Ōre), or Sparking (スパーキング, Supākingu).
As a Genesis Armored Rider, Baron's Genesis Driver announces "Soda" (ソーダ, Sōda) before every transformation. By pushing the Genesis Driver's Seaboll Compressor into the Energy Lockseed after transforming from one to two times, he can activate one of two finishing moves based on his current Arms form: Squash (スカッシュ, Sukasshu) or Sparking (スパーキング, Supākingu). In addition to the Genesis Driver's finishing moves, Baron can perform a Sonic Volley (ソニックボレー, Sonikku Borē) finishing attack by inserting an Energy Lockseed into the Energy Drive Bay of his Sonic Arrow.
Equipment
Devices
Weapons
Guronbaryamu - Lord Baron's personal weapon
Rider Hurricane - Also called Gorider Ball is a finned, multicolored grenade the size and shape of an American-style football.
Gorider Bazooka - Is a finishing weapon which was used by the team of Goriders.
Vehicles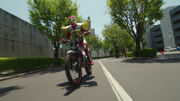 Legend Rider Devices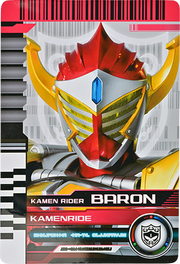 KamenRide: Baron
(

カメンライドバロン

,

Kamenraido Baron

)
: A
Rider Card
containing the power of Kamen Rider Baron. Used by Diend to summon Kamen Rider Baron.
Baron Lockseed (バロンロックシード, Baron Rokkushīdo): Allows the user to transform into Baron Arms. The core image depicts Baron's Sengoku Driver in Banana Arms while the lid backside image depicts the Banana Lockseed. Also a Gridon-styled Lockseed.
Transformation: Baron Arms: Knight of Ba~nana!
"(Digital beeping) Baron!"
―Activation announcement[src]
"The spearman Rider who wears the banana armor is... Baron! (

バナナの鎧を着た槍使いのライダーは…バロンだ!

,

Banana no yoroi wo kita yari tsukai no Raidā wa… Baron da!

)"
―Secondary activation announcement[src]
"(Right-hand Ridewatch's announcement)! Armor Time! (Sengoku Driver European trumpet fanfare) Come On! Baron!"
―Transformation announcement in the Ziku-Driver's left-hand slot[src]
"Finish Time! Banana Time (Break/Burst)!"
―Finisher announcement in left-hand slot[src]
Baron Ridewatch (バロンライドウォッチ, Baron Raidowotchi): Based on Kamen Rider Baron Banana Arms, this Ridewatch would provide access to the BaronArmor. It is dated 2013.
Relationships
Love Interest
Friends
Allies
Enemies
Behind the Scenes
Portrayal
Kaito Kumon is portrayed by Yutaka Kobayashi (小林 豊, Kobayashi Yutaka). As a child, Kaito is portrayed by Kurando Katayama (片山 蔵人, Katayama Kurando).
As both Kamen Rider Baron and Lord Baron, his suit actor is Eitoku (永徳, Eitoku), who has been the suit actor for the majority of the Secondary Riders of the Neo-Heisei era (except Beast, Mach, Specter, Brave, and Geiz).[9]
Concept Art
Lord Baron was designed by Niθ (ニシー, Nishī).
Notes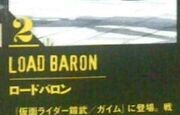 The Uchusen magazine had misspelled Lord Baron's name as "Load Baron" in Vol.151.
Legend Rider Lockseeds
Appearances
References
External links