"Zi-O, huh? I'll crush you!"
―Kagen's declaration to defeat Zi-O.
Kagen (カゲン, Kagen) is a member of Quartzer who transforms into Kamen Rider Zonjis (仮面ライダーゾンジス, Kamen Raidā Zonjisu) in Kamen Rider Zi-O: Over Quartzer[1].
History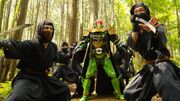 Kagen (with his army) was seen appears in the front of Sougo, Woz, Tsukuyomi, Clara Steinbelt, and Nobunaga, and proclaim that he want to defeat Zi-O, as he transform into Kamen Rider Zonjis and battle against Zi-O and Woz Futuring Shinobi. He was joined by Jogen, but both of them were defeated by Zi-O II, Woz Ginga Wakusei, and GeizRevive Goretsu and escape from Sougo and his friends.
Later, Kagen (with Jogen) was seen standing next to their leader SOUGO Tokiwa alongside with other unknown Members (and Woz as well) and called themselves as Quartzer, the Wardens of History.
Kagen, alongside Jogen, died after they were defeated by Heisei Riders as his J Ridewatch was taken by SOUGO.
However, Kagen seems to have survived from the Heisei Riders' Fatal Attack as he was heavily injured and decided to continue SOUGO's plan to rewrite the Heisei Era as the Reiwa Era on his own, but was stopped by the Reiwa Kamen Rider who calls himself Kamen Rider Zero-One, the real First Reiwa Kamen Rider. Kagen then saw Black RX (RoboRider)'s Ridewatch that was dropped by SOUGO (after his death) after he was defeated by Zi-O and Heisei Riders as Kagen decided to use it on Zero-One, but Kagen later died after being defeated by Zero-One's Rising Hopper and Flying Falcon form.

Video Game appearances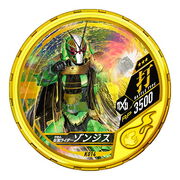 Kamen Rider Zonjis is a playable character in Kamen Rider Buttobasoul.

Personality
Like any other Quartzer members, Kagen is a loyal servant towards SOUGO. Unlike Jogen, Kagen is more emotional and fiercer in battle. Because of his temper, he never fights with tactics, but with muscles instead.

Kamen Rider Zonjis
Kamen Rider Zonjis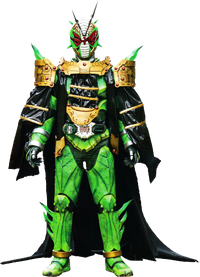 "Rider Time! Kamen Rider Zonjis!"
―Transformation announcement
Rider Statistics:[2]
Rider Height: 207.1 cm
Rider Weight: 129.2 kg
Punching Power: 46.2 t
Kicking Power: 86.8 t
Maximum Jump Height: 92.2 m
Maximum Running Speed: 100 m per 1.6 seconds
Abilities:
Legend Riders' Powers: Just like Ohma Zi-O and Barlckxs, Zonjis can use the powers of Legend Riders by activating their respective Ridewatches.

Black RX (Roborider): Shoots missiles from his chest.
This form's finisher is Zonjis Time Break (ゾンジスタイムブレーク, Zonjisu Taimu Burēku): Zonjis focuses power into his left leg, making it glow green as he slams into the enemy with a Flying Side Kick.
Appearances: Over Quartzer, Final Stage

Equipment
Devices
Weapons
to be added
Vehicles
to be added
Behind the Scenes
Portrayal
Kagen is portrayed by Papaya Suzuki. As Kamen Rider Zonjis, he is portrayed by Kosuke Asai (浅井宏輔, Asai Kosuke).
Etymology
In Japanese, Kagen (下弦, Kagen) means the last quarter moon in the lunar phase. It also shares the same pronunciation with Kagen (下限, lit. "Lower limit"), in contrast to Jogen's name.
Notes
Zonjis' name and design is representing Shin Kamen Rider: Prologue, Kamen Rider ZO, and Kamen Rider J, three films which were released during the Heisei Era but are counted as Showa Rider films due to the involvement of Shotaro Ishinomori. and predating the franchise's continuous run on television starting with Kuuga.

Additionally, the Shin, ZO, and J Ridewatches are inserted on his Ridewatch Holder.
While transforming, Kagen is seen doing Kouji Segawa's signature "J" pose. The effect of his transformation sequence also resembles ZO's transformation effect.
Kagen's civilian outfit is based on Masaru Aso's civilian attire.
His Clock Hands-like antennae are positioned to 11:05, which is gives him a closer resemblance to the grasshopper's antennae, slightly higher than that of Zi-O and Barlckxs.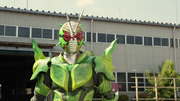 Appearances
References
Community content is available under
CC-BY-SA
unless otherwise noted.