Wiki Targeted (Entertainment)
Play Sound
"Momo-Ura-Kin-Ryu!"
―Activation announcement
"Climax Form!"
―Transformation announcement
"Charge and Up!"
―Finisher announcement
The Climax Cellphone K-Taros (クライマックス携帯 ケータロス, Kuraimakkusu Keitai Kētarosu) is a special cellphone that was formed from the sandy remains of the Tarōs upon reacting to Ryotaro Nogami's emotions connecting to the Taros in the afterlife. Each of the buttons on the keypad correlates to a phrase that allows Ryotaro to call up one of Tarōs. Once attached to the Den-O Belt and the code 3-6-9-# is entered, Den-O can transform into Climax Form. The K-Taros can also summon the DenKamen Sword to evoke Liner Form or instant access to Liner Form. It can also be used as a normal cell phone, often being used to communicate with the DenLiner crew.
3-2-1 spells Momo-Taro-S (

モモ-タロ-ス

Momo-Taro-Su

)
6-5-4 spells Ura-Taro-S (

ウラ-タロ-ス

Ura-Taro-Su

)
9-8-7 spells Kin-Taro-S (

キン-タロ-ス

Kin-Taro-Su

)
#-0-* spells Ryu-Taro-S (

リュウ-タロ-ス

Ryū-Taro-Su

)
3-6-9-# spells Momo-Ura-Kin-Ryu (

モモ-ウラ-キン-リュウ

Momo-Ura-Kin-Ryū

). This code allows for Den-O to become Climax Form.
Charge and Up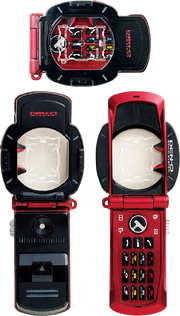 Charge and Up (チャージアンドアップ, Chāji ando Appu) is the finisher for Climax Form, accessed similarly to Full Charge by swiping the opened Rider Pass across the Terminal Buckle, allowing for one of four attacks.
Community content is available under
CC-BY-SA
unless otherwise noted.