Wiki Targeted (Entertainment)
Play Sound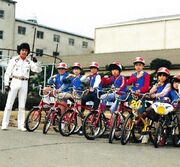 Are a group of children who aids Kazuya Oki. Each member wears a custom-made uniform-cap and a pendant modeled to look like Super-1's helmet.
They are superficially-similar to the Boys' Kamen Rider Squad. However, they are quite different from the original organization, a small group investigating things on their own (typically leading to the need for Super-1 to rescue them.)
Equipment
Each team member is equipped with the following:
A simple gray and red helmet.
A pendant with the logo of the Junior Rider Team engraved on it.
A bag to store things.
Coins which can be dropped along the way while trailing the enemy, allowing for Super-1 to pick up the trail.
The Message Coins were probably an idea originating from the "Kamen Rider Pendants" in Episode 33 of the original Kamen Rider series. Kidnapped by the Shocker, one of the main characters, Yuri, dropped these pendants (which were intended as rewards for children participating in her karate class) on the road from the car she was taken into. Taki (a very close ally and assistant of Ichimonji Hayato / Kamen Rider 2), managed to pick up the trail to find her.
Super Balls are small balls which are carried in the satchel, and are filled with black pepper and shichimi pepper. They can be used as a distraction or to temporarily hold the Jin Dogma back.
Kamen Rider Spirits
In Kamen Rider Spirits, they visited NASA so that they could greet Kazuya, who has volunteered to build a lunar base on the moon, as they are the only family he has. Their visit turned into a reunion when the Badan Empire's Asuma attacked the Lunar Base, forcing Kazuya to fight him while the survivors escape.
Members
Community content is available under
CC-BY-SA
unless otherwise noted.