Boba Fett Returns - The Loop
Play Sound
Go Tamaki (玉置 豪, Tamaki Gō) is a former high school student who, after being betrayed by his only friend, joined the Deadmans under the name Julio (フリオ, Furio).
After joining the Deadmans, he used the Wolf Proto Vistamp and became the Wolf Deadman (ウルフ・デッドマン, Urufu Deddoman), he quickly rose through the ranks of the cult and became a Gifftex alongside Olteca. He and Aguilera later turned against the Deadman and he was eventually defeated by Kamen Rider Revice to become an ordinary human again.
History
Background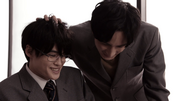 Go Tamaki was once an ordinary high school student who was close friends with Yosuke Okuda. One day, a group of popular students pressured his friend to turn against Tamaki. This drives him to join the Deadmans, where Tamaki met Aguilera. Drawn by her presence, he would go on to become a member of the group, eventually reaching the ranks as an executive of the Deadmans. In time, he casted away his birth name and be known as Julio.
The Deadmans Crisis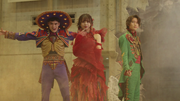 Julio, along with Aguilera and Olteca, were first seen leading the Deadmans' rally by using the Vistamps to summon Giff Juniors from their cult followers who cheered for them. Julio participated in the attack on the Fenix ceremony with their army of Giff Juniors. The Deadmans march forward to declare their intentions to create hell on Earth, before the executives made their leave. In the end, Ikki Igarashi managed to contract with his demon, Vice, in order to become Kamen Riders Revi and Vice to combat the Deadmans.
Julio would become involved in the frontlines with the Deadmans and coming across Revice on a couple occasions as the Wolf Deadman. Julio become involved handing out Vistamps to potential new followers, seeking to create more Deadmen to sacrifice in order to resurrect their leader Giff. As a criterion for sacrifice candidates, they often target those who are dissatisfied with their lives or possess darkness at the bottom of their hearts.
In order to exploit Ikki's love for his family, Julio has joined Sakura's karate dojo under his original name "Go Tamaki" to position himself close to her. The Deadmans would form an alliance with Kamen Rider Evil, Kagero, to implode the Igarashi family. During the Igarashi's vacation trip at the ryokan, Julio was undercover as an employee but eventually revealed himself to Sakura of his true identity the next day.
Julio has remained deeply loyal to Aguilera and is willing to sacrifice his own life to awaken Giff to please his mistress. After learning of her true nature as Giff's vessel, Julio vocally opposed that but is restrained by the other Gifftex. While he was forced to participate in the ritual to reawaken Giff, the Kamen Riders intervened and Aguilera's life. Angered by Olteca's treachery, Julio attacked him but later evacuated to follow Aguilera as they plot their next move.
Personality
Julio was originally introduced as a hot-tempered and impulsive man. He is eager to fight and shows great enjoyment while doing so. Julio admires Aguilera and highly values her opinion, causing him to adopt a gentle demeanor when speaking to her. He frequently praises Aguilera or attempts to advise her. This usually leads to Aguilera rebuffing or even outright condemning him for his insolence, particularly if he mentions Giff. Despite his usual combative nature, Julio remains meek when brushed aside by Aguilera.
However, Julio is actually a shy and lonely person who was betrayed by the only friend he had, which caused him to end up joining the Deadmans to seek acceptance, after his split from the Deadmans he showed a friendlier side and eventually ended up redeeming himself for his acts of villainy which he did to seek acceptance.

After Yosuke's death, Julio decided to drop his Deadman name, reverting to Go Tamaki.
Abilities
Skilled Marksman: As the Wolf Deadman, Julio is skilled at using Rugir.
Wolf Deadman
Wolf Deadman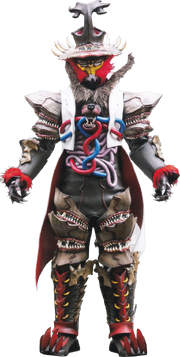 "Wolf!"
―Transformation announcement via the Wolf Proto Vistamp
Statistics[1]
Height: 200.7 cm
Weight: 109.3 kg
Julio transforms into the Wolf Deadman using the Wolf Proto Vistamp. As a Gifftex, he can return to his human form at will. He has extraordinary agility and combat power using the genetic information of a wolf, and prefers a wild fighting style that is warlike and bares his emotions.
Arsenal
Rugir (

ルヒール

,

Ruhīru

): Wolf Deadman's personal trumpet-like gun. The blade on its underside can be used for melee attacks.

Fireballs: The Wolf Deadman can fire flaming shots from Rugir.
Charged Shot: By clamping the jaws on his chest, energy flows through the red tubes and into Rugir before the Wolf Deadman fires a beam of dark red energy.
Abilities
Enhanced Speed: The Wolf Deadman is able to move faster than the enemy can react and catch them off-guard.
Energy Punches: The Wolf Deadman can charge his fists with dark energy to enhance his punches.
Smoke Disappearance: The Wolf Deadman can disappear in a cloud of electrified red and black smoke.
Appearances:
Revice
Episodes
3
,
5
,
8
,
12
-
13
,
Kamen Rider: Beyond Generations
,
15
-
17
Wolf Deadman Riot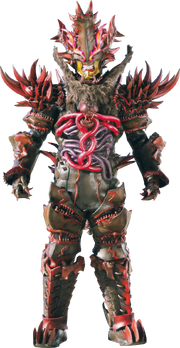 Statistics[2]
Height: 200.7 cm
Weight: 123.6 kg
Julio transformed into the Wolf Deadman Riot after witnessing Olteca transform Yosuke into a Gifftarian, effectively killing his best friend in the process. In this form, Julio gains tremendous amounts of power, able to heavily injure even Olteca in a single hit. However, this state strips Julio of self-control and logic, leaving him hellbent on destroying everything in sight, and attacking his opponents without restraint, similar to the fighting style of a wolf.
Abilities
Combustion: The Wolf Deadman Riot can generate and unleash burst of flames from his body powerful enough to destroy surrounding buildings.
Supercharging: By clamping the jaws on his chest, energy flows through the red tubes allows the Wolf Deadman Riot to strengthen his energy attacks.
Enhanced Pyrokinesis: Wolf Deadman Riot can now generate and launch red flames without the use of Rugir.
Energy Claws: By charging his arm with reddish energy, the Wolf Deadman Riot can deliver powerful energy slashes that heavily injures his enemies with relative ease.
Enhanced Strength: The Wolf Deadman Riot possesses enough raw strength to send a Gifftarian crashing into a wall with a single punch.
Enhanced Speed: The Wolf Deadman Riot can deliver strikes faster than his original form.
Appearances:
This form is exclusive to
Kamen Rider Revice
Episode
18
.
Relationships
Allies
Aguilera: Aguilera was the one who welcomed Julio after he was "betrayed" by his best friend, over time, Julio became very close to Aguilera and always followed her orders, after finding out that she would be sacrificed to Giff, Julio panicked and rebelled against Olteca and the other Deadmans, causing him to flee with Aguilera.
Sakura Igarashi: Although Sakura and Julio had been enemies for most of the time, he eventually became friends with her during his redemption.

Yosuke Okuda

: Yosuke was Julio's only friend in high school, however, Yosuke ended his friendship with Julio because he was being threatened by bullies. Julio was extremely saddened by this and isolated himself from everyone, causing him to eventually become a Deadman. After meeting again, Yosuke apologized to Julio but was unfortunately killed by Olteca before they could finish the conversation.
Enemies
Olteca: Even originally, Julio no longer had a good relationship with Olteca, as he was much more competent and was always chosen by Aguilera to do missions, making Julio very jealous of him, however, this was never serious enough to affect the coexistence of the two. After discovering that Olteca planned to sacrifice Aguilera, Julio fought him and saved Aguilera, causing him to become an enemy of Olteca, later on, Olteca killed Yusuke Okuda to create a Gifftarian, causing Julio to transform into Wolf Deadman Riot after witness the death of a best friend.
Giff: Although Julio has never faced Giff directly, he is trying to prevent his awakening at any cost to protect Aguilera's life.
Chameleon Deadman: Although they didn't hate each other, Chameleon Deadman ended up sided with Olteca after the deadmans' base was destroyed, effectively causing him and Julio to become enemies.
Other
Kagero: Kagero is not necessarily an ally or an enemy of Julio, as he helped him at various times but was also responsible for denouncing the location of the Deadman to Fenix.
Behind the Scenes
Portrayal
Julio is portrayed by Claud Hachijoin (

八条院 蔵人

,

Hachi-jō-in Kuroudo

). As the Wolf Deadman, his suit actor is Danki Sakae (

榮 男樹

,

Sakae Danki

).
Etymology
Julio's name is translated as "Jove's Child" in Spanish. The Japanese romanization of his name, furio, is the Spanish word for "fury", appropriate given his relatively aggressive personality.
Notes
Julio's wolf motif is an homage to Colonel Zol, one of the first two Shocker generals from the 1971 Kamen Rider TV series.
According to designer Masato Hisa, the Wolf Deadman's design also incorporates the Japanese rhinoceros beetle and Styracosaurus to reflect his demon motif.[3]
The name of the Wolf Deadman's weapon, Rugir, means "roar" or "bark" in Spanish.
Appearances
References

Kamen Rider Revice
Kamen Riders
Ikki Igarashi - Vice - Daiji Igarashi/Kagero - Sakura Igarashi - Hiromi Kadota
Movie-exclusive: Kamen Rider Century (Ryunosuke & Hideo Momose)
Clone Riders: Touma Kamiyama (1, Super-1, Accel), Rintaro Shindo (ZO, Kuuga, Blade), Yuri (Agito, Ex-Aid Muteki Gamer, Zero-One), Vice (Black RX, Fourze, Woz), Daiji Igarashi (Knight, Meteor, Ryugen), Sakura Igarashi (Nadeshiko, Poppy, Valkyrie)
Gear
Drivers
Revice Driver - Two Sidriver - Libera Driver - Demons Driver - Cyclotron Driver
Vistamp-related
Vistamps - Vistamp Holder - Vistamp Bar
Weapons
Ohinbuster50 - Gundephone50 - Osutoderuhammer50 - Barid Shield - Evilblade - Livegun - Lovekov (Kujaku, Turtle)
Vehicles
Vice (Ptera, Jackal)
Allies
Igarashi Family: Daiji Igarashi - Sakura Igarashi - Yukimi Igarashi - Genta Igarashi
Demons: Vice - Lovekov
Fenix: George Karizaki - Yujiro Wakabayashi - Hiromi Kadota - Hideo Akaishi
Happy Spa Regulars: Hikaru Ushijima - Shozo Irabu - Tasuke Ushijima
Deadmans
Giff - Aguilera - Olteca - Julio - Amahiko Haitani - Yasushi Kudo - Chameleon Deadman
Deadmen
Batta Deadman - Rex Deadman - Mammoth Deadman - Kamakiri Deadman - Megalodon Deadman - Kong Deadman - Lion Deadman - Spider Deadman - Daiouika Deadman - Wolf Deadman - Kangaroo Deadman - Cheetah Deadman - Brachio Deadman - Planarian Deadman - Chameleon Deadman - Sabertiger Deadman - Queen Bee Deadman - Koala Deadman
Henchmen: Giff Junior - Gifftarian
Contract Holders
Junpei - Tomoyuki Harada - Hiromi Kadota - Araki - Ibata - Ayaka Oketani - Unnamed Salary Man - Masao - Yasushi Kudo - Koji Maezono - Scamming Group - Amahiko Haitani - Seiko Omori
Shocker
Diablo
Crispers
Himiko Crisper - Khufu Crisper - Edison Crisper - Leonidas Crisper
Devil Rider Corps
Shocker Rider No.1 - Shocker Rider No.2 - Kamen Rider Ouja - Kamen Rider Eternal - Kamen Rider Sorcerer - Kamen Rider Duke - Kamen Rider 4 - Kamen Rider Barlckxs
Others
Shocker Executive
View • Edit