Judah (ジュダ, Juda) is an antagonist in the All Kamen Rider: Rider Generation video game, who transformed into Kamen Rider Judah (仮面ライダージュダ, Kamen Raidā Juda). Unlike most enemies in the game, who come from the various entries in the Kamen Rider Series, Judah is original to the game.
History
Originally, Judah was a scientist from the future, but was involved into a time crime. He met the time police and knew the time travelling technique from them. Then, he started a crazy experiment about "What will happen if Kamen Riders from all points of history are eliminated at once?", by using time travel to gather their greatest enemies across time and space to destroy them. However, his plan failed when Den-O and Double traveled though time to find and assemble the other Kamen Riders and defeated his army. In one last ditch effort to destroy them, Judah transformed into his Kamen Rider-esque form. The Riders defeated him and he was destroyed, restoring the timeline to normal and sending the Riders back to their own times.
Abilities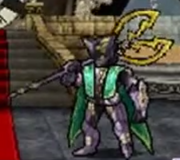 Abilities taken from past enemy bosses.
Use his biparious spear to attack freely with his human body.
Forms
External links
Community content is available under
CC-BY-SA
unless otherwise noted.