Jormungandr (ヨルムンガルド, Yorumungarudo) is Naoki Katayama's inner Phantom which tries to makes its way to the real world by smashing the Gate's Underworld.
Jormungandr is able to fire purple-colored fireballs from its eye and tentacles. The Phantom was quickly exterminated by Wizard's Strike End attack.
Profile
Episodes: 11
Destroyed by: Kamen Rider Wizard Flame Style's Strike End
Mythological Basis: Jormungandr
Height:8.64 m
Weight:520 kg
Behind the scenes
Conception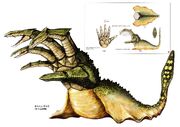 Jormungandr was designed by Hiroshi Maruyama, who designed all of the Phantoms in Kamen Rider Wizard.
External links
Community content is available under
CC-BY-SA
unless otherwise noted.