"You will become my friend, won't you?"
―Jin while hacking HumaGears
Jin (迅, Jin lit. "Swift") is a member of the terrorist group MetsubouJinrai.net along with Horobi, hacking into HumaGears and transforming them into Magia using Zetsumerise Keys and the ZetsumeRiser, with the goal of causing the destruction of humanity. He is responsible for carrying out Horobi's tasks in the field.
He will transform into Kamen Rider Jin (仮面ライダー迅, Kamen Raidā Jin) using the Metsuboujinrai Force Riser.
History
A terrorist operative from MetsubouJinrai.net, he spreads data that rewrites the base programming of the HumaGear, inputting them with evil conduct and ethics patterns that cause them to rampage and attack humans. He does destructive things while acting like a child.
Personality
Jin regarded the destruction of humanity as entertainment. He also didn't hesitate to destroy a rampaging HumaGear who attacked him while laughing maniacally.

Forms
Flying Falcon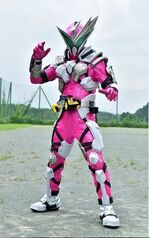 "Force Rise! Flying Falcon! Break Down."
―Transformation announcement
Rider Statistics
Rider Height:
Rider Weight:
Ability Parameters
Punching Power:
Kicking Power:
Maximum Jump Height:
Maximum Running Speed:
Flying Falcon (フライングファルコン, Furaingu Farukon) is Jin's primary form accessed by using the Flying Falcon Progrise Key in the Metsuboujinrai Force Riser.
This form's finisher is the Flying Utopia (フライーングユートーピア, Furaingu Yutopia):
Appearances: Zero-One Episodes TBA
Equipment
Devices
Weapons
Customized M1911 pistol - Jin's personal handgun 
Relationships
Allies:
Enemies:
Behind the Scenes
Portrayal
Jin is portrayed by Daisuke Nakagawa (中川大輔, Nakagawa Daisuke).
Notes
Jin's name comes from the third kanji in the Japanese writing for "MetsubouJinrai" (

滅亡迅雷

).
Appearances
References
Community content is available under
CC-BY-SA
unless otherwise noted.