Giant Jashin 14 (巨大邪神14, Kyodai Jashin Fōtīn, lit. "Giant Evil God 14") is a monstrous entity, sealed in a Stone Relief, whose power is reserved for whoever wins the Battle Fight. It is capable of flight, launch fire balls from its mouth, use a pair of swords, and can use its tail as a whip. However, it requires the life of a human who came near the slab that houses it. Amane was targeted by the Albino Joker as a sacrifice in place of her father who evoked it prior to his death. Once fully awakened, it was used by Albino Joker to fight the Kamen Riders until Hajime sacrificed himself to weaken it for Blade in King Form to destroy it with Royal Straightflash.

A.R. World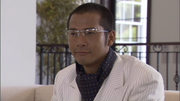 Main article: Fourteen
Jashin 14 (邪神14, Jashin Fōtīn) is leader of the Roaches and ruler of the World of Diend, assuming the human-like form of Fourteen (フォーティーン, Fōtīn) for his "ideal peace", turning humans into mindless slaves. He is a massive creature with multiple arms that floats through the air. He is destroyed by Decade in Complete Form with aid from Armed Hibiki, cutting him in half. After his demise, the Roaches vanish and everyone he'd brainwashed were set free. Wanted: Diend End of Diend
Fourteen is portrayed by Takashi Ito (伊藤 高史, Itō Takashi).
Community content is available under
CC-BY-SA
unless otherwise noted.