The Jackal Lords (ジャッカルロード, Jakkaru Rōdo) are able to move at fastspeeds, they use their talent to kill people by servering an artery at the neck, giving the illusion of a kamaitachi.
Jackal Lords
Skelos Falx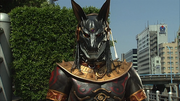 Main article: Skelos Falx
Skelos Falx (スケロス・ファルクス, Sukerosu Farukusu, 15-17): Armed with a scythe named the Condemnation Scythe (断罪の大鎌, Danzai no Ōgama), after killing three brothers, Falx targeted Aki only to be driven off by Gills. After evading Gills on a second try, Falx crosses paths with Agito who assumes Flame Form and uses the Lord's speed against him with his Saber Slash, cutting Falx right down the middle. Falx reappears in the Hyper Battle special, destroyed by G3-X using his GG-02 Salamander. Voiced by Yoshimasa Chida.
Skelos Glaucus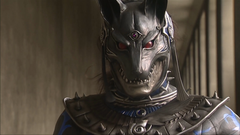 Main article: Skelos Glaucus
Skelos Glaucus (スケロス・グラウクス, Sukerosu Guraukusu, 40): Armed with sickles named the Atonement Korambi (贖罪のコラムビ, Shokuzai no Koramubi). He was attacking the police for interfering in his hunt when G3-X intervened with Agito arriving to aid him. Though Glaucus escaped, Agito & G3-X pursued and used teamwork to defeat the Lord with Agito having G3-X on the Machine Tornador while firing his GX-05 Kerberos at the Lord. Voiced by Hiroyuki Shibamoto.
Appearances
Community content is available under
CC-BY-SA
unless otherwise noted.