Jabberwock (ジャバウォック, Jabawokku) is Rinko's inner Phantom which tries to makes its way to the real world by smashing the Gate's Underworld. It was capable of flight, had six spear-like legs, and could release electric balls from it's mouth. However, Kamen Rider Wizard quickly counters it via mounting onto Wizardragon and takes the fight into the air, eventually destroying it with a Slash Strike attack.
Profile
Episodes: 1
Destroyed by: Kamen Rider Wizard Flame Style's Flame Slash Strike
Mythological Basis: The Jabberwock
Height:14.3 m
Weight:460 kg
Behind the scenes
Conception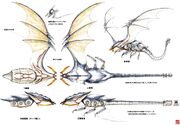 Jabberwock was designed by Hiroshi Maruyama, who designed all of the Phantoms in Kamen Rider Wizard.
Notes
External links
Community content is available under
CC-BY-SA
unless otherwise noted.