For the original Kamen Rider Imperer in Kamen Rider Ryuki, see Mitsuru Sano.
Ishida (石田, Ishida) is a young man who become the new user of Kamen Rider Imperer (仮面ライダーインペラー, Kamen Raidā Inperā) in 2019.
History
Ishida is revealed to team up with Shinji Kido on the fourth day. Ishida is unusually dependent on Tezuka and always worrying about his condition, even going as far as believing Tezuka as their Team Leader. However, during the fifth day, he was betrayed and eaten by Tezuka's Evildiver.

Kamen Rider Imperer
Kamen Rider Imperer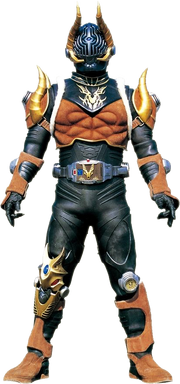 Rider Statistics:[1]
Rider Height: 195 cm
Rider Weight: 94 kg
Ability Parameters:[1]
Punching Power: 200 AP (10 t)
Kicking Power: 400 AP (20 t)
Maximum Jump Height: 50 m
Maximum Running Speed: 100 m per 5 seconds
Eyesight: 10 km
Hearing: 18 km
Special Abilities:[1]
Advent: Gigazelle: 4000 AP (200 t)
Gazellestab: 2000 AP (100 t)
Drive Divider: 5000 AP (250 t)
Ishida can transform into Kamen Rider Imperer using his Card Deck and V Buckle upon forming a contract with a Gigazelle. His Visor, the Gazellevisor (ガゼルバイザー, Gazeru Baizā), is mounted on his right knee. Imperer's punching power, kicking power, and running speed are identical to Ryuki's, while his jump height is significantly higher.
Through the use of the Spin Vent Advent Card, Imperer can arm himself with the Gazellestab (ガゼルスタッブ, Gazeru Sutabbu), an arm-mounted pair of drills derived from Gigazelle's horns and forehead.
By using his his Final Vent, Imperer can execute his finisher, the Drive Divider (ドライブディバイダー, Doraibu Dibaidā), in which he summons a horde of Zelle Mirror Monsters to surround him and stampede the enemy. Imperer then emerges from the crowd and delivers a knee strike to the opponent's head.
This form is exclusive to Rider Time Ryuki Episode 1
Contract Monster
Main article: Gigazelle
Equipment
Portrayal
Ishida is portrayed by Ryo Shinoda (篠田諒, Shinoda Ryō).
Notes
Much like with the Mirror Riders in the original TV series, he died an ironic death: Ishida's dependence and devotion to Tezuka is his fatal flaw, ultimately leading to his demise at the hands of the latter.
Appearances
See also
References
Community content is available under
CC-BY-SA
unless otherwise noted.