Wiki Targeted (Entertainment)
Play Sound
"Humagears hurt humans... They are the enemy of humanity! I will crush them all!"
―Isamu expressing his initial hatred of Humagears
"When I crush my enemies to scrap, it's by my own rules! That's who Kamen Rider Vulcan is!"
―Isamu's reason for fighting.
"Yaiba, what is it that you live for? You work for ZAIA like a dog, but what's that going to get you?!"
―Isamu challenges Yua about why she fights for ZAIA
"Listen up, ZAIA! I'm a changed man! Those old memories can go to hell for all I care! I don't want anger anymore! I have a dream now. And that... is to be a Kamen Rider of your creation!"
―Isamu resolving his dream as a Kamen Rider
Isamu Fuwa (不破 諫, Fuwa Isamu) is the 27-year-old former captain of A.I.M.S. who fights as Kamen Rider Vulcan (仮面ライダーバルカン, Kamen Raidā Barukan) against corrupted Humagears. After the Workplace Competition, he leaves A.I.M.S. and joined HIDEN Manufacturing as a security guard to help Aruto Hiden protect the Humagears from ZAIA Enterprise Japan and the world from Ark-Zero. After the Ark's defeat, Isamu now protects the city independently before the final battle against Kamen Rider MetsubouJinrai.
Biography
Early Life
Weighing 3,140 grams at birth, Isamu Fuwa was born on February 8, 1992 in South Asakusa, Tokyo, to his parents. Sometime later, he had a younger brother.
According to Gai Amatsu, Fuwa has false memories implanted into him, via the A.I. chip in his brain. The most memorable amongst them was that at the age of 15, his family had passed away; he himself was a victim of the Daybreak Town Accident, where a platoon of rogue Humagears attacked his middle school, killing everyone except himself. Due to this, Fuwa spent his entire time since joining A.I.M.S. believing this memory, developing the initial hostile view he had towards Humagears and Hiden Intelligence, who he believed had covered up the incident.
By the time Fuwa turned 27, he joined Artificial Intelligence Military Service (A.I.M.S.) and became its commanding officer. However, since his recklessness was a problem, Yua Yaiba was assigned to his team to not only provide technical assistance, but to also keep his fiery ego in check. At some point after joining A.I.M.S., he had an A.I. chip implanted into his brain in order to properly use the Shotriser, though Fuwa had no knowledge of this. He would also be given false memories of the attack to his school by a platoon of rogue Humagears, all part of Gai's machinations for Fuwa to bear hostility against Humagears.
The MetsubouJinrai Mystery
When the Humagears had gone berserk in the local amusement park, A.I.M.S. was deployed to subdue the Trilobite Magia. As more began to overwhelm the soldiers, Fuwa went back into the van and broke the glass containing the A.I.M.S. Shotriser. Yaiba warned him that he isn't authorized to use the weapon, only to shoot at the Trilobite Magia behind her. After the threat was contained, Fuwa remarked that the Humagear uprising is repeating once more.
Fuwa and Yaiba visited Hiden Intelligence HQ, where they meet with the new company president, Aruto Hiden. Fuwa accused Hiden Intelligence at covering Humagears' rampage at the amusement park, but Aruto tries to deny all accusation. Although Aruto tries to do his signature jokes, Fuwa was seemingly shaken with anger. Their conversation is cut short when the Kuehne Magia was wrecking havoc inside the building. He tries to transform with the Shooting Wolf Progrisekey but fails due to him being unauthorized. When he meets with Aruto again, Fuwa revealed his memories in Daybreak Town, how he was traumatized of being chased by an army of Humagears. When Fuwa had another encounter with the Kuehne Magia in an empty dock, he forcibly pulled the Shooting Wolf Progrisekey with his own sheer strength, using it to transform into Vulcan for the first time. Vulcan easily handles Kuehne Magia and uses Shooting Blast to destroy the Magia, melting the cargo containers along the blast. The next day, during Aruto's announcement of his accepting the role of Hiden president, Fuwa is seen shaken... because he tries hard not to laugh at Aruto's lame joke before leaving.
After a couple encounters with Zero-One, Fuwa mistakens him to be a Humagear and kept referring him as the "Grasshopper Bastard". Eventually, Aruto revealed himself to be the "Grasshopper Bastard" in order to be honest with Fuwa and gain his trust. Together, they were able to discover MetsubouJinrai.net were the ones responsible for the Daybreak Town Accident.
Fuwa occasionally joined Aruto and Izu in stopping MetsubouJinrai.net from corrupting Humagears. Despite their alliance, the two would often come into conflict regarding the ethics of Humagears, such when a customer ordered a Humagear to resemble his deceased daughter and when a Humagear started to gain sapience.
During a hospital check-up, Fuwa was about to do a routine brain scan but was forced to leave when MetsubouJinrai.net attacked the hospital. Fuwa finally meets with the members of the MetsubouJinrai.net, Jin and Horobi, who managed to corrupt a majority of the medical Humagears using the Giger. He realizing Horobi was one of the perpetrator who caused the incident that ruined his life, Vulcan attacked Horobi blindly. Though he was warned by Valkyrie about Horobi's power, he was brutally injured after Horobi attacked him with his Amazing Kaban Shoot and Sting Dystopia, causing Fuwa to immediately lose consciousness.
"Looks like I've got two memories now. A memory of Humagears attacking me... and one of them saving me."
―Fuwa finally accepts that not all Humagears are bad.
Fuwa was then rushed into a hospital after sustaining life-threatening injures from Horobi's Sting Dystopia, and underwent a surgical operation led by Dr. Omigoto. Thankfully, the surgical operation was successfully carried out by the doctor Humagear, with Fuwa even thanking the former for saving him. On the rooftop of the hospital, Fuwa revealed to Aruto that he accepts that not all Humagears are bad. Around this time, the A.I. chip in his brain was reprogrammed with Naki's A.I. consciousness.
Fuwa would learn from Izu about the possibility that Yaiba could have ulterior motives. He also was aware of her connections with ZAIA Enterprise Japan and its president, but couldn't find himself to not trust Yaiba. Fuwa made a promise to Yaiba that on the day that she does betray him, he will defeat her.
"I don't need laughter! What I need is rage! Ever since Daybreak... I've survived to this day by rage alone! All so I can crush MetsubouJinrai.net! That means everything to me!"
―Fuwa's resolve to destroy MetsubouJinrai.net, while forcefully opening the Assault Wolf Progrisekey.
During a meeting analyzing on MetsubouJinrai.net, Fuwa suspected that there could be two more members. Fuwa and Yaiba later went to investigate Hiden Intelligence, suspecting there could be a MetsuboJinrai.net spy planted in the company to relay vital intelligence. He starts to accuse one of the astronaut Humagears, Raiden, could be the spy over the "Rai" part of his name. When he, Aruto, and Raiden head over to Daybreak Town and located MetsubouJinrai.net's hideout, Raiden's true nature as a sleeper agent was discovered, meaning Fuwa was correct, and the astronaut Humagear transformed into Kamen Rider Ikazuchi, who easily overwhelmed Vulcan and Zero-One. When Ikazuchi dropped the Assault Wolf Progrisekey, Fuwa picked it up and attempted to transform with it. Horobi claimed it can only be used by MetsubouJinrai.net members but Fuwa seemingly defied the odds and transformed into Vulcan Assault Wolf and using the Authorise Buster given by Aruto to defeat Ikazuchi for good.
With MetsubouJinrai.net's hideout revealed at Daybreak Town, Fuwa participated in the A.I.M.S.' raid to take down the organization once and for all. Vulcan Assault Wolf was able to disable Horobi in battle, severely damaging him. With only Jin remaining and him launching an attack to the city, Fuwa would witness Aruto taking the Assault Grip off of the Assault Wolf Progrisekey and attaching it to the Shining Hopper Progrisekey, transforming into Zero-One Shining Assault Hopper. He witnessed Zero-One finally defeat Jin, ending the MetsubouJinrai crisis once and for all.
After the battle, Horobi's damaged body was brought over to A.I.M.S. and repaired, being kept prisoner and chained in a chair. Yaiba had left A.I.M.S. and resumed working with closely with Gai Amatsu. Despite their victory, new Magias without Zetsumerisers started to resurface. While Aruto and Fuwa were able to defeat them, they remained puzzled on how where they were coming from despite having defeated MetsubouJinrai.net.
The ZAIA Conspiracy
While Aruto was busy with preventing his company from being taken over by ZAIA Enterprise Japan, Fuwa remained at A.I.M.S. interrogating Horobi. He questioned about the presence of the Ark Magia, as the Ark had grown stronger to influence Humagears to become Magia without the need of Zetsumerisers. As the Raiders caught his attention, Fuwa also questioned Horobi on their existence and for him to respond that it was the work of a "deceased" comrade of their, subtly hinting of Naki. Furthermore, he starts to notice visions of a hooded individual watching him, much to his confusion.
Fuwa began to grow more suspicious with Yaiba and during a conflict between Vulcan and Valkyrie in a parking lot, they were suddenly intercepted by Gai Amatsu, who transformed into Kamen Rider Thouser. Thouser proved to be a mighty advesary, defeating Vulcan after absorbing his data using the Thousand Jacker.
During the third round of the Workplace Competition, Fuwa helped Aruto uncover the identity of the Dynamiting Lion Raider, who turned out to have framed the defendant for a marriage scam. While Vulcan Assault Wolf fought him, he also bore witness to Aruto forcibly transformed into Zero-One MetalCluster Hopper and started to ramapage, critically injuring the Raider back into his human form. Vulcan can able to pull the Zero-One Driver off of his waist, cancelling the transformation. While Yaiba stated Zero-One had evolved, Fuwa loudly denies that and claimed wasn't Zero-One at all. Fortunately, Aruto managed to regain control of Zero-One MetalCluster Hopper form through the Progrise Hopper Blade.
Eventually, the truth is revealed to Fuwa as he learns that he's had an A.I Chip implanted into his brain, which has allowed Naki to control him remotely and distribute Raidrisers and Progrise Keys across the area to forward Gai's plans to acquire Hiden Intelligence. He also unknowingly freed Horobi from his captivity in A.I.M.S.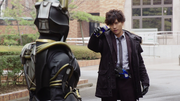 "All I ever dreamt of was to scrap the Humagears, but then what?! I've never thought about my dream before... but I'll find it someday. A purpose... A reason to exist, that I can define myself! That's why I fight! That is my... RULE!"
―Fuwa's resolve to fight for his dream.
He was left in a depressed state and is then manipulated by Naki to fight against Aruto. Eventually, remembering Aruto's words of the importance of having a dream, he regains his confidence and vows to fight alongside Aruto to find a dream for himself and crush ZAIA in the process, and unleashes the power of the Rampage Gatling Progrisekey, transforming into Kamen Rider RampageVulcan. He tries to get Yaiba to join him by questioning her dreams, but to no avail as Thouser tries to defeat him to regain control, but Fuwa quickly incapacitates him before vowing to defeat Yaiba so she could be free to live her own life. Yaiba tries to fight back, but she was beaten down swiftly as well. Fuwa then proceeds to finish them off, with Gai attempting to block his finisher, but nonetheless he and Yaiba are forcefully untransformed.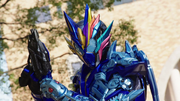 "I was once willing to crush all Humagears. But in the end, it was all ZAIA's fault for creating the Ark. This is why I made a new resolve... I'll crush ZAIA next!"
―Fuwa's sworn vengeance after learning everything.
At the competition's end, Fuwa quits A.I.M.S. in disgust as the latter now worked under Gai Amatsu. However, Fuwa was still able to use the Shotriser and kept an eye on A.I.M.S.' movement, waiting for the chance to strike them, shall they do things more than just Humagear annihilation.
Finding True Purpose
After Gai had acquired Hiden Intelligence and had sent out Yaiba and the Battle Raiders to eliminate Jin, he shows himself towards her and explains that he has no more hatred against Humagears and focused on destroying ZAIA since they created the Ark in the first place, beating her up again during her task to handle Jin and Aruto.
A week later, Fuwa arrives at the garage in Hiden Intelligence encountering Gai, Yaiba, and two A.I.M.S. members. Gai ordered Yaiba to take care of him while he and his men left for HIDEN Manufacturing. Once again, Fuwa beats her up again, but Yaiba has taken the Assault Wolf Progrise Key before her defeat without him noticing. He then vows to beat her up everyday until she comes to her senses before leaving.
A few days later, Fuwa became the security guard of HIDEN Manufacturing, believing that staying close to Humagears would bring him one step closer to taking down ZAIA. Once ZAIA arrived to destroy fashion Humagear Delmo, Fuwa and Aruto prepared to face them. However, Yaiba managed to snatch Fuwa's Shotriser and force him to transform into Vulcan Assault Wolf, to let Naki to take control again. But Jin managed to swoop in and took Fuwa to Daybreak Town to separate Naki from Fuwa's A.I. chip with Aruto's approval. However, the seperation seemingly fails after Fuwa left during the process. The next day, Fuwa was assigned to protect Delmo, but a little mishap causes him to lose sight of her. As he rushes off to find her, he is cornered by Horobi and Jin, which prompts Naki to take control of him again. However, Naki resolves to fight for the dreams of Humagears alongside Aruto and Jin, they sync their consciousness with that of Fuwa's, allowing him to hear their voice and take control over Assault Wolf before transforming into RampageVulcan. Putting their differences aside, they take down Thouser together.
Eventually, Gai finally revealed the truth of his supposed past of being attacked by a horde of Humagears. It never happened, it was just a false memory just to make Fuwa more hostile to Humagears. Fuwa broke down, having questioned his entire actions in the past. This was the last straw for Yaiba to rebel against Gai, Fuwa joining with her as Vulcan and Valkyrie worked together to defeat Thouser together.
After leaving ZAIA, Yaiba collaborated with Jin seperate Fuwa and Naki. When returning to the hospital, he would properly meet Naki in their new Humagear body. After they relayed to Fuwa about his past, Yaiba remarked Fuwa's life up before joining A.I.M.S. was completely normal and unremarkably pedestrian to the point of being tedious to listen to, with his unusual sense of humor being the only noteworthy aspect of it. He would later discover that his family was still alive, living a regular and mundane life, and safe from harm.
The Ark Uprising
Fuwa would become active once the Ark began to surface as Kamen Rider Ark-Zero, even realigning with A.I.M.S. as it became apparent that the Ark is unlike any enemy they had faced. Following Gai Amatsu's change of heart, despite Fuwa and Yaiba unable to easily forgive him for his actions, Fuwa did request for Gai to let A.I.M.S. operate independently from ZAIA.
Fuwa and Yaiba would witness Aruto Hiden's transformation into Kamen Rider Zero-Two and completely take down Ark-Zero due to its high outprediction ability. Eventually, Ark-Zero was completely vanquished from the combined efforts of Zero-Two and Horobi, with the remaining data destroyed in the Satellite husk.
Although the threat of the Ark was seemingly over, Horobi continued his crusade to destroy humanity and began raising a Magia army. As Fuwa and Yaiba rushed to the scene to stop him, Izu and Jin arrived to prevent Horobi from become the next incarnation of the Ark. However, things took a turn to the worst when Izu was destroyed by Horobi. While Aruto mourned for her death, Fuwa stopped Yaiba from conforting the young president, wanting him to have space. When Horobi launched an attack on the city, an enraged Vulcan and Valkyrie fought Horobi and his army of Magia. Despite Jin's efforts to stop the battle, the appearance of Kamen Rider Ark-One would shook the situation more further and if that wasn't suprising, it turned out that the new Ark is: Aruto Hiden.
Believing that Aruto is being controlled by the Ark, Fuwa along with Yaiba and Gai went to confront Ark-Zero entering Daybreak Town. Annoyed by their interference, Ark-One defeats the three Riders with ease, even managing to destroy the Thousandriver and disable Vulcan and Valkyrie's A.I chips, stripping them of their transformation abilities. The three learned that Aruto isn't controlled by the Ark, but chosing to act under his own volition. He tried to request Hiden Intelligence to restore Izu but discovered that due to her role as Secretary, she can't be backed up.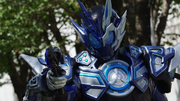 "Naki... I will carry out your will! There is nothing...that I cannot...force open!"
―Fuwa forcefully opening Naki's Zetsumerisekey in their honor.
With tensions between humans and Humagears were being raised due to Aruto's actions as Ark-One, he wallowed in regret but persisted to face Horobi. Fuwa would confront him and despite him unable to transform, used Naki's Japanese Wolf Zetsumerisekey to become Kamen Rider Orthros Vulcan. While Aruto fought him as Zero-Two, Orthros Vulcan was immediately defeated and he still wasn't fully convinced to stop his revenge.
With the battle to decide the fate between humans and Humagears came underway, Fuwa watched the television in the Thouser Department office. He would witness Aruto as Ark-One fighting Horobi and continue watching with Yaiba and Gai as Aruto finally lets go of his feelings of revenge and regain sense of himself to become Zero-One once more and defeat Horobi, but spared him out of mercy.
Following this final victory, Fuwa helped free an injured lady trapped in her car. Despite he had the opportunity to, he chose to not to return to A.I.M.S., but rather protect the city as an independent Kamen Rider.
Other Events
Due to the timeline changes caused by Time Jacker Finis, Fuwa is seen fighting alongside the resistance fighters against Humagears under the command of Will.
In the mid-credits scene after the timeline is restored, Fuwa tells Yaiba about a dream in which he was turned into a Humagear. He asks Yaiba to destroy him if such a thing happens in reality. Yaiba asks him about his actions if she is turned into one, and Fuwa ensures her that he will crush her.
Kamen Rider Zero-One: REAL×TIME
Three months after the war between Aruto and Horobi ended, Fuwa is able to transform into Kamen Rider Vulcan after Gai Amatsu restored the A.I. chips implanted into his brain. However, a new incarnation of the Ark arises with the presence of Rihito Isshiki (S) who lead his followers at Thinknet to destroy the world and replace it with a "paradise". Fuwa as Kamen Rider Vulcan engages the Abaddon Riders and fights alongside Jin to stop a plane from dispersing nanomachine toxins. After being missing in action for the last few minutes, Vulcan and Jin returned for the final showdown against the horde of Abaddon Riders with Valkyrie, Horobi, and Thouser. After the battle ended, it turns out that he is still unemployed.
Sometime following the Thinknet crisis, Fuwa was strolling the city and looks at the teleprompter announcing that MetsubouJinrai.net is declaring war on ZAIA Enterprise Japan. When arriving to Daybreak Town, he confronts Horobi over this but promises them if they step out of line, he'll crush them in a non-aggressive tone. He was present to witness Kamen Rider MetsubouJinrai fighting against Lyon Arkland as Kamen Rider Zaia, but Fuwa was too late to stop it from killing the ZAIA CEO. While lashing out to his allies about it, he discovered Kamen Rider MetsubouJinrai isn't being controlled by the quartet anymore as Fuwa witnesses it destroying the Humagear bodies of MetsubouJinrai.net and later ZAIA Japan HQ.
"I'll take your resolution, so ... hit me with all my strength! I'll do my best to respond! That's ... my rule."
―Fuwa's words to Kamen Rider MetsubouJinrai before transforming
During the aftermath of ZAIA Japan HQ's destruction, Fuwa continued to pursue Kamen Rider MetsubouJinrai as it set it's sights onto Yua Yaiba. While Vulcan and Valkyrie engage the runaway Rider, MetsubouJinrai was able to overwhelm the duo and even damaged his Shotriser during battle, forcing them to evacuate. He later meets with Sold9 at gunpoint, Fuwa convinces the Humagear to have faith in his own willpower and to follow his own "rules". After Yaiba was heavily injured in battle, Fuwa later arrives at Hiden Intelligence request the Shotriser be repaired, but Izu had to unfortunately decline due to the equipment originally created by ZAIA. However, Aruto calls him from space and revealed he launched a new company, Kamen Rider Vulcan Co., Ltd., for Fuwa to become its president and use the Zero-One Driver. Upon arriving at Daybreak Town, he stops the Solds from harming Sold9 and congratulated him for following his own "rules". Sold9 gives him the Dire Wolf Zetsumerisekey before shutting down. Confronting Kamen Rider MetsubouJinrai, Fuwa uses the Zero-One Driver and the Lone Wolf Zetsumerisekey to transform into Kamen Rider Vulcan Lone Wolf and manages to fight on equal footing against the runaway Rider. Although Fuwa manages to vanquish MetsubouJinrai, it seemingly came into a heavy price to his own life as his body is left in critical condition. As Yaiba rushed to his side, Fuwa laid beside her as his eyes bled during what appeared to be his final moments.
Sometime afterwards, Yaiba had recruited Sold9 and Sold20 to A.I.M.S. and they arrive at Shigeru Daimonji's press conference to announce their pursuit to protect A.I. While Fuwa appeared to be seemingly alive and walking from behind as he fades into light. Whether Fuwa lived or died was up to the viewers' interpretation.
Video Games Appearances
Kamen Rider Battle: Ganbarizing
Kamen Rider Vulcan, alongside Valkyrie, Zero-One, Horobi and Jin, will be playable characters in Kamen Rider Battle: Ganbarizing.
Kamen Rider City Wars
Kamen Rider Vulcan his Assault Wolf Form and his rampage gattling form are a playable character alongside the other Kamen Riders in Kamen Rider City Wars.
Kamen Rider Buttobasoul
Kamen Rider Vulcan is a playable character with Valkyrie, Zero-One and other Riders in Kamen Rider Buttobasoul.
Battle Spirits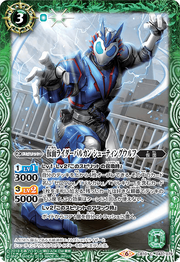 It is the tenth collaboration pack and the fifth collaboration with the Kamen Rider franchise. CB10 was released in Japan on December 21st, 2019. This set includes spirit, magic, and nexus cards in all six colors,Kamen Rider Vulcan Shooting Wolf and all his forms appear with other Kamen Riders and Monsters in Battle Spirits.
Vulcan Battle Spirits Cards Included
Kamen Rider Vulcan Shooting Wolf (Common)
Kamen Rider Vulcan Punching Kong (Rare)
Kamen Rider Vulcan Assault Wolf (X-Rare)
Kamen Rider Vulcan Assault Wolf (Rare)
Kamen Rider Orthros Vulcan (Common)
Kamen Rider Rampage Vulcan (Master Rare)
Kamen Rider Rampage Vulcan (Rare)
Zenonzard
As part of Kamen Rider's collaboration with Zenonzard, cards from Zero-One, OOO, and W were available in the Japanese servers throughout September 2020.
[1]
Vulcan Cards Included[2]
Kamen Rider Vulcan Shooting Wolf (Rare)
Kamen Rider Vulcan Assault Wolf (Rare)
Kamen Rider Vulcan Punching Kong (Rare)
Personality
"When I say I'll do it, I'll do it! That's my rule!"
―Isamu's quote when he does things his way.
Gruff and serious in demeanor, Isamu is shaped by his burning hatred for Humagears. Stemming from his falsified memory of the Daybreak Town Accident, Isamu believes that Humagears are designed to kill humans, and is thus obsessed with crushing them. To this end, he will readily dismantle any rampaging Humagear he finds, often ignoring the orders of his colleagues to do so. Through this, he is openly scornful towards Hiden Intelligence, who he believed covered up any terror-related attacks by Humagears. However this view began to fade after learning about the truth of the incident from Anna and his life was saved by Dr. Omigoto. He began directing his scorn towards MetsubouJinrai.net instead, even proclaiming that he doesn't need laughter, only anger. However, ever since the destruction of the terrorist group, he openly admitted to Yua that he awkwardly felt peace and has since reconsidered his hatred against them, scolding himself for getting angry at a robot trying to follow orders. This conclusion of his has even softened his personality somewhat, but his hard-headed demeanor still remained towards any unjustifiable deed he encountered. Isamu began to help Aruto not as an officer of A.I.M.S, but as himself, going far to be his moral support about Humagears. This shows that Isamu has completely lost his hatred to Humagears, just as long as they are not malicious.
His recklessness and short temper are only kept in check by his combat experience. He chooses to go by his own rules while engaging Magias or Raiders, as shown when he forcefully opens his Progrisekeys using brute force. (This eventually comes into play with the RampageGatling Progrisekey specifically designed to be opened using brute force in order to be used.)
It is revealed that Isamu is actually fond of Aruto's lame jokes and being the only one who appreciates them, but he is too proud to let his amusement be known and often tries his best not to react positively. When Naki made a pun styled after Aruto's usual wordplay, he was left laughing uncontrollably. His family, who occasionally crack similar jokes from time to time, appear to share this odd sense of humor with him.
Abilities
Peak Human Condition: As a former captain of A.I.M.S., Isamu is in top physical condition. He is strong enough to break open the locks on Progrisekeys and even nullify the Attache Shotgun's recoil after many uses as Vulcan Shooting Wolf. He is also strong enough to rip the Zero-One Driver off of a berserk Zero-One MetalCluster Hopper. By the end of the series, he can punch through a car door window and rip said car door off its frame and toss it a considerable distance.
Expert Combatant: As a former captain of A.I.M.S., Isamu is an expert in military combat arts. Despite Vulcan originally being a unit designed for ranged attacks, Isamu is able to utilize Vulcan's full potential in close-quarters combat by mixing it with gun fare. He is also able to fully outwit his opponents with his quick thinking, despite rushing into battles without prior battle plans.
Expert Marksman: It has been shown that Isamu is an expert in firearms, since he is capable of firing without missing his target in either long or short distances.
Indomitable Will: Isamu possesses tremendous willpower that allows him to accomplish his goals in his own way. It is due to his will that he is able to mentally resist Gai and Naki from fully taking control of him.
Former Weaknesses
A.I. Chip: Isamu has an A.I. chip implanted in his brain, allowing him to use the A.I.M.S. Shotriser. However, Naki's A.I. was uploaded into Isamu's chip instead of the standard A.I. (due to Naki's body being dismembered from the revolver shots made by Gai), allowing the Humagear to take control of him. Gai can also use his personal ZAIA Spec to stop Isamu from moving and place him in a considerable amount of mental pain through the chip. While Isamu initially overcame the influence of the chip through strong willpower, usage of the Assault Wolf Progrisekey still enabled Naki to control him due to its connection to the Ark. However after Naki allied themselves with Isamu, he became no longer at risk of being controlled, further ensured after Naki's extraction. Despite his willpower allowing him to overcome Gai's inducement of pain via the A.I. chip, the Ark is still able to incapacitate him with it. Ark-One eventually disabled his A.I. chip, rendering him unable to transform into Vulcan. Gai later restored Isamu's ability to transform.
Assault Wolf Progrisekey: Because the Progrisekey was meant to be used by MetsubouJinrai.net, Isamu initially faced health risks while using this form, such as coughing blood. However, he has seemingly overcome these side effects. Using the Assault Wolf Progrisekey also makes him more vulnerable to Naki's control, but this is no longer an issue following Naki's extraction from him.
Kamen Rider Vulcan
Lone Wolf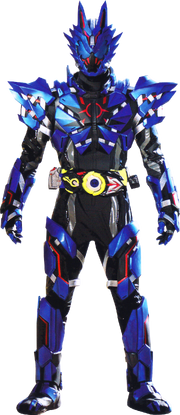 "Progrise! Registration: Vulcan Company Limited! Lone Wolf! It's my rule!"
―Transformation announcement
Rider Statistics
Rider Height:
Rider Weight:
Ability Parameters
Punching Power:
Kicking Power:
Maximum Jump Height:
Maximum Running Speed:
Lone Wolf (ローンウルフ, Rōn Urufu)[8] is Kamen Rider Vulcan's extra final form, accessed by using the Dire Wolf Zetsumerisekey with the Assault Grip attached in the Zero-One Driver.
Following the destruction of the A.I.M.S. Shotriser by Kamen Rider MetsubouJinrai, Fuwa was left with the option to use the Zero-One Driver. Although he was originally unauthorized to use Aruto's Driver, it was revealed that he didn't have to be CEO under the Hiden family name. He created a new company, Kamen Rider Vulcan Co., Ltd. (株式会社 仮面ライダーバルカン, Kabushikigaisha Kamen Raidā Barukan) to be authorized with the belt as its president.

Its finisher is Lone Wolf Impact (ローンウルフインパクト, Rōn Urufu Inpakuto):
This form is exclusive to
Zero-One Others: Kamen Rider Vulcan & Valkyrie
Equipment
Devices
Weapons
Suit-Equipped Weapons
Knuckle Demolition: Punching Kong's gauntlets.
AW Gauntlet: Assault Wolf's gun-equipped gauntlets.
Claw Assault: Orthros Vulcan's claw weapons.
Legend Rider Devices
"Kono Tokumu Kikan ga Hokoru Doubutsu no Chikara o Tsukau Nirin no Kamen Rider no Tatakai no Rekishi...[9]

Translation: The history of the battle of two Kamen Riders who use the power of animals that this special agency is proud of... (

この特務機関が誇る動物の力を使う2人の仮面ライダーの戦いの歴史…

)"
―Story announcement
A.I.M.S. Animal File Wonder Ride Book (エイムズアニマルファイルワンダーライドブック, Eimuzu Animaru Fairu Wandā Raido Bukku) is Wonder Ride Book based on the Kamen Riders of A.I.M.S., primarily Vulcan. The book's name is shortened to "A.I.M.S." in the Swordriver's finisher announcements. The Book's name is based on every animal themed Progrisekeys that were used by both Kamen Rider Vulcan and Kamen Rider Valkyrie.
Relationships
Family
Allies
Enemies
Ark: The enemy of all humans & Humagears alike. The very thing that drew Isamu into battle. He, Aruto, Yaiba and Gai fought the evil AI together.
Behind the Scenes
Portrayal
Isamu Fuwa is portrayed by Ryutaro Okada (岡田 龍太郎, Okada Ryutaro). As Kamen Rider Vulcan, his suit actor is Kosuke Asai (浅井 宏輔, Asai Kōsuke). While being possessed by Naki, he was voiced by Satsuki Nakayama (中山咲月, Nakayama Satsuki).
Etymology
Kamen Rider Vulcan's name comes from the M61 Vulcan, a gatling gun employed by the military. Vulcan is also the Roman name for the Greek god Hephaestus.
Concept Art
Memes
There are several memes that have been made public regarding Isamu's character, such as his uncontrollable laughter upon hearing Aruto's signature pun sign, and him forcing open every Progrisekey he uses to transform. Premium Bandai later released the A.I.M.S. Role-play Set, which includes an unopenable Shooting Wolf Progrisekey. Due to Isamu's hot blooded attitude and cold personality, Izu directly questions him: Are you really a gorilla? (あなたはゴリラですか?, Anata wa goriradesu ka?). Later, in REAL×Time, Jin calls Vulcan "Gorilla" when the latter fell off a jet operated by nano machines in his Punching Kong form.
All of these memes have been publicly acknowledged by Okada, who often pokes fun at it on his YouTube channel. To that extent, he occasionally wears a gorilla mask and opens a bag of potato chips "Isamu-style".
Notes
Isamu is 27-years-old in the series, however his character article on Kamen Rider Zukan lists him as 26.
According to Okada, Isamu's different interactions with the Shotriser's energy bullet represents his different expressions of anger towards the Humagears.[10]

When transforming into Shooting Wolf, he punches it.
When transforming into Punching Kong, he deflects the bullet with the back of his hand. Okada states that this way showcases the power of Isamu's arm strength.
When transforming into Assault Wolf, he catches it in his hand and crushes it.
In his first transformation for RampageVulcan, Okada originally thought of doing a backwards roundhouse kick but did not have the martial arts experience to properly perform it on-screen without getting ridiculed by the stunt team. Ultimately he decided to just let the bullets hit him instead, with each striking a different part of the body, forming the armor. In the form's second appearance, Okada changed it into a punch, deflect, and roundhouse kick.
When transforming into Orthros Vulcan, he uppercuts it.
When using the Zero-One Driver for Lone Wolf, he performs a leaping cross at the Rider Model.

Isamu's surname, Fuwa (不破), is also a homophone to the name of the fairy Fuwa (

フワ

) from Star☆Twinkle Pretty Cure, which airs alongside Zero-One. This fact is implicitly acknowledged by Okada on some of the song cover videos on his YouTube channel, where he has a Fuwa plush on his music stands.
Appearances
References