Imposing! A Man of Loyalty! (堂堂! 忠誠の男!, Dōdō! Chūsei no Otoko!) is the ninth episode of Kamen Rider Ghost. It introduces Jabel and features the debut of Ghost Benkei Damashii.
Synopsis
Specter turns out to be Makoto, Takeru's childhood friend that had gone missing 10 years ago. What "hell" is Makoto talking about? What was his father researching? Takeru cannot hide his uneasiness as Sennin, as usual, doesn't provide any answers.
Reports surface about strange events ocurring in the laboratory of Professor Igarashi, an authority in physics who also went missing 10 years ago. Igarashi was an acquaintance of Ryu, Takeru's father. There may be some information about Makoto... Among the things, he finds a photograph of them with Saionji.
A new character appears before Alain and Saionji takes the next step in his plan.
Plot
to be added
Cast
Guest Cast
Suit Actors
Ghost Eyecons
Eyecon Used:
Damashii Used:
Errors
to be added
Notes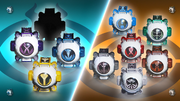 Closing Screen Ghost Eyecon

Kamen Rider: Ghost & Specter
Ghost Eyecons:

Ghost: Musashi, Robin, Newton, Beethoven, Billy the Kid, & Benkei
Specter: Edison, Tutankhamun, Nobunaga & Unknown (Houdini)

Sennin's cosplay: Reggae outfit, mainly Bob Marley's style.
Count at episode end

Takeru's days of life remaining: 26
Heroes' Eyecons left: 0
Eyecons in Ghost's Possession: 6
Eyecons in Specter's Possession: 4
Eyecons in Saionji's Possession: 5

The Christmas cards advertised at the end of last episode are shown in this episode being sent to clients of the Mysterious Phenomenon Institute by Onari.
This is the first time since episode 7 that Ghost doesn't assume Billy the Kid Damashii.
DVD releases
External Links
References
Community content is available under
CC-BY-SA
unless otherwise noted.