Illusionary Guidance, Dream Afterwards (幻想の導き、夢のあとさき, Gensō no Michibiki, Yume no Atosaki) is the thirty-first episode of Kamen Rider Revice.
Synopsis
Ikki suffers from the attacks left by the Rafflesia Deadman. Who was the person created it? Ikki is saddened to think that it may be Jiko, so Daiji helps him investigate.
Meanwhile, the Rafflesia Deadman rampages in the city, and Sakura transforms into Kamen Rider Jeanne and confronts it. Aguilera stares at the situation from a distance...
At that same time, Ikki sees an illusion and founds himself on his high school campus. What he sees is himself and Jiko, two high schoolers headed to practice at soccer club. Just what happened to them in the past? Ikki decides to discover the truth with Vice. And so, an illusionary journey into Ikki's own past begins.
Plot
to be added
Cast
Guest Cast
Akemi Mikoshiba (

御子柴 朱美

,

Mikoshiba Akemi

): Sayaka Fujioka (

藤岡 沙也香

,

Fujioka Sayaka

)
Koji Ikeda (

池山 浩二

,

Ikeda Kōji

):

Hideaki Sakata

(

坂田 秀晃

,

Sakata Hideaki

)

Hiroshi Kamiya

(

神谷 浩史

,

Kamiya Hiroshi

): Hiroshi Kamiya (

神谷 浩史

,

Kamiya Hiroshi

)

Kenichi Suzumura

(

鈴村 健一

,

Suzumura Ken'ichi

): Kenichi Suzumura (

鈴村 健一

,

Suzumura Ken'ichi

)

Ryo Horikawa

(

堀川 りょう

,

Horikawa Ryō

): Ryo Horikawa (

堀川 りょう

,

Horikawa Ryō

)

Chihiro Inoue

(

井上 千尋

,

Inoue Chihiro

): Chihiro Inoue (

井上 千尋

,

Inoue Chihiro

)
Soccer Club members:

So Wada

(

和田 爽

,

Wada Sō

),

Hajime Kitagawa

(

北川 孟

,

Kitagawa Hajime

),

Itsuki Miyaji

(

宮地 樹

,

Miyaji Itsuki

),

Kiichi Hasegawa

(

長谷川 希一

,

Hasegawa Kiichi

)
Suit Actors
Forms and Collectibles Used
Stamp Used:

Revi
Live
Jeanne

Cobra, Kujaku (attempted)

Form Used:
Errors
When Jeanne initiates Lovekov's Kujaku Genome, the "Restyle!" announcement and looping standby sound play again after the transformation announcement.
Notes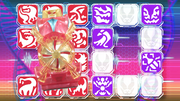 Closing Screen

Kamen Riders: Revice
Vistamps: Thunder Gale

Count at episode end

Vistamps in Revi's possession: Rex, Eagle, Mammoth, Megalodon, Ptera, Lion, Kong, Kamakiri, Brachio, Neo Batta, Kangaroo, Barid Rex, Volcano, Rolling, Thunder Gale
Vistamps in Live's possession: Bat, Jackal, Holy Wing
Vistamps in Jeanne's possession: Cobra, Kujaku, Turtle
Vistamps in Demons' possession: Spider, Batta, Mogura, Condor, Scorpion
Vistamps in Fenix's possession: White Leo, Quetzalcoatlus
Vistamps in unknown possession: Kabuto, Giff Junior
Proto Vistamps in Fenix's possession: Cheetah, Koala, Elephant, Shark, Rafflesia
Proto Vistamps in Aguilera's possession: Queen Bee
Proto Vistamps in unknown possession: Planarian, Sabertiger, Chameleon, Wolf, Daiouika, Anomalocaris

Revice cast members Subaru Kimura and Miku Ito portray fictionalized versions of themselves in this episode alongside their regular voice roles. Horikawa would ultimately go on to voice the Juuga Driver 15 episodes later.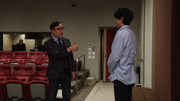 TV Asahi producer Chihiro Inoue makes a brief cameo appearance in the episode. Interestingly, he had also served as producer for the fictional anime in the episode, Chaos/Messiah (

カオスメサイア

,

Kaosu Mesaia

).
References
External links