"Are you a machine, or a human?"
―A Humanoise's question.
Humanoise (ヒューマノイズ, Hyūmanoizu) are androids from year 2121 in Kamen Rider Zi-O that have conquered most of Earth.[1]
History
In a future that was subconsciously created from Sougo Tokiwa's increasing potential as Zi-O, the safety of humankind is once more threatened by the Humanoise, who conquered the rest of the planet and leave several survivors within a protected area. As the protected area is breached, Rento Makina, a Humanoise who developed a change of heart, defected and defended the remaining humans from his own kind as Kamen Rider Kikai.
During Sougo's visit into this era, Rento rescued him and his children companions from the Humanoise but was reprogrammed back into his original directive when his recharging satellite was hacked. The Humanoise were revealed to have lured several of the human survivors through a fake radio broadcast but was killed by Zi-O II. The reprogrammed Kikai was disabled and restored by Sougo afterwards.
Semi Humanoise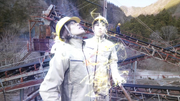 In the present day, one of the abilities of Kamen Rider Woz as Futurering Kikai is to turn nearby humans into Semi Humanoises (セミヒューマノイズ, Semi Hyūmanoizu), making them robotic servants of him to attack his target.[2]
Powers and Abilities
Robot Physiology: Despite their human-like appearance, the actual physiology of a Humanoise is different from average humans, with most of Kamen Rider Kikai's equipment built after their likeness. One of the evidences is that during the fight, the Humanoises are capable of witstanding far greater punishments from Kikai's attacks, which would be fatal to normal humans.
Behind the scenes
Portrayal
The Humanoise seen in It's Kikai! 2121 are portrayed by stunt actors Kazuki Miyagawa (宮川 佳寿姬, Miyagawa Kazuki), Minoru Watanabe (渡辺実, Watanabe Minoru), Takuma Komori (小森 拓真, Komori Takuma), Yume Sakanashi (坂梨 由芽, Sakanashi Yume) and Keita Kanno (菅野 慶太, Kanno Keita).
Etymology
Their name is combined from the English words Human (ヒューマン, Hyūman) and Noise (ノイズ, Noizu), and also Humanoid (ヒューマノイド, Hyūmanoido)
Notes
Appearances
References
Community content is available under
CC-BY-SA
unless otherwise noted.