Wiki Targeted (Entertainment)
Play Sound
The Horsefly Fangire (ホースフライファンガイア, Hōsufurai Fangaia), also known as Kaede, whose true name was The Decaying Fish and the Poetry Anthology Filled Cradle (腐敗した魚と詩集の詰まった揺籃, Fuhai shita Sakana to Shishū no Tsumatta Yōran) and she was from the Insect Class. In her Fangire form, she could fire energy stingers and teleport by dissolving into dust.
History
She was captured and used as a test subject by ex-Wonderful Blue Sky Organization scientist Dr. Kanda (神田博士, Kanda Hakase) in his Evolved Lifeform Research Lab. Kanda fed Kaede the life energy of other Fangire so she would become stronger, allowing her to severely wound Rising Ixa. However, Kaede revealed that she was using Kanda killed him because she no longer needed him. The Horsefly Fangire then kidnapped Mio Suzuki to become even more powerful. However, this act angered Taiga Nobori, who destroys Kaede for her cannibalism and attempt to kill Mio.
A male version of the Horsefly Fangire is among the Fangires revived by Bishop, attacking Keisuke Nago and Megumi Aso until Wataru Kurenai intervened and Nago killed the monster as Rising Ixa.
Kamen Rider Decade
A Horsefly Fangire appeared as part of a group of several Fangire which wrecked havoc as Natsumi Hikari was trapped within the changing dimensions during the destruction of the worlds. Rider War (episode)
Rider War: Prologue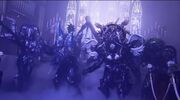 The Horsefly Fangire of the World of Kiva was among several Fangire who fought for their king, Wataru, against the Riders and Undead of the World of Blade when their worlds were merged into the world of the Rider War. The Fangires later help Saga defeat the Oni Riders from the World of Hibiki before he is killed by Hibiki. After it is revealed the Fangire had allied to Dai-Shocker along with the Undead as their queen abandoned Wataru to marry Apollogeist, it is destroyed alongside the remaining Fangire and Undead by Diend's Dimension Shoot. Rider War: Prologue

Statistics

Appearances: Kiva Episodes 35-36,46-48,Decade Episodes 1,30-31.

Behind the scenes
Portrayal
Kaede is portrayed by Tomomi Miyashita (宮下 ともみ, Miyashita Tomomi), as Horsefly Fangire her voiced is portrayed by Kaori Mine (峯 香織, Mine Kaori).
Concept Art
Horsefly Fangire was designed by Tamotsu Shinohara (篠原 保, Shinohara Tamotsu).

Notes
Horsefly Fangire is the fourth female fangire seen in Kamen Rider Kiva
The details of the design motif are unknown, but there are small bird details on both shoulders (slightly on the upper arms) in the suit of this fangire.
Appearances
References
External Link
Community content is available under
CC-BY-SA
unless otherwise noted.