Horrible! Disappearing World! (戦慄!消えゆく世界!, Senritsu! Kie yuku Sekai!) is the forty-fifth episode of Kamen Rider Ghost. It features the debut of the Copy Makoto's Deep Specter form. It also features a flashback of Adonis' wife and Alain, Adel, Alia and Argos' mother, Alicia.
Synopsis
Adel has connected to the Demia network and taken control of everyone with the intent of becoming a new world himself. In order to stop this, Takeru, Makoto, and Alain transform and face all the revived Gammaizers. In that moment, Takeru taps into Adel's childhood memories. What he sees surprises him...
Takeru believes he can stop Adel's rampage by connecting with him. He tries but Adel responds by ordering the Gammaizers to eliminate them all.
Plot
to be added
Cast
Guest Cast
Suit Actors
Ghost Eyecons
Eyecon Used:
Damashii Used:
Errors
Notes
Closing Screen Ghost Eyecon
Count at episode end

Takeru's days of life remaining: 4
Eyecons in Ghost's Possession: 10
Eyecons in Specter's Possession: 3
Eyecons in Necrom's Possession: 2

This is the last episode to feature scenes from Kamen Rider Ghost: The 100 Eyecons and Ghost's Fateful Moment in the opening sequence.
This is the only time another Kamen Rider, other than Ghost, uses the Eye Symbol to free a person who is possessed by an Gamma Eyecon (Necrom).
The mysterious voice that Takeru heard at the end of Episode 32 and at Episodes 42 and 44 is heard in this episode.
DVD/Blu-ray releases
Kamen Rider Ghost Volume 11 features episodes 43-46: Connect! Genius Juvenile!, Activate! Terror of Demia!, Horrible! Disappearing World! and Duel! Words from the Swordsman!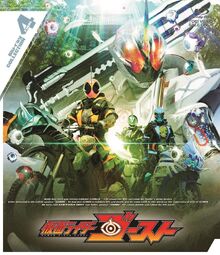 Blu-ray Collection 4 comes with 13 episodes.
External Links
References
Community content is available under
CC-BY-SA
unless otherwise noted.