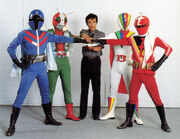 Hiroshi Miyauchi (宮内 洋, Miyauchi Hiroshi) is a prolific toku actor, known for having played Shiro Kazami, the title character of Kamen Rider V3, a role which he would reprise several times in later Kamen Rider Series and specials.
He also had roles in three Super Sentai series (Himitsu Sentai Gorenger

as Akira Shinmei

(AoRanger), J.A.K.Q. Dengekitai

as Sokichi Banba

(Big One)—a role he would reprise 24 years later in the 25th anniversary teamup film Hyakujuu Sentai Gaoranger vs. Super Sentai

and an additional 11 years later in Gokaiger Goseiger Super Sentai 199 Hero Great Battle

—and Chouriki Sentai Ohranger

as Chief Counsellor Naoyuki Miura

).
In addition to his Sentai roles, Miyauchi also portrayed Ken Hayakawa (also known as the title character of Kaiketsu Zubat, which he has stated is his favorite role). He also sung the OP theme song ("Tatakae! Kamen Rider V3") to Kamen Rider V3 and an insert song ("Horizon of Two Men") for the Kaiketsu Zubat. Miyauchi would later return to the Kamen Rider franchise as Tobee Tachibana in the 2005 reboot film Kamen Rider The First.
In Metal Heroes, he played Space Sheriff Alan in episode 30 and 31.
In 2011, Hiroshi Miyauchi reprised all four of his main roles in tokusatsu. In the Super Sentai 35th anniversary movie, Gokaiger Goseiger Super Sentai 199 Hero Great Battle

, he reprised his role as Sokichi Banba (Big One), also providing minor voice work for AoRenger, and in the Kamen Rider Series 40th anniversary movie, OOO, Den-O, All Riders: Let's Go Kamen Riders, he voiced both Kamen Rider V3 and Zubat, the latter of which appeared as part of group of four other heroes created by Shotaro Ishinomori.
To date, Miyauchi has yet to reprise his role as V3's default in-the-flesh form, Shiro Kazami.
External links
Community content is available under
CC-BY-SA
unless otherwise noted.