For the Game World version, see Hiiro Kagami (Game World).
"Commencing (Name/Bugster) removal operation."
―Brave's pre-battle catchphrase
"To your existence, I say no thank you."
―Brave when meeting someone he doesn't acknowledge.
"There is nothing I cannot cut."
―Brave's usual catchphrase.
"Skill Level (level number)."
―Brave's pre-Level up transformation catchphrase.
"I will cut down the separated Bugster."
―Brave after he levels up.
Hiiro Kagami (鏡 飛彩, Kagami Hiiro) is a surgeon of Seito University Hospital who is considered to be a genius by many in his profession. As a member of CR, he transforms into Kamen Rider Brave (仮面ライダーブレイブ, Kamen Raidā Bureibu) to fight the Bugsters and one day restore his girlfriend Saki Momose.
History
Early Life
Hiiro was inspired to become a doctor by his father Haima, the director of Seito University Hospital, despite the man's own clumsiness. By the age of 19, Hiiro was a medical student at Seito University, and also in a relationship with fellow student Saki Momose. Despite Hiiro's cold (and as a result, hurtful) personality, Saki deeply cared for him regardless, to the point of leaving him so he could prioritize his studies. When Zero Day occurred, Saki became infected by the Bugster Virus and created Graphite, a Bugster so powerful that not even Taiga Hanaya (as Protosnipe) was able to defeat him. By the time Hiiro learned of Saki's condition, Graphite had defeated Taiga and thus emerged as a complete Bugster. Saki only had enough time to one last request to Hiiro; become the best doctor in the world, before vanishing into data.
Hiiro was the most affected by Saki's death. Since his cold attitude worsened Saki's condition, he blamed Taiga for her death as an attempt to suppress his guilt. He also began eating pastries in between operations (despite disliking desserts) as a memento to Saki, who often offered him sweets to refuel himself.BANG, That Jerk is Coming! A Hollow Beating in the Heart!
Saki's death seemed to make Hiiro find the resolve to become a member of CR. He underwent the compatibility surgery and became CR's second Kamen Rider, replacing Taiga as their sole candidate.
Sometime during the Bugster outbreaks, Hiiro saved the lives of Mizuki Nishikikoji and Satsuki Ogimachi, both of whom would assist him as nurses, vowing to be the best aid for the best doctor in the world. Kamen Rider Brave: ~Let's Survive! Revival of the Beast Rider Squad!~
Becoming Brave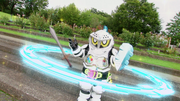 Hiiro was working for a prestigious hospital in the United States before being called back by his father to handle the new Bugster outbreak. Given the Gamer Driver and the Taddle Quest Gashat. He had just arrived in Japan when a second candidate, the pediatrics intern Emu Hojo, had been chosen to join CR as Kamen Rider Ex-Aid. I'm a Kamen Rider! Due to their different points of view, the apathetic Hiiro would always find himself at odds with Emu's idealism and care for patients, constantly responding to the latter's presence with "No thank you". Another Prodigy with No Thank You? As three more Kamen Riders emerge, Hiiro finds himself facing against Graphite, the Bugster that spawned from Saki and almost got sidetracked from his job as a doctor, had Emu not intervened. This reminder allowed him to regain his resolve and add the DoReMiFa Beat Gashat into his arsenal. BANG, That Jerk is Coming! An Operation Called Dash! Everyone Gathers for a Clashing Crash! A Hollow Beating in the Heart! The Reason for Some Lies! Men, Fly High! In a final encounter against said Bugster, Emu tricked the other Riders (including Hiiro) into fighting him, allowing the Drago Knight Hunter Z's power to be equally distributed and joining forces in their final encounter against Dark Graphite Bugster. Despite having avenged Saki's death, Hiiro realized that the deed was nothing but meaningless, as it would not revive his lover. Beat Up the Dragon! Uneven Doctors! During Christmas Eve, Hiiro and the others discovered the true identity of Kamen Rider Genm, as the one frequently antagonizing them was none other than CR's benefactor, Kuroto Dan, doing so to collect the data of Gashats. Although finally gaining Kiriya's trust, the latter was quickly killed by Kuroto in order to prevent the truth from being revealed. Who's the Black Kamen Rider? Christmas Special: Targeting the Silver X mas!
Level X and emergence of Para-DX
"I am...the world's best...doctor! I won't let anyone take control of me. The strong resolve to accomplish a mission...is the sign of a doctor entrusted with people's lives!"
―Brave overcoming Taddle Fantasy's dark magic.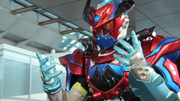 By his second year of employment, Hiiro found himself mentoring Emu after the latter promoted to surgical intern. As time passed, the two slowly grew mutual respect on each other, to the point where Hiiro kept Emu's status as Game Disease patient as a secret and vowed to find a way to cure the intern himself. Defined Destiny We're Kamen Riders! A New Challenger Appears! The Paradox of Defeating M A Nonstandard BURGSTER? The Truth Exposed The loss of his Gashats and Emu succumbing to "M" after his virus outburst puts Hiiro at his wit's end until he managed to steal the Gashat Gear Dual β. After suppressing the Gashat's control with his willpower, this allowed him to obtain Fantasy Gamer Level 50 and recover the Taddle Quest and Drago Knight Hunter Z Gashats from Genm. His words allow Emu to regain his old self sometime before losing the new Gashat to Taiga. A Sudden Fantasy!? Take Off Against the Direction of the Wind! After fighting against the Kaiden Bugster, Hiiro and the other Riders learn too late that their actions were used to further Kuroto's plans once more, this time with the completion of Kamen Rider Chronicle. Chasing the Mystery! After finding Kiriya's research of rewriting the Bugster Virus, Hiiro puts the research to use in conjunction with the blank Gashat that Taiga purchased from Tsukuru Koboshi. Engineered History! This, combined with Emu's natural Bugster Virus brings forth the creation of Maximum Mighty X, and provided the Riders with the advantage to surpass Kuroto's immortality before defeating him for good. To The Max, Dead or Alive!
Kamen Rider Chronicle
Betraying CR
The plans of CR and the Bugster were derailed by the arrival of Masamune Dan, who became Kamen Rider Cronus and defeated both sides with ease. In the next encounter, Cronus whisked Brave away, offering him a place as his personal right-hand man. Hiiro initially refused and transformed to Brave Level 50 in a fruitless attempt to fight Cronus. However, once he was subdued, Brave learned that Cronus was the one who stole the Proto Gashats from CR, which forced him to cooperate in order to save Saki. Company Reform!
Resolution of The White Knight!
Return to the Light
"Since you're the cancer of this world, I will eliminate you!"
―Hiiro's vow to defeat Masamune
Seeing the horror in front of him caused Hiiro to panic, running away from the dying Taiga rather than helping him. Later that night, a desperate Haima called Hiiro in urgency: since Taiga's heart suffered significant damage thanks to Graphite, this presented a surgery that only Hiiro could successfully perform. However, Masamune overheard the call, and gave Hiiro a proposition: Hiiro would go to the operation and intentionally fail, or else Saki's data would be erased. Hiiro went to do the operation, making Emu and the others glad of his return. However, this would not last for long, as Kiriya told the others the news about how Hiiro would kill Taiga due to the blackmail. Seeing the inescapable situation he was in, Emu chose to confront Masamune alone and entrusted Hiiro with the operation; Emu would save Saki while Hiiro would save Taiga. While Emu's efforts went to nothing, Hiiro returned to Masamune, revealing that he had saved Taiga instead of killing him, since he was unable to revoke his integrity as a doctor. Angered at this act of defiance, Masamune subsequently deleted Saki's data. In retaliation, Emu and Hiiro transformed and fought Cronus, which ended with Masamune retreating once again. After Emu left at his senior's request, Hiiro finally broke down, weeping bitterly as he accepted the fact that Saki was indeed gone for good.Period with Tears
Unlocking the Last Boss
Standing alongside Ex-Aid and Snipe in the face of Super Gamedeus and his Bugster Virus horde, Brave Legacy Gamer engaged the Bugster bosses summoned by Masamune while taking care not to harm infected civilians, defeating Aranbura before being confronted by an infected and rampaging Kiriya. Soon enough, the infection was cured by Poppy as she sacrificed her own existence to neutralize Super Gamedeus's virus through Doctor Mighty XX. Among her last words, Poppy told Hiiro not to eat too many sweets. Brave joined Ex-Aid and the other Riders in the fight against Super Gamedeus but was unable to affect the behemoth until Emu remembered Asuna's advice and rallied his fellow Riders in reverting to Level 1, allowing them to separate Masamune from Super Gamedeus, which was neutralized by Doctor Mighty XX through the sacrifice of Parado. Masamune, however, still held Cronus's power and, with the access to Emu's Muteki Gamer gone, declared that the doctor Riders would face a "Bad End." The Last Smile
At his strongest Level, Hiiro engaged the elder Dan in one final stand with the other Riders only to be swiftly overwhelmed with their strongest Gashats flying loose. Initiating Pause, Cronus, seemingly victorious, was shockingly beaten back by Ex-Aid, who revealed that Parado's sacrifice had weakened him. Reverting to Level 2, Brave and his fellow Riders ultimately succeeded in finally defeating Cronus, however, they were unable to stop Masamune from destroying the Rider Chronicle Master Gashat with himself in a final act of spite, robbing them of their chance to retrieve the Game Disease victims from the Proto Gashats. Back at CR, Hiiro saw the televised speech given by Emu speech on behalf of the Ministry of Health; the mention of Saki among those who succumbed to the Game Disease visibly upset his father, through Hiiro would choose to say "no thank you" to grief. Later, Hiiro demonstrated a surgical technique on a cream puff to two new interns at the hospital; he quietly promised to the picture of him and Saki that he would bring her smile back. Endless Game
Other events
Brave Chapter
Frustrated over having been defeated by Genm twice, Hiiro would confront Dan alone as he visited CR, demanding that he give him a VR simulation. Dan explained to Hiiro that Genm used the Proto Mighty Action X Gashat, stolen on Zero Day, which essentially had the same parameters as Ex-Aid. Knowing this, Hiiro became more flustered and demanded that Dan simulate him right now to which he complied Dan. Simulating the Quest Gamer, Hiiro faced Genm as opposed to a Bugster Virus. Instructed by Dan, Hiiro transformed into Kamen Rider Brave Quest Gamer from Level 1 to Level 2 before activating his Taddle Critical Strike finisher using the Kimewaza Slot Holder. Though clearing the simulation, Hiiro was not satisfied since he knew that the real Genm was not that weak. To evade further questions, Dan decides to leave for checking the new Gashats. When Hiiro checks the screen, it shows that Dan had set the difficulty level to Easy, which confuses Hiiro. Brave Chapter
The Dr. Pac-Man Incident
With his fellow doctors and Kamen Rider Ghost's allies, Brave fought the Next Genome Institute. Kamen Rider Heisei Generations: Dr. Pac-Man vs. Ex-Aid & Ghost with Legend Rider

Assuming the Famista Gamer
Part. II: Legend Gamer Stage
"It's game, set for you."
―Brave's proclamation in Famista Quest Gamer Level 3 before a finisher
Hiiro along with Taiga confronts the revived "Dr. Pac-Man" who had taken Emu away from Genm, both vowing to defeat him again. When the three doctors are met by Genm and the three copy Kamen Riders that he had summoned, "Dr. Pac-Man" provides the trio with the Bandai Namco Gashats, with Hiiro receiving the Famista Gashat. Transforming, Brave Quest Gamer Level 2 faces Kamen Rider Double in a brief skirmish before using his new Gashat to assume Famista Quest Gamer, generating a Game Area in which he finds himself as a pitcher facing off against the batter Kamen Rider OOO and his baseball team of Bugster Virus. Ultimately prevailing in the match, Brave performs Famista's Critical Strike to defeat the opponent Kamen Rider. Part. II: Legend Gamer Stage
Part. III: Final Legend Stage
Alongside Snipe, Brave soon caught up with Ex-Aid as he recovered the Ganbarizing Gashat, both intending to claim it for themselves only to be eluded by "Dr. Pac-Man" who snatched the Gashat as quickly as he arrived, adding it to his quartet of Bandai Namco Gashats. It was at this point that Hiiro realized that the three of them had been used as guinea pigs, a deduction immediately confirmed when "Dr. Pac-Man" was joined by the black Ex-Aid who, using the Ganbarizing Gashat to bestow upon himself the power of the first seventeen Heisei Riders, took the three doctor Riders by shock as he was able to defeat them with a single Critical Strike Rider Kick before taking his leave. Part. III: Final Legend Stage
Chou Super Hero Taisen
"So you are the real me?"
"And you are the game me?"
―The two Hiiro confront each other
When Poppy Pipopapo was pursued by the Kyurangers

, Hiiro engaged them alongside Emu and Taiga, briefly fighting with Sasori Orange

and Ookami Blue

before the fight was interrupted by the Galaxian ships.
Hiiro would come face to face with a doppelgänger of himself from the Game World, who assumed the Legacy Gamer Level 50 to become Kamen Rider True Brave. Engaging him with his own Fantasy Gamer, Hiiro ultimately bested his mirror self who then relinquished to him a cache of items which would allow him to conclude the Chou Shocker Taisen in which he would fight with various Kamen Riders and Sentai Rangers

against the Shocker army of the Game World led by Shocker Leader III. These items were the Galaxian Gashat, whose Galaxian Gamer he wielded in battle, the Chou Super Hero Cards, which he used to summon Riders and Rangers from the Game World to assist, and an Energy Item which he provided to Ex-Aid Maximum Gamer, enlarging him and allowing him to join the Kyurangers in vanquishing the Oogumo Great Leader. Kamen Rider × Super Sentai: Chou Super Hero Taisen
The Bugster Horde
When Kuroto Dan's plot to revive in the Game World caused an army of Bugsters to perpetually revive and emerge into the real world, Brave and Snipe shared the Gashat Gear Dual β as they fought back the endless horde while Emu was sent from CR to the Game World to stop Dan. Brave assumed his Fantasy Gamer first before being beaten back, Maze 2: Escape leaving Snipe to endure alone with the Simulation Gamer before rejoining him with the Hunter Gamer, at which point the horde ultimately dissipated in an instant as the destruction of the Game World brought about by Kazuma Kenzaki thwarted Dan's ambition to revive. Maze 3: Gorider Forever
"My scalpel is justice!"
―Brave before battling Ouja
Hiiro's talent would be recognized by the world in February as he won the Doctor of the Year award, which would be acknowledged as he flew to New York to receive it. On the 20th, where he was faced with a conference, examination and a surgery, he was given the plane ticket by Mizuki and Satsuki, whom he scolded when they admitted that a PET scan still needed to be reexamined, citing that the smallest margin of error could cost a patient their life.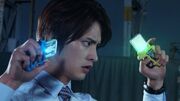 Despite an assault committed on Satsuki that night, Hiiro was prepared to leave on the following day, noting that the bones in her arms were shattered but nothing worse beyond that. Hiiro's departure from CR was covered by Mizuki, who assured Emu and Poppy that she would take care of things, later explaining to Poppy that she and Satsuki took their work under Hiiro in stride as they aspired to be the best nurses to support the world's best surgeon. Ultimately, however, Hiiro chose to return while on his way to the airport. Finding an unconscious and savagely beaten Emu, Hiiro recovered the Night of Safari Gashat that had been left on his person before rescuing Mizuki as he confronted the perpetrator; the revived Mirror Rider Takeshi Asakura. Initially transforming to Quest Gamer Level 2, Brave engaged Asakura's Beast Rider Squad, defeating Kamen Riders Tiger and Dark Kiva before being beaten back by Asakura himself as Kamen Rider Ouja. It was at this point that Brave assumed Level 4 Safari Gamer, which allowed him to defeat Ouja despite his use of Sasword and Beast as human shields. As Asakura passed on again, he told Hiiro to continue to fight lest his life would not be worth living, only for Hiiro to retort that he was not the best authority on life advice. Following this, Hiiro, having lost Night of Safari on the way, proceeded to personally tend to the wounds sustained by Mizuki and Satsuki, who would thank him for helping them while canceling his trip to America, noting it as the second time he had saved their lives. Hiiro, however, preserved his cold demeanor as he justified his sacrifice by assuring that he would have many other opportunities to be acknowledged in the future. Kamen Rider Brave: ~Let's Survive! Revival of the Beast Rider Squad!~
Kamen Rider Heisei Generations FINAL: Build & Ex-Aid with Legend Riders
Kamen Rider Zi-O
2019: Missing World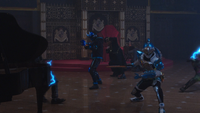 Kamen Rider Diend and summons Kamen Rider Specter and Kamen Rider Brave to fight Another Ghost and Another Ex-Aid respectively, as he steals the Zi-O II Anotherwatch. But before he could escape, Swartz freezes him and takes back the Anotherwatch. 2019: Missing World

Video Game appearances
Kamen Rider Brave appears as a playable character among other Kamen Riders. He performs all his abilities and has the access to his many forms in the Video Game.
Kamen Rider City Wars
Kamen Rider Brave is a playable character inKamen Rider City Wars alongside the other Kamen Riders. Brave uses Taddle Legacy in the game.
Personality
While Hiiro is intelligent and capable, he is also cold and arrogant. He firmly opposes personal involvement with his patients, as he believes that personal feelings will only interfere with his performance. Therefore, he initially looks down on Emu, deeming him unworthy to work in CR due to his inexperience and conflicting ideals, although he starts to warm up to the intern over time. He is the only one to question Kuroto's somewhat dubious behavior, showing some level of perceptiveness. Hiiro has a liking for desserts, mainly cakes or pies, which he claims is to increase his energy in between operations. This quirk is later revealed as a form of mourning for his late girlfriend, who always gave him desserts when he studied. While remembering Saki, Hiiro begins to question if revenge was really worth it, showing that he had doubts about vengeance instead of being utterly consumed by it like Taiga was.
Hiiro treats his fighting against Bugsters like an operation. He has a habitual quirk of raising his hands in the position most surgeons use when they are about to operate on a patient, and refers to the Gashacon Sword as his "scalpel". He often also speaks in a mannerism akin to his civilian job after transforming, in the form of his pre-battle catchphrase. He will only cancel his transformation should he deem the situation very risky (primarily when his Rider Gauge is almost depleted). When he encounters someone he doesn't like or doesn't believe that they belong in the situation, he will always respond to their presence by saying "No thank you" (ノーさんきゅうー Nō san kyū).
Due to Hiiro referring to anything that can be used for cutting like a scalpel, his habit with words can sometimes make people misunderstand the meaning of what he is really saying. This was shown when eating at a public cafe, he asked for a scalpel instead of a knife. However, he quickly corrected himself after realizing his mistake.
Upon learning the extent of Kamen Rider Chronicle in regards to reviving those who died of the Bugster infection, including Saki, Hiiro becomes curious about this, to the point of continuing to think about bringing Saki back to him, but this trait was, in turn, his fatal flaw. Masamune Dan takes advantage of this and thus blackmails the surgeon into working for him, which results in him having an internal conflict within himself between his profession as a doctor and his love for Saki. This conflict ended with him committing to his profession and saving people as his first priority, but he still regretted being unable to save Saki, to the point of bitterly crying.
In the end, his second reunion with Saki would be their final one, as Kuroto reveals that that her restoration was merely temporary. When Saki officially passed away from the disease, Hiiro finally gained closure at last, since she asked him to forget about her and focus on helping those that can be saved, unlike her. This newfound resolve comes full-circle in the ending of Genm vs. Lazer, where he manages to restore Kiriya's original body.
Family
Powers and Abilities
Powers
Acquired Game Disease Immunity: As a result of the standard compatibility surgery for CR candidates, Hiiro Kagami is immune to the Game Disease and able to transform into a Kamen Rider to fight the Bugsters. Unlike Taiga, Hiiro's initial uses of higher-level Gashats inflicted physical damage and strained his body until he acclimated to the power.
Abilities
Master Physician: Although he is only 24, Hiiro is a skilled surgeon, considered by many to be a genius in his field. His genius surgical skill allowed him to flawlessly perform extremely complicated surgeries with little to no mechanical assistance. He specializes in heart surgery, although he is capable of performing other operations.

Adaptation: An extension of his intellect, Hiiro has shown to quickly learn new concepts to make up for a previous failure. This was seen early on in the series when he first had difficulty with the rhythm mechanic of a game but started using said mechanic to full effect by employing CPR rhythm to maintain the pace of his attack.

Expert Swordsman: Hiiro is shown to be capable in using swords and displayed considerable skill in swordsmanship, comparing them to scalpels. This can be seen when he decapitated a Giant Bugster using a generic sword. This also shown as when he sliced a cream puff in episode 6, he didn't bring the knife in contact with the cream puff, but still equally cut into 4 pieces.
Skilled Combatant:
Levels
Equipment
Devices
Weapons
Bugsters
Relationships
CR:
Emu Hojo: Although they often partnered during their battle with Bugsters, Hiiro sees Emu as nothing but an Intern (

研修医

Kenshūi

) and also 'No Thank You', in return Emu didn't really like him either, going so far to say that Hiiro isn't a real doctor twice. Hiiro has slowly warmed up to him, showing concern when he learned that Emu was infected with the Bugster virus and even saying that he "wanted to cure the patient right in front of him" in regards to Emu. This got extended to when Emu wakes up as "Genius Gamer M", Hiiro is greatly angered and grabbed Emu by the coat so he can snap out of his delusions. Later on, he recants what he thought about Emu before, saying he was very harsh on him before. When Emu first know that Hiiro defect CR and become Masamune right-hand man, Emu acknowledged that Hiiro was blackmailed, rather than defecting on his own free will to get Saki back. Emu also believe that Hiiro will return to CR eventually, and when Hiiro ask Emu to fight alongside with him once more, Emu complies. In Kamen Rider Zi-O, Hiiro no longer calls Emu an intern and instead refers to him as a pediatrician.
Asuna Karino/Poppy Pipopapo: Hiiro's usually apathetic towards her but in return, she develops some fear toward Hiiro. She even obeys several orders from him such as when he asked Poppy to use her knife to cut an apple pie.
Haima Kagami: Despite being a family, Hiiro acts cold toward his father, once scolding him to not talk too much, but Haima always does his best to help him. Haima was willing to risk his life and his title as Director by becoming a Ride-Player and being infected with the Lovelica Game Disease strain in order to clear Kamen Rider Chronicle and revive Saki Momose. When Haima's identity is revealed, Hiiro tells the others to retreat for his father's safety. When Asuna comments that Haima can be serious at times, Hiiro confirms her statement and reveals that his father is his motivation to become a doctor. Judgement Received! Upon hearing Kiriya info about Masamune last order to Hiiro (Which is to sabotage his operation to reclaim Saki), Haima believed that his son will never do things that lowly, which proved by Hiiro himself.
Taiga Hanaya: Hiiro holds a grudge against him since Taiga is responsible for letting his late girlfriend die from Graphite's infection. His resentment of Taiga's actions were enough for Hiiro to claim that Taiga was "not qualified to be a Kamen Rider". When Taiga takes the Gashat Gear Dual β from Hiiro after suffering the strain of his own Level 50 form, Taiga reminds Hiiro that he might end up becoming the broken and bitter man he is now if Hiiro is not careful with his pragmatic methods, and also tend his wounds Take Off Against the Direction of the Wind! Later on, Hiiro realized that Taiga only put on the front act as he actually the one who knows everything about becoming the Gamer Rider, especially learning that Taiga hold the regret for unable to save Saki as equal as Hiiro. This led Hiiro to tend Taiga's dying wound and finally rekindle their comradeship and no longer hold grudge to each other.
Kiriya Kujo: Kiriya seems to hold no ill feelings toward Hiiro, but Hiiro distrusts him due to his liar nature, right up until Kuroto revealing himself to be Genm, which Kiriya had previously warned about. Later on, some time after Kiriya's death, as Hiiro found the data that Kiriya had left behind, he finally realized that Kiriya's true intentions were to find a way to stop the Bugster threat once and for all. Coincidentally, after Kiriya's revival as a Bugster, both of them now become Masamune Dan underlings.
Kuroto Dan: Although somehow dubious from Kuroto's behavior, Hiiro seems to respect him, unaware that Kuroto is actually Genm until Kuroto revealed himself as Genm, whereas both Hiiro and the three other Doctor Riders were too late to notice and stop Kuroto's first plans, such as his manipulation of the Riders and the creation of death data from the Dangerous Zombie Gashat through clearing 10 produced Gashat games from succeeding. Even worst part, ones Emu found out full infos in regarding of his status on how he became a progenitor to Bugster Viruses and the viruses' further origin in Y2K from Kuroto's father Masamune, Hiiro and the detective Heiji Uesugi found out that Kuroto was the one who infected Heiji's son and Saki as the result of one of the Bugsters like Graphite completely manifest the infection progress and the hosts disappeared into nothingness.
Civilians:
Saki Momose: Saki deeply loves Hiiro, although Hiiro didn't reciprocate her feelings in order for him to continue studying. Saki's death is the one thing that motivates Hiiro to become a Kamen Rider. Hiiro also said that he'll do anything to see her one more time. This is also the reason why Hiiro decides to betray his fellow teammates in CR, as Masamune Dan promises to revive Saki (which he actually does, albeit without her consciousness), implicating that Hiiro actually really loves her in return. At first, Hiiro was determined to bring her back at all cost. But, after Taiga was beaten up by Graphite and had a severe Hemorrhaging, Hiiro remembered Saki last word and decide to Save Taiga instead of killing him. Saki data then get deleted, and after Hiiro, along with Emu defeat Masamune in Legacy and Muteki Gamer respectively, Hiiro mourn her loss amidst the rain. Period with Tears
Mizuki Mizoguchi and Satsuki Ogimachi: Both of them was saved by Hiiro several years ago, and thus they both willingly become Hiiro personal Nurses to aid him to become the best doctor in the world. Hiiro often acts cold to them, but they already understand and put their faith on him. Hiiro also saved them when they both are badly assaulted by Takeshi Asakura, although he refused to admit it. Kamen Rider Brave: ~Let's Survive! Revival of the Beast Rider Squad!~
Bugsters:
Graphite: Hiiro holds a grudge against Graphite, since Graphite was born from his late girlfriend. After receiving Emu's plea, Hiiro holds a determination to finish Graphite off. Graphite in return sees Hiiro as nothing before, but after his defeat, he swore to destroy him using his own hands. Hiiro finally gets to avenge Saki with the help of the other Doctor Riders, but refuses to admit it.
Lovelica: Hiiro fought against Lovelica when he was revived by Kuroto. And Saki was under his control.
Genm Corp:
Masamune Dan: Masamune takes interest in Hiiro after revealing his identity as Cronus. He successfully manages to blackmail Hiiro by showing him the Proto Drago Knight Hunter Z Gashat, which contains the data of Hiiro's late girlfriend, Saki. Later, Hiiro betrays CR and becomes Masamune's right hand man. Hiiro feels uneasy around Masamune even after he revives Saki (albeit without her consciousness). He later becomes agitated by Masamume, as the latter confiscates his Gashat Gear Dual β without explanation. It is then revealed that Masamune used the data of Taddle Fantasy to create the Taddle Legacy Gashat. Upon Masamune first defeat on Ex-Aid Muteki Gamer, Masamune unleashed his Anger to Hiiro and ordered him to Kill Parado in order to make Emu unable to transform, or Saki data'll be permanently erased. Although this make Hiiro fortify his resolve and able him to use Taddle Legacy, this starts to drive a wedge in their partnership. Later, as Taiga was beaten up by Graphite and had severe hemorrhaging, Masamune order him to sabotage Taiga's operation. But, remembering Saki's last words, Hiiro saves him instead. Thus, their partnership ends after Masamune deletes Saki's data. Hiiro then said that Masamune is the world's cancer, and he will end him once and for all. Period with Tears
Legend Rider Devices
"Kamen Ride: Brave"
―DX NeoDiendriver summoning announcement
KamenRide: Brave: A Rider Card containing the power of Kamen Rider Brave. Used by Diend to summon Kamen Rider Brave.
A special Taddle Quest Gashat (Memorial Finish Ver.) (タドルクエストガシャット (メモリアルフィニッシユVer.), Tadoru Kuesuto Gashatto Memoriaru Finisshu Ver.) was released in 2017.
"(Digital beeping) Brave!"
―Activation announcement
"(Right-hand Ridewatch's announcement)! Armor Time! (Dramatic fantasy music) Level Up! Brave!"
―Transformation announcement in the Ziku-Driver's left-hand slot
"Finish Time! Critical Time (Break/Burst/Jack)!"
―Finisher announcement in left-hand slot
Brave Ridewatch (ブレイブライドウォッチ, Bureibu Raidowotchi): Based on Kamen Rider Brave Quest Gamer Level 2, this Ridewatch would provide access to the BraveArmor. It is dated 2016.
"(Digital beeping) Legacy Gamer!"
―Activation announcement
"The white-bodied legendary brave! Brave Legacy Gamer! (

白いボディ伝説の勇者!ブレイブレガシーゲーマー!

Shiroi bodi densetsu no yūsha! Bureibu Regashī Gēmā!

)"
―Secondary activation announcement
"Finish Time! Taddle Time (Break/Burst/Jack)!"
―Rider Armor finisher announcement
Brave Legacy Gamer Ridewatch (ブレイブレガシーゲーマーライドウォッチ, Bureibu Regashī Gēmā Raidowotchi): Based on Kamen Rider Brave Legacy Gamer Level 100, this Ridewatch would provide access to the BraveLegacyGamerArmor. It is dated 2016.
Behind the scenes
Portrayal
Hiiro Kagami is portrayed by Toshiki Seto (瀬戸 利樹, Seto Toshiki). As Kamen Rider Brave, his suit actor is Jiro Uchikawa (内川 仁朗, Uchikawa Jirō) in Level 1 and Jun Watanabe (渡辺 淳, Watanabe Jun) in Level 2.[20]Brave is the last Secondary Rider role for Jun Watanabe in the Heisei Phase 2, Eitoku takes over in the next season following after Ex-Aid.
Notes
Brave's helmet design is very similar to Kamen Rider Mars' helmet design from Kamen Rider Gaim.
Hiiro shares some similarities with Kaito Kumon/Kamen Rider Baron:

Both riders share an element of "dancing", with Baron being the former leader of a dance troupe and Brave possessing a "dancing/beat game" as one of his forms.
Brave's Fantasy Gamer Level 50 is somewhat similar to Demushu and Lord Baron from Kamen Rider Gaim.
Both riders are strong-willed individuals to overcome the demerits of their newfound demonic powers. With Baron retaining his free will as Lord Baron and Brave gaining full control of Taddle Fantasy Level 50.
Both riders are able to command the henchmen of their series.
Like Kaito, they both debuted in the first episode of their Rider series as their physical appearances.
Both have horned helmets as part of their designs in certain forms.

His last name, "Kagami", is the same as Kamen Rider Gatack's, another blue secondary Rider.

His first name, "Hiiro", sounds similar to Hero (

ヒーロー

Hīrō

), a usual term used for fantasy RPGs.
The kanji that makes up his first name, if translated separately, makes the phrase flying colors with 飛 meaning fly and 彩 meaning color.

Brave having a dancing motif might be a reference to the show Brave Beats.
Hiiro Kagami's main profession is a surgeon, similar to Kaoru Kino from Kamen Rider Agito, except that Kino is a surgeon who lost his license while Hiiro works in a prestigious hospital where his father is the director.
His Fantasy Gamer form allows him to summon Bugster Viruses, similar to Kuroto Dan's Zombie Gamer form.
While Taddle Fantasy allowing him to have Bugster Virus minions is most likely due to the player character being a villain, it may also be a reference to his surgical team as he is the surgeon of the team.
His first transformation by having his nurses putting his Gamer Driver on and giving him his Taddle Quest Gashat without doing the tasks himself is in itself a reference to surgeons. Surgeons can't touch anything with their hands before operating on a patient or they otherwise risk giving the patient an infection or some other form of contamination to their bodies during surgery.
Hiiro's initial portrayal at the start of the series is a reference to the stereotype of surgeons being task-oriented doctors who focus solely on curative measures while having a marked lack of empathy towards their patients.
Like Ren Akiyama/Kamen Rider Knight, they have a reason to become Kamen Riders, involving critical conditions of their respective lovers. Except, their reasons are completely different. Ren became a Rider after his lover was attacked and put into a coma during the Mirror Monsters' attacks, while Hiiro became a Rider after his lover, Saki, died when Graphite Bugster (who was born from Saki) was too strong for Taiga/Kamen Rider Snipe to fight him alone. Saki's soul and memories are also trapped in the Proto Drago Knight Hunter Z Gashat, which Graphite originates from.
Hiiro has some similar poses with three previous Kamen Riders:

When Hiiro chooses Brave's profile pic during his transformation sequence by using his left hand, his pose is similar to Haruto Soma's transformation pose when he activates the Transformation Ring by using his left hand.

Coincidentally, both Riders are associated with dragons (Brave possessing a Monster hunting game as another one of his forms and Wizard being allied with the Wizardragon).

When Hiiro stabs his Gashacon Sword into the ground during his battle against Aranbura Bugster in Episode 2, his pose is similar to when Kamen Rider Blade stabs his Blay Rouzer into the ground before performing the Lightning Blast or Lightning Sonic finisher. Both Brave and Blade eventually met briefly during Kamen Sentai Gorider.
Right before inserting his Gashat into the Gamer Driver, Hiiro twirls the handle in his fingers, similar to how Kaito Kumon twirls his Lockseed before inserting it into the Sengoku Driver and the Genesis Driver. Moreover, his Taddle Fantasy Level 50 Form bears a strong resemblance in both appearance and abilities to Kaito Kumon's Lord Baron Form.

Ironically, Hiiro's actor, Toshiki Seto, has an aversion towards sweets.

It is revealed that Hiiro also avoided desserts 5 years ago. His taste was changed due to Saki's death.
Hiiro is 24 while Toshiki was 21 by the time when he portrayed Hiiro.

Kamen Rider Brave Safari Quest's design bears similarities to the Aztec Jaguar warrior outfit.

Interestingly, while Brave has a knight motif, Aztec Jaguar warrior was also known as Jaguar Knight.

Though among the Riders he is the most talented as a doctor, as a Kamen Rider, he is the least adept in terms of mastering higher Level forms.
Whereas Snipe's Levels are based on military branches, Brave's Levels refer to the group alignments in RPGs, such as heroic (Taddle Quest, Taddle Legacy), neutral (DoReMiFa Beat, Drago Knight Hunter Z) and evil (Taddle Fantasy). Additionally, Brave transforming to Level 50 is a nod to certain game protagonists who experience a face-heel turn, shifting into antagonists in later sequel publications or DLC (downloadable content) stories.

Brave turns evil because a villain blackmails him while holding his lover as a hostage, which is a common trope in games, where a hero switches allegiances to protect/save their lover.
Each Gamer form is also based on classes of RPG characters: Quest Gamer is a Knight/Warrior, Fantasy Gamer is a Dark Knight/Dark Magic Classes, Hunter Quest Gamer is a Monster Knight and Legacy Gamer is a Paladin.

Brave Legacy Gamer Level 100's Rider Kick style is similar to Kamen Rider Den-O Super Climax Form's Rider Kick Style, as both of them spread out a pair a wings on their backs before kicking the enemy.
Appearances
References
Community content is available under
CC-BY-SA
unless otherwise noted.