Heroic! A Man's Resolve! (壮絶!男の覚悟!, Sōzetsu! Otoko no Kakugo!) is the twelfth episode of Kamen Rider Ghost. It features the TV debut of Ghost Toucon Boost Damashii, following its debut under the name Tousan Damashii in the movie Kamen Rider × Kamen Rider Ghost & Drive: Super Movie Wars Genesis, along with the Sunglasseslasher.
Synopsis
Takeru's wish to bring Makoto's sister Kanon back starts their search for the Eyecons all over again, but without the Gamma to point the way where they have scattered, Akari and Onari are worried that they are too late to bring Takeru back to life. The return of the Gamma Superior means they are on the right track, but something happens to Takeru after he transforms into Kamen Rider Ghost, again.
Plot
to be added
Cast
Suit Actors
Ghost Eyecons
Eyecon Used:
Damashii Used:
Gamma Eyecons
Eyecon Used:
Gamma Form Used:
Errors
to be added
Notes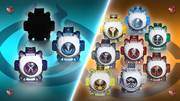 Closing Screen Ghost Eyecon
Count at episode end

Takeru's days of life remaining: 99 (reset)
Heroes' Eyecons left: 0
Eyecons in Ghost's Possession: 8
Eyecons in Specter's Possession: 3
Eyecons in Jabel's Possession: 0
Eyecons in Alain's Possession: 2
Eyecons currently missing: 2

This is the last episode to be aired in 2015.
This is the first time neither Ghost or Specter used one of the 15 Great Heroes Ghost Eyecons.
While the original date of Takeru's literal deadline was on January 10, 2016, the new reset date of his deadline is now on April 20, 2016. In terms of real time to the show's airings on Sunday, this episodic event will happen roughly four weeks after Kamen Rider's 45th anniversary on April 3rd.
DVD releases
External Links
Community content is available under
CC-BY-SA
unless otherwise noted.