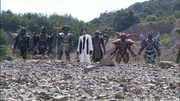 Heroes of Evil (悪の勇者, Aku no Yūsha) was how Super Apollogeist addressed a gathering of fallen monsters from the Nine Worlds which he had revived through a surplus of Life Energy which he had gained during his wedding to the Fangire Yuki, which transformed him to a 'Super' half-Fangire form. Consisting of various monsters from six different monster groups, they were subsequently combined into the strongest of their respective groups. These six strongest monsters were destroyed by Kamen Riders Decade, Diend, Kuuga, Kiva, and Hibiki. The Destroyer of Worlds
Revived Monsters
Notes
The six monsters that were summoned are all unique monsters that Tsukasa took on during his quest to save the Nine Worlds. Three are notably absent.

Gyuki, possibly due to his origin being Oni-based instead of Makamou-based.
Kamen Rider Abyss, due to already being represented by Paradoxa Undead (as they are one in the same).
N-Gamio-Zeda, for reasons unknown.
Community content is available under
CC-BY-SA
unless otherwise noted.