Helldiver (ヘルダイバー, Herudaibā) is ZX's personal motorcycle.
All Rider Break
ZX got on his Helldiver, among many other Kamen Riders and their Rider Machines, to perform the All Rider Break attack which ended the final battle with Rock Great Leader. OOO, Den-O, All Riders: Let's Go Kamen Riders
In other continuities
SD
The SD Kamen Rider ZX rides in a modified version of his Helldiver motorcycle in the OVA, Kamen Rider SD: Strange!? Kumo Otoko.
Spirits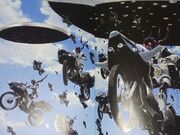 In Kamen Rider Spirits, Helldiver is a mass-produced vehicle created by Badan for its troops.

Video Game appearances
Kamen Rider: The Bike Race
ZX appears riding Helldiver in Kamen Rider: The Bike Race, a racing game featuring the majority of Kamen Riders and Rider Machines up to Kamen Rider Agito.
Behind the scenes
Conception
As seen in the book Kamen Rider Art Collection Hero Hen, Helldiver was originally conceived as being equipped with rocket boosters, an idea which would eventually be used in Kamen Rider Spirits. Another early design of the Rider Machine featured some sort of cannon weapon mounted behind the left side of the seat.
Notes

Appearances
See also: Ryo Murasame/Appearances
Community content is available under
CC-BY-SA
unless otherwise noted.