| | |
| --- | --- |
| | WARNING: This episode contains scenes of body horror and blood. Viewer discretion is advised! |
He Still Didn't Do It (ソレでもカレはやってない, Soredemo Kare wa Yattenai) is the twenty-second episode of Kamen Rider Zero-One. It features the debut of Zero-One MetalCluster Hopper and the reveal of the Dynamaiting Lion Raider's identity.
Synopsis
In the midst of the third competition in Hiden Intelligence vs ZAIA Enterprise's "5-Round Workplace Competition" involving a trial, Hiden Intelligence's own Lawyer-Type Humagear has gone berserk and been destroyed by Thouser, while the clues leading to the identity of a Raider have fallen short! But just then, a surprising encounter by Fuwa starts to help Hiden Intelligence, leading to an interesting collaboration between Fuwa and the Humagear!
Plot
to be added
Cast
Guest Cast
Suit Actors
Forms and Collectibles Used
Key Used:

Zero-One

Shining Assault Hopper, MetalCluster Hopper

Vulcan
Thouser

Standard
Jacking Break

Shining Assault Hopper, Shooting Wolf

Form Used:

Zero-One

Shining Assault Hopper, MetalCluster Hopper

Vulcan
Errors
When inputting the data to create the MetalCluster Key, it is misspelled as Metal Cluaster.
During the initial scene where Aruto is being corrupted by the MetalCluster Key, his voice is heard screaming despite his mouth not being open.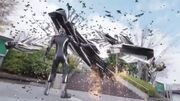 When Zero-One grabs Thouser by the throat and blasts him away, the CGI model of Zero-One briefly loses its belt.
When Aruto's mind is transferred to Ark, the Zero-One Driver is present on him but when he is being attacked by its malice, the Driver disappears for a few seconds.
Notes
Closing Screen Progrisekeys:

Kamen Riders: Zero-One, Thouser
Progrisekeys:

Zero-One: MetalCluster Hopper
Thouser: Dynamaiting Lion

Ending Sponsors Progrisekeys

1. Flaming Tiger
2. Punching Kong
3. Lightening Hornet

Count at episode end

Progrisekeys in Zero-One's possession: Rising Hopper, Biting Shark, Flying Falcon, Flaming Tiger, Freezing Bear, Breaking Mammoth, Shining Hopper, Hopping Kangaroo
Progrisekeys in Vulcan's possession: Shooting Wolf, Punching Kong, Gatling Hedgehog, Trapping Spider, Assault Wolf, MetalCluster Hopper
Progrisekeys in Valkyrie's possession: Rushing Cheetah
Progrisekeys in Thouser's possession: Amazing Caucasus, Sparking Giraffe, Exciting Stag, Crushing Buffalo, Splashing Whale, Dynamaiting Lion, Storming Penguin, Scouting Panda, Sting Scorpion, Lightning Hornet
Zetsumerisekeys in Thouser's possession: Awaking Arsino, Berotha, Kuehne, Ekal, Neohi, Onycho, Gaeru, Mammoth, Dodo, Arsino

The elder judge is portrayed by Takayuki Sato, who previously portrayed a Resistance member in Kamen Rider: Reiwa The First Generation. This was intentional by the producers as part of an effort to introduce some of the characters from the film into the main series.[1]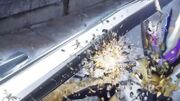 Thouser's helmet is damaged in this episode. This is the first event of a helmet breaking in Reiwa Era Series.

Unlike previous broken helmet scenes, only mechanical parts of Thouser's helmet can be seen instead of Gai's face.
External links
References
Community content is available under
CC-BY-SA
unless otherwise noted.