"Fundari? Kettari? Hattari! Kamen Rider Hattari!"
―Transformation announcement
"(Word) Ninpow!"
―Special attack announcement
"Ninpō Tsumetai!"
―Sword summoning announcement
When equipped with an unnamed faceplate, the Miraidriver belonging to Kamen Rider Hattari becomes the Hattaridriver (ハッタリドライバー, Hattaridoraibā).
User
Transformation Items
Design
Functionality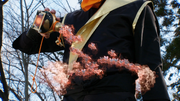 To transform, Isamichi must summon the Miraidriver onto his waist by uncorking the Golden Hyoutan (ゴールドヒョウタン, Gōrudo Hyōtan, lit. "Gold Gourd") and pouring its contents onto his waist. After performing a dance to the Standby theme, he shouts "Henshin!" before placing the Plate onto the Driver and spinning its shuriken.
Special Attacks
Kachikochi Ninpo (

カチコチ忍法

Kachikochi Ninpō

) (or Ninpo Tsumetai (

忍法ツメタイ

Ninpō Tsumetai

, lit. "Ninja Art Chilling")): By initiating Ninpo: Hyouton no Jutsu (

忍法: 氷遁の術

Ninpō Hyōton no Jutsu

, lit. "Ninja Art: Ice Technique"), Hattari releases an Absolute zero degree icy gust from his hands which can freeze the enemy solid.
Naiagara Ninpo (

ナイアガラ忍法

Naiagara Ninpō

): By initiating Ninpo: Suiton no Jutsu (

忍法: 水遁の術

Ninpō Suiton no Jutsu

, lit. "Ninja Art: Water Technique"), Hattari creates a wave of water to wash away enemies.
Fantastic Ninpo (

ファンタスティック忍法

Fantasutikku Ninpō

, lit. "Fantastic Ninja Art"): Hattari jumps into the air with a trail of wasps, initiating a Rider Kick with a swirling shuriken at his foot, before it being a bluff, transforming into a swarm of wasps as he appears behind the enemy and slashes at them.
Behind The Scenes
Portrayal
Same as Shinobidriver, the announcement of Hattaridriver is also voiced by Kenya Hatsumura (初村 健矢, Hatsumura Kenya).
Notes
Appearances
References
Community content is available under
CC-BY-SA
unless otherwise noted.