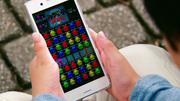 Hatesate Puzzle (ハテサテパズル, Hatesate Pazuru, lit. Well OK Puzzle) is a mobile app puzzle game which was developed by the high school computer programming prodigy, Togo Kiyomiya, independent of Genm Corp.. It is from this game that the Hatena Bugster, born from Kiyomiya, takes its form. [Kamen Rider Heisei Generations: Dr. Pac-Man vs. Ex-Aid & Ghost with Legend Rider]
Game Description
to be added
History
to be added
World of Build
The game also exists within the World of Build as it was shown being played by Misora Isurugi. [The Innocent Runaway]
Bugster
Hatena Bugster is a Bugster born from the data of Hatesate Puzzle.
Behind the scenes
Hatesate Puzzle was conceived for the film Kamen Rider Heisei Generations: Dr. Pac-Man vs. Ex-Aid & Ghost with Legend Riders.
Notes
This is the only game in the Ex-Aid setting made by an independent developer other than Genm Corp. and the only game to be a mobile app type game.
Appearances
See Also
References