Spider-Man: No Way Home Trailer Dropped - The Loop
Play Sound
For The Bugster from Kamen Rider Ex-Aid "Tricks": Kamen Rider Para-DX, see Hatena Bugster (Nazo Toki Labyrinth).
Hatena Bugster (ハテナバグスター, Hatena Bagusutā) is the monster manifested from data of the puzzle game, Hatesate Puzzle, having been born from its developer, Togo Kiyomiya.
History
The Hatena Bugster is virus conceived from the puzzle game data. Hatesate Puzzle, having been born from its developer, Togo Kiyomiya. He has a quiet and rugged samurai-like personality and speaks little except what is necessary, and after his birth he follows him as an obedient right-hand man to Michihiko Zaizen's orders. Ultimately, Hatena was destroyed by Kamen Rider Ghost Tenka Touitsu Damashii.
Other Events
Hatena was part of an perpetually reviving army of Bugsters which emerged in the real world as a result of Kuroto Dan's plot to revive in the Game World. This endless horde was held off by Kamen Riders Brave and Snipe, sharing the Gashat Gear Dual β and Hunter Gamer between each other, while Emu Hojo was sent from CR to the Game World to stop Dan. Ultimately, the Bugster horde was suddenly dissipated in an instant as the destruction of the Game World brought about by Kazuma Kenzaki thwarted Dan's ambition to revive.
Personality
to be added
Powers and Abilities
Hatena Bugster is an extremely powerful monster. It overpowered Ghost's combination of 15 heroic souls, and even his infinity soul. The Bugster can open a portal to drop explosive blocks on his enemies. It also has the ability to transport Bugsters and their enemies to a proper battlefield of their game, similar to Gamer Driver's Stage Select.
Arsenal
Forms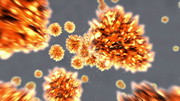 The Bugsters originate as the microscopic Bugster Virus (バグスターウイルス, Bagusutā Uirusu), a result of humans being contaminated by the Bugster, thus developing the condition known as the Game Disease (ゲーム病, Gēmu-byō).
Behind the Scenes
Portrayal
The Hatena Bugster is voiced by Hiroshi Naka (中 博史, Naka Hiroshi). His suit actor is Jiro Okamoto.
Concept Art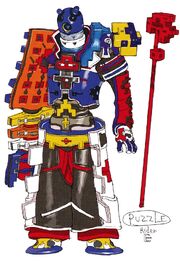 Hatena Bugster was designed by Katsuya Terada (寺田 克也, Terada Katsuya).

Notes
Appearances
Sources
References