For the A. R. world version , see Haruto (World within the Magic Stone).
For his Bujin counterpart , see Kamen Rider Bujin Wizard.
"Now, it's showtime!"
―Wizard's pre-battle catchphrase
"The finale!"
―Wizard's proclamation before a finisher
"Whew..."
―Wizard's sigh after a successful finisher
Haruto Soma (操真 晴人, Sōma Haruto), alternatively spelt Haruto Souma[1], is a former professional soccer player who became a victim to The Sabbath and held onto his inner Phantom. Entrusted with Koyomi by The White Wizard, Haruto fights the Phantoms as Kamen Rider Wizard (仮面ライダーウィザード, Kamen Raidā Wizādo) to prevent despair and bring hope to others.
Biography
During his childhood, Haruto's parents were badly injured during a car crash. In this event, he made a promise to keep his hope alive, saving his own life as an adolescent when he was one of the first few Gates sacrificed during a solar eclipse. Subjected to the Sabbath, pro-soccer player Haruto manages to keep his inner phantom Wizardragon, who was born in him and "berserk", from emerging by facing despair head-on. As a result, he obtains magical powers. Being the only one to survive the eclipse, White Wizard entrusted Koyomi to Haruto and receives a Wizardriver and the Flame Ring. Haruto then hunts down Phantoms as Wizard, seeking to prevent others from falling into despair and to protect his and their hope.
Haruto later comes to the aid of Kamen Riders Fourze and Meteor. It is during that battle that Fourze, unbeknownst to Haruto, calls him a "Kamen Rider", and so inherits the name of Kamen Riders, naming himself Kamen Rider Wizard.
Along his journey, Haruto becomes allies with amateur magician Shunpei Nara, police officer Rinko Daimon, and Yu Kamimura. Helping to stop the Phantom outbreaks with his friends, he learns to tap more into his mana pool and more of Wizardragon's power, allowing him to assume improved forms of his normal ones called Dragon Styles of either the Fire, Water, Wind, or Earth elements. Creating the Drago Timer from his raw mana, Haruto is able to generate three copies of himself, all assuming the upgraded Wizard Dragon Style Forms at the expense of draining his mana. Later he meets mayonnaise-lover Kamen Rider Beast, Kosuke Nitoh, with which he forms an alliance and they prevent Phantom's outbreaks together. Haruto then later learns how to tap into his power in it's purest form rather than channeling it through the rings supplied to him by Sou Fueki. From his own tears, he creates the Infinity Wizard Ring, allowing him to access his final form, Infinity Style.
Haruto later finds Koyomi kidnapped by a Golden wizard, Sorcerer, who uses Koyomi as a catalyst to rewrite the world. Arriving at the new world, it is inhabited by not users of technology, but rather users of magic, using mana as an equivalent to currency. Haruto, through a long tedious process, gains the support of this world's counterparts of Wajima, Rinko, and Shunpei, who all can access the form Kamen Rider Mage, and defeats Sorcerer in a one-on-one match, sending both Haruto and Koyomi home.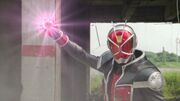 Later finding out the true purpose of The Sabbath (to revive Koyomi), Haruto resolves to stop The Sabbath from occurring once again. Clashing with White Wizard, Sou Fueki, the two enter a deadlock, fighting over Koyomi. However, Koyomi and Sou are both killed by Gremlin. Later defeating Gremlin, Haruto travels the world alone with Koyomi's entity becoming one with the Hope Wizard Ring.
Finding himself coming to someone's cry for help, he is sent to the World within the Magic Stone, aiding the other Kamen Riders, and the alternate Haruto. Teaming up with Gaim, he is able to stop this world's crisis. He gives the young boy his Infinity Wizard Ring, allowing the alternate Haruto to summon him into his world whenever he needs him.
Later, Haruto faces the Ogre Phantom, creating a copy of Koyomi from his Hope Wizard Ring, armed with White Wizard's power. Calming the copy of Koyomi, she is allowed to rest in peace. However, Ogre uses Legion's attack to slash through Haruto and enters his Underworld (causing him to fall into despair). Through Shunpei's Chichin Pui Pui Wizard Ring, Haruto was able to manifest his will (Rider form) outside of his physical body. Traveling into his own Underworld, he managed to overpower the Phantom. When questioned for how he is so strong, Haruto refered to himself as the Wizard of Hope (希望の魔法使い, Kibō no Mahōtsukai). After defeating the Ogre Phantom, Haruto gave the Hope Ring to the Koyomi that resides in his Underworld. In the aftermath, Kosuke was absorbed by the Nepenthes Monster who ran through a Crack. Arriving in the Sengoku Period World, Haruto inherited the Infinity Wizard Ring from Ieyasu, which originally belonged to Kamen Rider Bujin Wizard. Teaming up with the Armored Riders, they defeated Bujin Gaim. After the fight between Bujin Gaim and the Nepenthes Monster, Kosuke and Haruto returned back to the main world.
Kamen Rider Taisen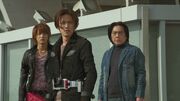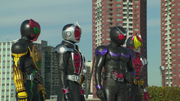 Wizard is one of the surviving Riders in the battle between Heisei and Showa. He fights Riderman, defeating each other at the same time and transforming into their Lockseeds. Gaim is soon left as the last Rider standing before Ambassador Darkness of the Badan Empire reveals himself to be Ryo Murasame (Kamen Rider ZX). Together, they restore the other Riders and all 30 Kamen Riders defeat the Badan Empire. After battling the Badan Empire, Hongo stated that their battle wasn't over as the Rider War continues. However, the Showa Riders admit their defeat after seeing Gaim protecting a flower as they would congratulate the young Riders. Sometime later, Haruto was seen somewhere eating his plain sugar donut. Heisei Rider vs. Showa Rider: Kamen Rider Taisen feat. Super Sentai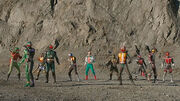 Due to the timeline alteration caused by Shocker, Haruto became one of the brainwashed Riders in that timeline, donning the name of Shocker Rider Wizard. Wizard was one of several Shocker Riders who volunteered in the Rider Grand Prix under Shocker Rider 3, who had been personally challenged by Kamen Rider Drive. Just ahead of Drive's Tridoron, Wizard used the Big Wizard Ring to enlarge his hand and flick at Drive, followed by the Bind Ring to constrict him, only for Drive to break through with his Shift Tires and surpass Wizard. Wizard was ultimately knocked out of the race alongside Shoichi Tsugami as his Machinewinger was struck by missiles fired by Rider 3's TriCyclone. Though Wizard himself was retrieved by the Mad Doctor Shift Tire brought forth by the heroic Drive, he fell short of the Top 2 in which Drive prevailed over Rider 3.
Once Rider 3 was integrated into the Great Leader of Shocker's Rider Robo form, Wizard was among the Riders who attacked the trio of Black RX, Faiz and Mach. Ultimately, the Double Riders 1 and 2 made their appearance having survived their apparent demise from within the Rider Robo, and broke Shocker's brainwashing on the fallen Riders, enabling all Riders to unite in a final battle against Shocker.
Surviving the onslaught of the History Modifying Machine, Wizard fought and destroyed Shocker's Phantom Phoenix with the Flame Kick Strike shortly before the Rider Robo was destroyed along with the machine by Shurikenjin Tridoron

. Among the remaining Riders who witnessed the farewell of Kyoichiro Kuroi as the perversion of history was reversed, with Wizard's place in history being restored.

Kamen Rider Ghost: Legendary! Riders' Souls!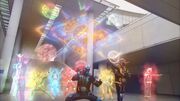 Dr. Pac-Man vs. Ex-Aid & Ghost with Legend Rider
Haruto approached the Next Genome Institute after teleporting Shinnosuke Tomari and his officers away from surrounding their base, claiming to be a party interested in joining them. Later, however, he led Drive, Ghost, and Ex-Aid straight to them, having only feigned an alliance to let the Riders in, Gaim arriving soon after. Appropriately engaging the dragon-motifed Doral Bugster, Wizard eventually defeated him through an advancing succession from his Styles culminating in Infinity. Taking his leave after the destruction of Genomes brought about the fall of the Institute, Haruto resumed his travels, eating his usual plain sugar donuts on the way. Kamen Rider Heisei Generations: Dr. Pac-Man vs. Ex-Aid & Ghost with Legend Rider

Kamen Rider Ex-Aid "Tricks": Kamen Rider Genm
Despite not appearing in the web-exclusive series, Wizard and 13 Heisei Riders were the projections of the Ganbarizing Critical Strike.

Chou Super Hero Taisen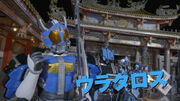 Wizard Water Style fights as part of the Kamen Riders' Blue Warrior Team. Kamen Rider × Super Sentai: Chou Super Hero Taisen

Kamen Rider Build: Be The One
Among the first 18 Heisei Riders, Wizard fought against numerous monsters in a melee briefly witnessed by Sento Kiryu before being caught in the crossfire as Kamen Rider Zi-O BuildArmor used his Vortex Time Break to wipe out his enemies. Kamen Rider Build: Be The One

Another Wizard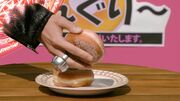 Haruto was briefly seen in Kamen Rider Zi-O. At some point in the past, Haruto obtains the blank Ridewatch from Geiz which he later gave the device to Nitoh.

Kamen Rider Heisei Generations Forever
Video Game appearances
Haruto appears as Wizard Flame Style only. He can only be unlocked by a password.
Haruto appears as the main character's selection of this game. He has three modes for a fight: using all his Styles (exclude Dragon), using Flame Dragon only, and Flame Style only with the unique move available. He only has Flame and Hurricane Dragon. Hurricane Dragon only can be accessed while teamed up with another rider.
Battride War
Kamen Rider Battride War
Kamen Rider Wizard appears as a Main Rider in the video game Kamen Rider: Battride War, which unites the riders of the Heisei era from Kuuga to Wizard.
Wizard functions as the protagonist of the game, being the first Rider to escape imprisonment and thus the one to begin the process of freeing the others. In-game, Wizard has access to his Flame, Water, Hurricane, and Land Styles, with the Dragon styles of each appearing only as a powerful finishing move unlocked after leveling up. His Super Mode is All Dragon, which uses the abilities of the four Dragon Styles in its attacks. Unlike the other gun type riders (including their forms), Wizard's gun attacks can hit any other bosses.
Wizard's special attacks are:
Flame Style: Big, Strike Wizard, Dragon Breath (as Flame Dragon)
Water Style: Bind, Light, Blizzard (as Water Dragon)
Hurricane Style: Extend, Slash Strike, Thunder (as Hurricane Dragon)
Land Style: Defend, Drill, Gravity (as Land Dragon)
All Dragon: All Dragon Wild, Dragon Dance, Blizzard, Thunder, Gravity
Infinity Style (separate DLC): Dragon Shining
Wizard's Infinity Style also appears in the game, available as DLC. However, he is treated as a separate character with no connection to the default Wizard. He is still voiced by Shunya Shiraishi.
His gameplay also similar to Devil May Cry's Dante, such as aerial attacks are rapid tap gun fire for original Wizard and Million Slash (Million Stab like moves) for Wizard Infinity Style.

Kamen Rider Battride War II
Kamen Rider Wizard reappears in Kamen Rider: Battride War II, summoned by Cinema along with the other Neo-Heisei Riders in order to create the "ultimate movie".  Wizard's stages are based off of Kamen Rider Wizard in Magic Land, with Kamen Rider Sorcerer as his main enemy; he also plays a role in Gaim's stages, which are based off of Kamen Rider × Kamen Rider Gaim & Wizard: The Fateful Sengoku Movie Battle and feature Bujin Gaim as the main antagonist.
In this game, Wizard is fully-integrated, whereas in the original Infinity Style was a separate DLC character.  The player can choose whether to use All Dragon or Infinity as Wizard's Strongest Form, which also determines his Ultimate Form: if All Dragon is chosen, Wizard uses Special Rush from Kamen Rider × Kamen Rider Wizard & Fourze: Movie War Ultimatum, while choosing Infinity Style instead uses Infinity Dragon Gold.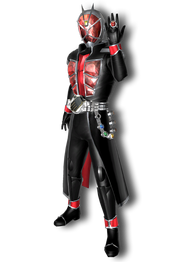 Kamen Rider Wizard reappeared in Kamen Rider: Battride War Genesis
Battle Spirits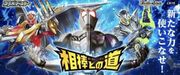 As part of Kamen Rider's collaboration, Zero-One, Wizard, and W will be available in Battle Spirits.[2]

Personality
"Plain Sugar!"
―His answer when asked what doughnut he wants to order.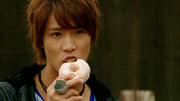 Haruto hides his true self under a lighter, easily-amused persona. While not showing much emotion on his face, he is far from stoic. He is quick to make deadpan snarks, mostly at the expense of Kosuke. Rarely, he can be seen swayed by a pretty girl.
He is greatly influenced by the word "hope" ever since White Wizard told him to become the wizard of hope. developing an optimistic personality and tends to never give in despair even in worst-case scenarios.
His favorite food is plain sugar donuts and only eats them rather than other flavors, much to the manager's annoyance. He seems to take well to company as he doesn't have any complaints with Rinko and Shunpei joining them in their mission. Haruto believes steadfastly that everyone deserves to be saved. He also refuses to give up hope no matter how dire the situation. This is most likely because of his parents last words to him to hold onto hope.
He's driven by near compulsion to stop the Phantoms and prevent anyone from falling into despair. He seems to be suffering from an acute case of survivor's guilt resulting from his parents car crash and his surviving the Sabbath. This further motivates his actions. Haruto doesn't seem to be able to forgive himself easily. He also prefers ignoring his past before becoming Wizard. Both are evident by his guilt over his friend's accident in soccer.
He however also shows a rather friendly side and will help out a fellow hero, Rider or not, as shown with the battle against Space Shocker he greatly admired the Kyoryugers

and formed a strong friendship with their leader, Daigo Kiryu

. He also fought alongside Gai Ikari

and Geki Jumonji

.
Powers and Abilities
Powers
Abilities
Master Martial Artist: Haruto is an extremely skilled master martial artist who has shown a high-level of combat skills. His unique fighting style is very acrobatic and heavily attack-oriented, primarily utilizing powerful sweeping kicks, aerial takedowns which uses lots of kicks and flips while using his arms to block and throw elbow strikes or initiate holds able to fight against stronger opponent. His attacks are fluid and swift, allowing him to transition from attack to defense rapidly. His combat skills gradually enhanced as he fought against numerous Phantoms as Kamen Rider Wizard throughout the series. Even without transformed, he was able to effortlessly fight against and knock down numerous Ghouls at once, which are capable of beating down trained police officers and are durable enough to withstand gunfire from New Namba M60 revolvers. He even held his own against Legion who was an extremely powerful phantom capable of opening an entrance to anyone's Underworld, as he effectively dodged the attacks and managed to push back. In Kamen Rider x Kamen Rider Wizard and Fourze: Movie War Ultimatum, Haruto was able to effectively fight against numerous Masquerade, Waste Yummies, Dustard and Ghouls with ease. In Dr. Pac-Man vs. Ex-Aid & Ghost with Legend Rider, Haruto's combat abilities had shown to be improved that even without relying on his acrobatic fighting style, he was able to fight against Kazushige Ryuzaki (defeated Emu Hojo in hand-to hand combat with ease) who was a bugster and later even gained an upper hand throughout the fight.
Master Swordsman: To be added
Master Acrobat: Haruto is proven very agile, evasive, maneuverable and graceful, able to fluidly dodge attacks from multiple directions with coordinated flips, twists, and sharp turns without losing balance, that made him an highly skilled acrobat, gymnast, and aerialist. He often utilizes these talents in combat for both evasive and offensive purposes which has shown expertise in utilizing parkour and tricking flips in his attacks and takedowns.
Soccer Proficiency: Prior to becoming Wizard, Haruto was a professional soccer player, so he has extended knowledge of the sport. Though he does not rely much on this skill due to trauma from an unfortunate accident.
Weaknesses
Wizardragon: As an enslaved Phantom who acts as the source of Haruto's mana, Wizardragon also holds Haruto's lifeline, as its existence can greatly influence Haruto (or vice versa) depending on the abnormalities in it. When he was in berserk (example for the Sabbath), Haruto succumbs into despair again, and the berserk Wizardragon can resurface as a free Phantom, killing Haruto in process. If Wizardragon's existence is eradicated within Haruto, he cannot use magic anymore.
Styles
Kamen Rider Wizard's forms are called Styles (スタイル, Sutairu). In any Style, Wizard uses a fighting style that mostly deals with a saber (Chinese dao), kicking, and acrobatics seen in Martial Arts. This is to avoid punching so he would not hurt himself due to his Wizard Rings.
After Haruto transforms into Kamen Rider Wizard, he announces "Now, it's showtime!" (さあ、ショータイムだ!, Saa, shōtaimu da!) and when executing one of his finishers, he proclaims "The finale!" (フィナーレだ!, Fināre da!).
Equipment
Mana - Main power source for Wizard's gear
Devices
Weapons
Vehicles
Legend Rider Devices
With the Wizard Rider Card, Decade would presumably transform into Kamen Rider Wizard's Flame Style.
"Kamen Ride: Wizard! Infinity! Hi-Sui-Fu-Do! Bou-Zaba-Byu-Dogon!"
―Neodecadriver Transformation announcement
Final KamenRide: Wizard Infinity Style: This card can be used in Decade's Neodecadriver to transform into Wizard Infinity Style.
This Rider Ring which bears the likeness of Kamen Rider Wizard (Flame Style), equivalent to his Flame Wizard Ring, is exclusive to Kamen Rider Wizard's Wizard Ring toyline. When used by a Wizardriver wearer, it would be able to summon Kamen Rider Wizard.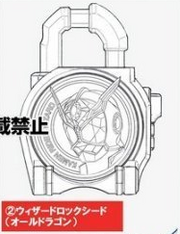 Wizard All Dragon Lockseed (ウィザードオールドラゴンロックシード, Uizādo Ōru Doragon Rokkushīdo): When activated, this Lockseed announces "All Dragon" (オールドラゴン, Ōru Doragon). This Lockseed was later scrapped.
Transformation: Wizard Arms!

Squash: N/A
Au Lait: N/A
Sparking: N/A
Wizard Infinity Style Lockseed (ウィザードインフィニティスタイルロックシード, Uizādo Infiniti Sutairu Rokkushīdo): The core image depicts the Wizardriver while the lid backside image depicts the Infinity Wizard Ring. Gaim/Kurokage/Bujin Gaim/Kamuro-styled Lockseed. When activated, this Lockseed announces "Infinity" (インフィニティ, Infiniti).
Transformation: Wizard Arms: Kirakira Infinity!

Squash: High Touch (

ハイタッチ

Hai Tatchi

)
Au Lait: Finale (

フィナーレ

Fināre

)
Sparking: Shining Strike (

シャイニングストライク

Shainingu Sutoraiku

)
Signal Legend Wizard (

シグナルレジェンドウィザード

Shigunaru Rejendo Wizādo

, Based on Wizard's Machinewinger): Allows Mach to activate a Kourin Signal Legend. When used in the DX Drive Driver, it gives the sound for a Tire Exchange into Drive: Wizard.
"Kaigan! Wizard! (Hand Author chirp) Yubiwa no mahō! Saigo no kibō! (Wizard Ring confirmation noise; Magical Portal noises)"
―Transformation announcement with Ghost Driver
"Tengan! Ghost! Mega Ulord!"
―Transformation announcement with Mega Ulorder
The Wizard Ghost Eyecon (ウィザードゴースト眼魂, Wizādo Gōsuto Aikon) is one of the 16 title Kamen Riders' Ghost Eyecons, with its primary user being Kamen Rider Ghost. It shows the number R14 on its Startup Time setting, Wizard Flame Style's face on its Transformation Time setting, and Wizard's symbol on its Move Invocation Time setting.
Its Omega Drive finisher is the Omega Drive (Wizard) (オメガドライブ ウィザード, Omega Doraibu (Wizādo)) where Ghost immediately performs a variation of Wizard's Strike Wizard.
The Wizard Ghost was originally sealed within Wizard's Flame Wizard Ring. Once freed, it entered Takeru's Ghost Driver, creating its Eyecon.
Wizard's Eyecon/Damashii exclusively appears on-screen in the Wizard Chapter of Kamen Rider Ghost: Legendary! Riders' Souls!.
Wizard Fullbottle (

ウィザードフルボトル

Uizādo Furubotoru

): Used solely to access Wizard Form. Also used with the Fourze Fullbottle to access the unreleased FourzeWizard Form.
Mahoutsukai Fullbottle (

魔法使いフルボトル

Mahōtsukai Furubotoru

, lit. Magician Fullbottle): Used with the Diamond Fullbottle to access Wizard Form.
Diamond Fullbottle (

ダイヤモンドフルボトル

Daiyamondo Furubotoru

): Used with the Mahoutsukai Fullbottle to access Wizard Form. Typically paired with the Gorilla Fullbottle.
"(Digital beeping) Wizard!"
―Activation announcement
"It's Show Time with magical rings! The gemstone Rider is... (Clock ticking noise) Wizard! (

魔法の指輪でショータイム!宝石のライダーは…ウイザードだ!

Mahō no Yubiwa de Shō Taimu! Hōseki no Raidā wa ... (Clock ticking noise) Uizādo da!)]"
―Secondary activation announcement
"Rider Time! (drumroll to upbeat music) Please! Wizard!"
―Transformation announcement in the Ziku-Driver's right-hand slot
"(Right-hand Ridewatch's announcement)! Armor Time! (drumroll to upbeat music) Please! Wizard!"
―Rider Armor transformation announcement
"Finish Time! Wizard! Strike Time (Break/Burst)!"
―Rider Armor finisher announcement
Wizard Ridewatch (ウィザードライドウォッチ, Wizādo Raidowotchi): Based on Kamen Rider Wizard Flame Style, this Ridewatch provides access to the WizardArmor used by Geiz. It is dated 2012.
"(Digital beeping) All Dragon!"
―Activation announcement
"The four elements are now united! Wizard All Dragon! (

四つのエレメントが一つに!ウィザードオールドラゴン!

Yottsu no eremento ga hitotsu ni! Wizādo Ōru Doragon!

)"
―Secondary activation announcement
"(Right-hand Ridewatch's announcement)! Armor Time! (Wizardragon roars) Final Time! All Dragon!"
―Transformation announcement in the Ziku-Driver's left-hand slot
"Finish Time! Four-Mation Time (Break/Burst)!"
―Finisher announcement in left-hand slot
Wizard All Dragon Ridewatch (ウィザードオールドラゴンライドウォッチ, Wizādo Ōru Doragon Raidowotchi): Based on Kamen Rider Wizard All Dragon, this Ridewatch would provide access to a corresponding Rider Armor. It is dated 2012.
"(Digital beeping) Infinity Style!"
―Activation announcement
"Finish Time! Plasma Shining Time (Break/Burst)!"
―Finisher announcement in left-hand slot
Wizard Infinity Style Ridewatch (ウィザードインフィニティースタイルライドウォッチ, Wizādo Infinitī Sutairu Raidowotchi): Based on Kamen Rider Wizard Infinity Style, this Ridewatch would provide access to a corresponding Rider Armor. It is dated 2012, but shown on the Ziku-Driver's screen as FIN.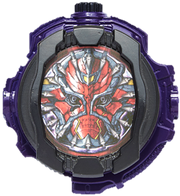 Another Wizard Watch (アナザーウィザードウォッチ, Anazā Uizādo Wotchi): A twisted version of the Wizard Ridewatch used to transform into Another Wizard.
MagicShowing Wizard Progrisekey (マジックショーイングウィザードプログライズキー, MajikkuShōingu Uizādo Puroguraizu Kī): Based on Kamen Rider Wizard, this Progrisekey's ability is "Magic".[3]
"Kibou no Ryuutsukai Wizard!"
―Activation announcement
"Katsute Dragon wo Shitagae Saigo no Kibou to Naru Senshi ga Ita...[4]

Translation: There was once a last hope-bearing warrior following a dragon... (

かつてドラゴンを従え最後の希望となる戦士がいた…

)"
―Story announcement
Kibou no Ryuutsukai Wizard Wonder Ride Book (希望の龍使いウィザードワンダーライドブック, Kibō no Ryū Tsukai Wizādo Wandā Raido Bukku, lit. "Dragon-using Wizard of Hope Wonder Ride Book") is based on Kamen Rider Wizard and his forms. The book's name is shortened to "Wizard" in the Swordriver's announcements.
Behind the scenes
Portrayal
Haruto Soma is portrayed by Shunya Shiraishi (白石 隼也, Shiraishi Shun'ya). As a child, Haruto is portrayed by Kaito Nakashima (中島 凱斗, Nakashima Kaito).
As Kamen Rider Wizard, his suit actor is Seiji Takaiwa (高岩 成二, Takaiwa Seiji), who has been the suit actor for the majority of leading Heisei Kamen Riders (except Kuuga and Hibiki). He has also been the suit actor of several Sentai Reds

including, ironically concerning Wizard, MagiRed

of Mahou Sentai Magiranger

. His suit actor for extreme martial arts is Hideki Sugiguchi (杉口 秀樹, Sugiguchi Hideki).[5] In Kamen Rider × Kamen Rider Gaim & Wizard: The Fateful Sengoku Movie Battle and Heisei Rider vs. Showa Rider: Kamen Rider Taisen feat. Super Sentai, his suit actor was Kazuya Okada (岡田 和也, Okada Kazuya).
Rider No.
As the leading Rider protagonist of Kamen Rider Wizard, Haruto Soma (Kamen Rider Wizard) is labeled Kamen Rider #29 (仮面ライダー29号, Kamen Raidā Nijūkyūgō) and Heisei Rider #14 (平成ライダー14号, Heisei Raidā Jūyongō). Quiz! Decade Countdown!!
Allusions
Haruto also has some similarities to Harry Dresden, protagonist of the Dresden Files series of urban fantasy novels by Jim Butcher. Both characters are magic-users with slick, somewhat smug personalities who protect innocent mortals in secret. Both men wear trenchcoats, primarily use fire-elemental magic, wield magic rings, and have a fondness for doughnuts. Likewise, both characters work with a no-nonsense policewoman (Rinko Daimon and Karrin Murphy) and have enthusiastic young apprentices (Shunpei Nara and Molly Carpenter).
Notes
Wizard is the first main heroic and third overall Rider to have a trenchcoat on their suit, the previous ones being Kamen Riders Orga and Yuuki respectively.

Wizard would have been the second main heroic rider to wear a coat, if the plan for Kamen Rider Double to wear a trenchcoat was not scrapped by the producers.

As highlighted in Super Hero Taisen, certain Kamen Riders and Super Sentai heroes share design and power motifs. Motif-wise, Wizard's Sentai counterpart would be the Magirangers, due to both having a magic-based-on-mythical-elements motif.

Interestingly, Kai Ozu (MagiRed) and Haruto both played soccer before becoming MagiRed and Wizard respectively.
Also, his usage of rings to transform is similar to that of the Denzimen.
The Magirangers also used Oath Rings to access their Legend Powers. Coincidently, he has the ability to gain a muscular body just like one of the Magirangers (MagiGreen).
The connection with gemstones is likewise similar to the power source of the Goggle V.

Wizard's forms share similarities with Kamen Rider Kuuga's forms:
The Dragon Styles are similar to the Powered Custom modes used by the Go-Busters. Tokumei Sentai Go-Busters being the first of the two Super Sentai shows Wizard aired alongside, as the Dragon Styles allow Wizard to fight with the power of Wizardragon just as Powered Custom allows the original three Go-Busters to fight with the power of their respective Buddy Roids.
His origin involving an eclipse is somewhat similar to that of Kotaro Minami's and Nobuhiko Akizuki's origins.
His usage of rings in magic rituals to combat demonic beings could be inspired by Goetic tomes, where some rituals to summon and control demons for the summoner's use required using a ring as an act of fealty or respect.
Haruto has a similar English phrase usage in his pre-battle catchphrase, "It's showtime!" with Kamen Rider Psyga that was summoned by Kamen Rider Diend in episode 17 of Kamen Rider Decade. He also says "Whew" after every battle.

Unlike the summoned Psyga, who said his phrase in fluent English, Haruto's catchphrase is "Now, it's showtime!" (

さあ、ショータイムだ!

Saa, shōtaimu da!

), with the word "showtime" being the only English word in his line.

Wizard is similar to another tokusatsu hero, Madan Senki Ryukendo, as they are both mystic warriors based on dragons.
Wizard is the first Neo-Heisei Rider who did not meet his successor in the summer movie. Instead, he meets him in the final 2 episodes of the series.
Wizard is the second Rider to have a form with tails, the first being Kamen Rider OOO.
In most of his movies and specials, Haruto usually gets sucked into some kind of parallel world:
Wizard is the first Rider to have met an alternate version of himself directly in the same episodes, though this version of Haruto is not a Rider.

While Kazuma Kenzaki and Kazuma Kendate (Main and A. R. Blade) have made an appearance in the same episode in Kamen Rider Decade, Kendate disappeared before Kenzaki could meet him due to the merging of his world, though Kenzaki has watched him disappear from a distance during the event.

Wizard was spotted during a teaser trailer for Power Rangers Dino Charge. However, this trailer did not mean that Wizard (or rather, an adaptation of him at least) would make an appearance in Dino Charge, as the trailer was quickly thrown together only to promote the upcoming series at the event.
Wizard was actually the first to use Gaim's catchphrase, right before his battle with Orma, in his own manner: "This is my showtime now!" (

ここからは俺のショータイムだ!

Koko kara wa ore no shōtaimu da!

).
He is the second character to appear in the predecessor's summer film and final episode.
Haruto is the last lead Heisei Rider to have a weapon exclusive to his final ultimate form. Main Riders after him have used weapons they possess in either their Super Form and/or Upgrade Form.
A recurring event is that Haruto never finishes eating his donuts on-screen.
On the chest armor, there are two different variations, similar to the eyes on the helmets during productions:

One of the variations would have the jewel piece on the armor covering in a reflective surface.
Another variant have the jewel parts to be completed painted.
Appearances
References
External links
Community content is available under
CC-BY-SA
unless otherwise noted.