Obi-Wan Finale - The Loop
Play Sound
| | |
| --- | --- |
| | WARNING: This film contains scenes of graphic violence and nudity. Viewer discretion is advised! |
Hanuman and the Five Riders (หนุมาน พบ 5 ไอ้มดแดง - Hanuman pob Har Aimoddaeng - literally "Hanuman and the Five Ant Men") is a tokusatsu superhero film produced in 1974 by Chaiyo Productions of Thailand. Chaiyo's own Kamen Rider film, half of it uses footage from the Kamen Rider X film Five Riders vs. Kingdark and Kamen Rider V3 film Kamen Rider V3 vs. Destron Mutants.
Although it has never been released in Japan, Kamen Rider fans in Japan refer to it unofficially as Hanuman and the 5 Kamen Riders (ハヌマーンと5人の仮面ライダー, Hanumān to Gonin no Kamen Raidā).
The film teams five Kamen Riders (1, 2, V3, Riderman and X) with the Hindu god Hanuman (fresh from his appearance in The 6 Ultra Brothers vs. the Monster Army

) against X's adversary Kingdark (who appears in his regular giant moving statue form, and alternately in a human-sized form), who drinks the fresh blood of young women. He captures a scientist and his girlfriend, and threatens to drain her of her blood unless he use his technology to create an army of mutant animal men to confront the five Riders.
Unlike Chaiyo's official co-productions with Tsuburaya Productions in 1974 (namely The 6 Ultra Brothers Vs. the Monster Army, The 11 Ultramen vs. The Monster Army and Jumborg Ace & Giant), this production was unauthorized by Toei Company, Ltd., which produced the Kamen Rider shows. Chaiyo had initially approached Toei, who turned down their plans for producing their own Kamen Rider movie.
Synopsis
to be added
Plot
to be added
Characters
Kamen Riders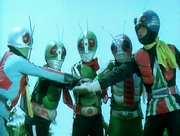 Allies
Villains
Cast
Yodchai Meksuwan (ยอดชาย เมฆสุวรรณ) - Scientist (Dr.Visut)
Thanyarat Lohanant (ธัญญรัตน์ โลหะนันท์) - Dr.Visut's girlfriend (Julie)
Gaan Boonchu (กาญจน์ บุญชู) - Karn
Piphop Pupinyo (ภิภพ ภู่ภิญโญ) - Kingdark (Thai Footage), Hell's Lawyer
Errors
In the Thai shot footage, the suits used for Kamen Rider X and Riderman look strikingly different, with Kamen Rider X's helmet being a repainted and modified Kamen Rider 1 and 2 helmet, and Riderman's full face being visible, rendering his mask as a helmet.