Doctor Strange in The Multiverse o Madness - The Loop
Play Sound
Hanaya Game Illness Clinic (花家ゲーム病クリニック, Hanaya Gēmu-byō Kurinikku), originally named Game Illness Specialist Hanaya Hospital (ゲーム病専門花家病院, Gēmu-byō Senmon Hanaya Byōin), is an illegal medical clinic owned by Taiga Hanaya created sometime after he lost his doctor's license and was fired from Seito University Hospital. This location serves as Taiga's base of operations during his activities as Kamen Rider Snipe. It left unnamed until episode 45 of the series.
History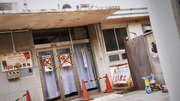 Sometime after the Ministry had let go of Taiga's duties as a Kamen Rider, he was fired from his position as radiologist in Seito University Hospital and had his doctor's license subsequently revoked for disobeying orders. Since then, he began running his own unlicensed clinic and became known as the "Doctor of Darkness" (闇のドクター, Yami no Dokutā).
When Nico Saiba came into Taiga's life, she subsequently moved in with Taiga much to the latter's annoyance. As time passed, Taiga was allowed to practice medicine once more for his involvement for ending the Kamen Rider Chronicle crisis. Nico returned after completing her studies as Taiga's assistant, much to Taiga's initial chagrin, and renamed the clinic as Hanaya Game Illness Clinic.
Known Employees
Gallery
Notes
Appearances