For the A.R. World version, see Hajime Shijo.
"Our act puts an end to yours!"
―Hajime before battling the Titan Undead
"Say that again...and I'm going to kill you!"
―Hajime's threat to Kenzaki questioning his Kamen Rider status, perhaps his infamous quote from the series
Hajime Aikawa (相川 始, Aikawa Hajime) is Kamen Rider Chalice (仮面ライダーカリス, Kamen Raidā Karisu, Masked Rider Chalice), a character from the tokusatsu TV series Kamen Rider Blade.
History
TV Series
He is a mysterious man who is the Joker Undead, the most feared of the Undead as his victory in the Battle Fight would mark the end of all life on Earth. Unsealed around the time the other Undead were released, Joker battled the Mantis Undead and uses the sealed Category Ace of Hearts (Change Mantis) to become the wild card Kamen Rider Chalice. He later seals the Human Undead, who willingly surrendered to him without resistance, using the card to assume human form. The effect of prolonged use of both of these cards to assume their forms resulted with both the Human Undead's compassion for life and the Mantis Undead's fighting spirit collectively suppressing Chalice's natural destructive impulse as the Joker.
However, many of the Royal Club Undead who knew his true identity made attempts to dispose of him. One such attempt by the Giraffa Undead ended with an innocent bystander named Shin Kurihara a.k.a. Amane's father witnessing the battle being mortally wounded by accident in the skirmish. The dying photographer handed him a photograph of his family and Joker decides to protect his family in which he did to atone for his death. The Joker took on the identity of freelance photographer Hajime Aikawa since then. Though he thought less of humans originally, Hajime's time living at Jacaranda Cafe with Kurihara's family warmed him up to humans and eventually, he wished for himself to be human instead of being the Joker.
Though he and Kenzaki disliked each other earlier, Hajime's growing humanity eventually warms up to Kenzaki, who becomes a dear friend of his, then Garren and later to a limited extent, Mutsuki as well. But when the Caucasus Undead takes most of his cards, the sealed Mantis Undead among them, it causes Hajime to regress back into the Joker after attempting to resist until Leangle unseals Hajime's cards and use the Undead against him. Even after managing to reseal them all, the Joker failed to regain control and goes on a rampage until he is provided with the Evolution Paradoxa, allowing Hajime to finally have full control of himself. This allows him to even assume Wild Form, which he previously avoided to the best of his abilities, without losing control. This lasted until the Giraffa Undead was sealed, with Hajime losing control and his impulse as Joker bringing forth with the Stone of Sealing creating his army of Darkroaches to eliminate all humans.
In the end, Kenzaki is the only one to fight him head on, with Hajime pleading Kenzaki to defeat and seal him. However, Kenzaki himself mutates into the Joker through the excessive use of King Form transformation in order to save Hajime and made his victory null, continuing the fight, retracting all unleashed Dark Roaches and prolonging destruction indefinitely. This effectively renders them rivals by instinct and they can never see each other again, or they would be forced to fight to the death for dominance the next time they meet. Moments after the battle, Hajime lives with the Kurihara family and was allowed to keep his Spirit Card to maintain the human disguise.
Missing Ace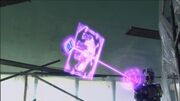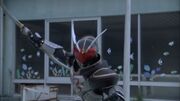 The Missing Ace movie provides an alternate ending to the fight that has him sealed by Blade. However, the actions of the Albino Joker four years later forced Kenzaki to have Leangle unseal Hajime to aid in protecting Amane as his true self and later as Chalice. In the end, Hajime sacrificed himself by switching places with Amane to save her and give the other Riders an advantage over their enemy. His spirit was later shown watching over Amane, the girl was assured by Kenzaki that Hajime will always be there.

Kamen Rider Decade
Rider War
Kamen Rider Chalice appears with other kamen Riders commanded by Wataru Kurenai ,but all are murdered by Decade in the episode 1 of Kamen Rider Decade in the dream of Natsumi Hikari and then conclude the dream with Decade as only Rider in the Rider War. Rider War
The Destroyer of Worlds
In the special version of episode 31, Kamen Rider Chalice is seen as one of the many Kamen Riders who fought in the Rider War against Decade and were all destroyed. They were presumably restored after the destruction (and subsequent revival) of Decade at the end of the Rider War and the worlds were restored. The Destroyer of Worlds

Hajime Aikawa returned as Kamen Rider Chalice, making a brief cameo appearance in the film, teaming up with Sakuya Tachibana and Mutsuki Kamijou, as well as the rest of the Kamen Riders.
As Kamen Rider Chalice, Hajime was also part of a group of reinforcement riders led by Akira Date/Kamen Rider Birth to aid the primary riders in defeating the Rock Great Leader. All the Kamen Riders got on their bikes and performed the All Rider Break attack which destroyed the Great Leader. OOO, Den-O, All Riders: Let's Go Kamen Riders

When the history is changed, Hajime becomes one of the brainwashed Riders.
But later, Hajime, alongside Mutsuki, Tachibana, and Kenzaki, aided the riders against Shocker after they despise how Shocker acts and also had themselves freed from brainwashing immediately thanks to Go and Yuto, including a now redeemed Kyoichiro for defeating them earlier, even after Takeshi Hongo alongside Hayato Ichimonji broke free from Rider Robo.
Unfortunately, Chalice was among the Riders whose existence was erased by the Rider Robo. This fate, however, was rendered moot when the Rider Robo was finally destroyed by Shurikenjin Tridoron

, restoring Chalice's place in history.

Chou Super Hero Taisen
Blade Joker!? 2019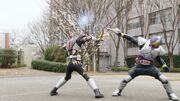 In the second battle between Sougo Tokiwa/Kamen Rider Zi-O and Amane Kurihara/Another Blade, Hajime suddenly appeared from nowhere, to the latter's surprise. Telling Sougo to stay away from Amane, Hajime transformed into Kamen Rider Chalice and began fighting him. Though Chalice was overwhelming Zi-O in their battle, he stopped for a moment upon sensing a familiar presence. Kazuma Kenzaki had reappeared in front of him. Angrily asking Hajime why he had used his Undead powers, Kenzaki transformed into Kamen Rider Blade. In a seemingly uncontrollable fit of rage, Kenzaki viciously attacked Chalice, despite his pleas to stop. The battle was evenly matched, with both sides showing no signs of giving up.
Blade Joker!? 2019

2019: Trinity Has Begun!
After that, Hajime escapes to his home, with Amane following him. Amane asks about Hajime's whereabout in these 14 years, and they converse for a while before suddenly Kenzaki appears and challenges him. They transforms and fight savagely until Amane, who is transformed again by White Woz to become Another Blade, intercepts them. Another Blade proves too strong for both Blade and Chalice, and she absorbs their Joker power. As a result, Kenzaki and Hajime become normal human again, and Another Blade becomes Joker, therefore winning the Battle Fight. They look horrified when the new Joker summons the Stone of Sealing with infinite number of Black Jokers inside to kill all living beings on Earth. But, Sougo Tokiwa appears and using the Trinity Ridewatch, he fused with Woz and Geiz, becoming Zi-O Trinity that manages to destroy Another Blade, and destroying the Stone of Sealing, saving the world. In the end, Hajime reconciles with both Kenzaki and Amane, his fate to fight Kenzaki endlessly as Joker is ended. 2019: Trinity Has Begun!
Video Game Appearance
Kamen Rider Blade (video game)
Kamen Rider Chalice, with Blade, Garren, and Leangle, is playable in the Kamen Rider Blade video game. Joker is one of many Undead who appear in said game.
All Kamen Rider: Rider Generation 2
Chalice appears in All Kamen Rider: Rider Generation 2, but he doesn't use his Wild form in any attack.
Kamen Rider Super Climax Heroes
Chalice appears in Kamen Rider Super Climax Heroes, he only uses his Wild form as the finisher move.
Kamen Rider Battride War
The Joker Undead appears as a boss in the video game Kamen Rider: Battride War. He only appeared in one chapter, which is set in Kamen Rider Blade's Final Episode, also replaced by Albino Joker as the recurring villain in later chapters. In the second installment, he appears as Joker Undead and as recurring ally.

Kamen Rider Battride War II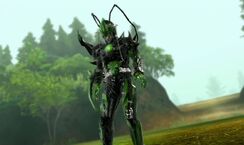 The Joker Undead appears as recurring ally,in the video game Kamen Rider: Battride War II. He only appeared in one chapter, which is set in Kamen Rider Blade's Missing Ace.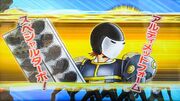 Kamen Rider Chalice is a playable character in Kamen Rider Buttobasoul.

Powers and Abilities
Biological Immortality: As an Undead, Hajime can survive from any physical injuries, no matter how grave they may be.
Undead Mimicking: Hajime is able to use a sealed Undead's Rouze Card to obtain said Undead's form and powers.
Undead Tracking: As Undeads are attracted to each other by instinct.
Security Door Unlocking: Somehow, he can break the security system of CR when touching the control panel and open the door.
World Destruction: As a Joker, if he is the only Undead existing in a world, that world will be destroyed.
Forms
Chalice
"Change!"
―Transformation announcement
Rider Statistics
Rider Senses:
Ability Parameters:
Special Attacks:
Kamen Rider Chalice can be assumed by scanning the Change Mantis Rouze Card in the Chalice Rouzer. Unlike the BOARD Riders, Chalice is not a Kamen Rider transformation produced by a Rider System. Chalice is the name of the Mantis Undead, whom Hajime mimics using his ability as the Joker Undead to assume the form of any other Undead. Though Chalice has especially high agility, he is superior to the Ace Forms of any of the BOARD Riders due to using the original Rouzer technology instead of an imitation. Chalice is equipped with the Mantis Undead's weapon, the Chalice Arrow, which can be combined with the Chalice Rouzer to scan Rouze Cards for special attacks instead of transformation.
Appearances: Blade Episodes 1-9, 10 (flashback; archive footage only), 11-13, 15-26, 29-31, 32 (flashback), 36-38, 40, 41 (imaginary), 42-49, Missing Ace, Super Hero Taisen GP

, Chou Super Hero Taisen

, Zi-O Episode 29-30

Wild Chalice
"Evolution!"
―Transformation announcement
Rider Statistics
Ability Parameters:
Special Attacks:
Wild Cyclone: 14600 AP[2] (146 t.)
Kamen Rider Wild Chalice (仮面ライダーウアイルツドカリス, Kamen Raidā Uairuddo Karisu) is Chalice's most powerful form, accessed by scanning the Evolution Paradoxa Rouze Card in the Chalice Rouzer. This fuses Chalice with all of the Hearts Suit Rouze Cards in a similar manner to Blade's King Form. Accordingly, this form grants Chalice enough power to fight evenly with Blade in King Form, a feat that no other Rider is capable of. Outside of its effectiveness in combat, this form allows Hajime to suppress his instincts as the Joker Undead. In addition, Wild Chalice has the power to fuse all of the Hearts Suit Rouze Cards into the singular Wild Card. Wild Chalice is equipped with the Wild Slasher, which he can use individually for melee combat or combine with the Chalice Arrow.
Appearances: Blade Episodes 37-38, 40, 42-44, 45 (flashback; archive footage only), 46-47, 49

Human Undead
"Spirit!"
―Transformation announcement
Statistics
When the Joker Undead chose to assume a human identity, he used the Spirit Rouze Card to assume the form of the Human Undead and began using the alias Hajime Aikawa. From then on, Hajime preferred to always be in this transformation outside of battle, only cancelling the transformation and assuming his true form when absolutely forced to.
Appearances: Blade Episodes 1-49, Blade vs. Blade, Missing Ace, Zi-O Episodes 29 & 30

Dragonfly Undead
"Float!"
―Transformation announcement
Statistics
When Hajime's Ace card was taken by the Eagle Undead, he used the Float Dragonfly Rouze Card to assume the form of the Dragonfly Undead. He later gave his Float Dragonfly card to Kenzaki to defeat the Eagle Undead. After doing so, Kenzaki returned the card to Hajime along with the Change Mantis Rouze Card.
Appearances: Blade Episode 23, 32 (flashback; archive footage only), 36, 38 (flashback), 41 (flashback)

Wolf Undead
"Fusion!"
―Transformation announcement
Statistics
When Hajime lost all of his Rouze Cards, Kenzaki gave the Fusion Wolf card to him, which he used to assume the form of the Wolf Undead to battle Mutsuki. Since he harnesses the power of the Category Jack of Hearts, this form can be considered to be an equivalent to Jack Form without the Rouze Absorber.
Joker Undead
Statistics
The Joker Undead is the true identity of Hajime Aikawa, and the representative of death in the Battle Fight. When the Joker wins the Battle Fight by being the last Undead not sealed, the Stone of Sealing endlessly generates Darkroaches to exterminate all life on Earth. This happens when the Giraffa Undead is sealed, causing him to lose control of his Undead instincts and making him unable to take his human form with the Spirit Human Rouze Card. However, Kenzaki intentionally transformed himself into a second Joker Undead, restoring the Battle Fight and allowing Hajime to continue living as a human. However, if Kenzaki and Hajime ever crossed paths again, their Undead insticts would force them to fight each other.
In Missing Ace, Hajime was sealed by Blade and remained that way for four years. After being unsealed by Leangle to protect Amane from Glaive's assault, Hajime chose to sacrifice himself in order to make Jashin 14 vulnerable for the others to attack.
Appearances: Blade Episode 32 (offscreen), 33-37, 41 (flashback; archive footage only), 44-49

Equipment
Legend Rider Devices
"(Digital beeping) Chalice!"
―Activation announcement
"To be announced"
―Secondary activation announcement
"Rider Time! Change! Chalice!"
―Transformation announcement in the Ziku-Driver's right-hand slot
"(Right-hand Ridewatch's announcement)! Armor Time! Change! Chalice!"
―Transformation announcement in the Ziku-Driver's left-hand slot
"To be announced"
―Finisher announcement in left-hand slot
Chalice Ridewatch (カリスライドウォッチ, Karisu Raidowotchi): Based on Kamen Rider Chalice, this Ridewatch provides access to the ChaliceArmor. It is dated 2004. This Ridewatch was obtained after Zi-O Trinity defeated Another Blade, who had absorbed Kamen Rider Blade and Chalice's powers. Since then, it is in Zi-O's possession. This Ridewatch was one of the five winners of a poll held by Bandai to select Riders to be used in a five-pack of DX Ridewatches.
Behind the scenes
Portrayal
Hajime Aikawa is portrayed by Ryōji Morimoto (森本 亮治, Morimoto Ryōji). As Kamen Rider Chalice, his suit actor was Makoto Ito (伊藤 慎, Itō Makoto).
Meme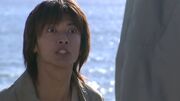 "Tell me, was it you? That Rider from before...you have the antibody for Amane."
"I don't know. What are you talking about?"
"Why hide the fact that you're a Rider--No--What is your purpose?"
"I don't know. I really don't know anything at all."
"Well, I'll tell her! I'll tell Amane that you're a Rider, and the number of times we've fought!"
"Say that again...and I'm going to kill you!"
―The full dialogue of the meme
In episode 6, Hajime's warning to Kenzaki "I will kill you!" (俺は貴様をぶっ殺す!, Ore wa kisama wo bukkorosu!) was popularly spread across the Internet due to his humorous facial expression, labeled as "Mukkorosu" (ムッコロス, "Mukkorosu") by the Japanese community. This is also acknowledged as part of the Ondul family meme that was spawned by Kazuma Kenzaki in the original series. Actor Ryoji Morimoto has re-enacted this line during his appearances in public events.[9][10]
Conception
Notes
As acknowledged in the hero change battle between Kamen Rider Decade and Gokai Red in Super Hero Taisen, the Riders of Kamen Rider Blade share their card motifs with the heroes from Shotaro Ishinomori's second and last Sentai series J.A.K.Q. Dengekitai. Chalice's Hearts motif would make him Blade's equivalent of Heart Queen. His true identity as the Joker would also make him the equivalent of Big One.
The name "Chalice" comes from the Minor Arcana version of the Suit of Hearts: the Suit of Cups which symbolize the emotion and love that Hajime acquired over the series.
He is the only Rider in Blade that doesn't need a Rouze Absorber to use an upgrade form, as well as the only Rider who does not need AP to use Rouze Cards, although the AP counter and its usage is never a major point in the series.
Hajime's name, which means "Beginning", is both ironic and symbolic: It is ironic, because he is supposed to bring about the end of the world, but it is also symbolic since his appearance as Joker symbolizes the beginning of the Battle Fight and the beginning of the end of the world.
Hajime is the second Rider to become the "Final Boss" of a series, after Kamen Rider Odin, but before Kamen Riders Cronus and Evol.
Hajime is a unique rider in that his true form is that of a monster and his human form is just another transformation.
Kamen Rider Garren and Kamen Rider Chalice have been through a long-running debate by fans regarding their status as the Secondary Rider of Blade. Ultimately both Toei and Bandai confirm it to be Garren as revealed through further appearances in video games and merchandising which features Garren with the other Secondary Riders.[11]

In fact, since the start of show in 2004, Chalice has already been set to be the Tertiary Rider.[12] It is unknown why this debate was sparked although it can be suggested because of Chalice's popularity amoung certain fans.

As his wish of being human was told by the Human Undead, Hajime's wish has been finally fufilled 15 years after his final confrontation against Kenzaki as his Joker's powers were fused into Another Blade, thus having no longer the ability to transform.
Appearances
References
See also
Community content is available under
CC-BY-SA
unless otherwise noted.