The Hagetaka Yummy (ハゲタカヤミー, Hagetaka Yamī) is a vulture Yummy created by Ankh from Kusada (草田, Kusada portrayed by Goshu) who is revealed to be Uva's host and thus the Yummy acts on two desires: Kusada's wish to be the sole male so he can have all the women and Uva's desire for a new body. In battle, the Hagetaka Yummy is able to create whirlwinds by flapping his wings. Though destroyed by the teamwork of Kamen Rider OOO Shagorita and Kamen Rider Birth, the Hagetaka Yummy succeeds in his ulterior motive by having his remains used by Ankh to revive Uva.
The Hagetaka Yummy is voiced by Ibuki (勇吹輝, Ibuki).
Movie War Ultimatum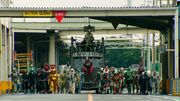 A Hagetaka Yummy is created by the Akumaizer's Infinite Monster Plant as part of their Monster Army. Kamen Rider × Kamen Rider Wizard & Fourze: Movie War Ultimatum
Kamen Rider Gaim: Sengoku Battle Royale!
A revived Hagetaka Yummy was one of the various past monsters part of the army of Bujin Gaim in the Sengoku Period world of the Bujin Riders. He is destroyed along with Metal Dopant, Luna Dopant, and Sphinx Phantom by Armored Rider Baron OOO Arms' OOO Bash. Kamen Rider × Kamen Rider Gaim & Wizard: The Fateful Sengoku Movie Battle
External links