Kamen Rider Habataki (仮面ライダー羽撃鬼, Kamen Raidā Habataki, lit. "Masked Rider Feathered Demon") is a hawk-themed Oni Kamen Rider in the movie, Kamen Rider Hibiki & The Seven Senki.
Fictional Character Biography
Habataki (ハバタキ, Habataki) is one of the older Oni. From Hakata[note 1], he fought in a war years ago and has since given up the Oni life to settle down as a farmer together with his family. Despite this, he has continued his daily training. His wife later convinces him to join with the others to fight against Orochi. Habataki speak in the Hakata-ben dialect.

Video Game appearances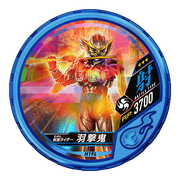 Kamen Rider Habataki is a playable character in Kamen Rider Buttobasoul.

Oni Form
Habataki
Rider Statistics
Ability Parameters:
Kamen Rider Habataki is an Oni of Kyushu, and has a prominent hawk motif. His suit's primary color is brown, with black and gold highlights. Instead of the standard oni face, the forehead of his helmet has an engraving of a hawk.
Appearances:Kamen Rider Hibiki & The Seven Senki

Equipment
Devices
Weapons
Oni Techniques
Like other Sengoku-era Oni, Habataki is also skilled in the sword play.
Kishōjutsu (

鬼翔術

lit. "Demon Soaring Technique")[3]: Habataki's unique technique, allows him to fly for a short time with the wings on his back.
Ongeki Finisher
Ongeki Sō Senpū Issen (

音撃奏・旋風一閃

Sound Attack Play: Whirlwind Flash): Habataki charges his Retsuku and blow darts the enemy with Onishi and starts to play a tune with his Ongeki Flute Reppu the bullets reacting to the tune and weakens the enemy. This finisher is noticeably weaker then Ibuki's Shippu Issen.
Family
Behind the scenes
Portrayal
Habataki was portrayed by Takeyuki Yue (湯江 健幸 Yue Takeyuki). As Kamen Rider Habataki, his suit actor was Shinya Shimokawa (下川 真矢 Shimokawa Shinya)[4].
Concept Art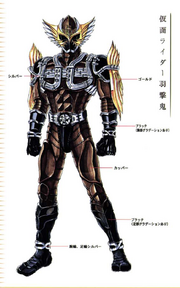 Notes
Despite being a wind-type Oni like Ibuki, Habataki uses a Onsa as a transformation device.
In fact, the Kamen Rider Habataki's hawk motif comes from the Fukuoka baseball team Fukuoka SoftBank Hawks' image animal.
Habataki is from Hakata (located in Fukuoka), this means he is (one of) an Oni in the Kyushu area.
Appearances
References
Footnotes
See also
Community content is available under
CC-BY-SA
unless otherwise noted.