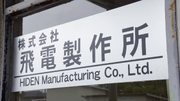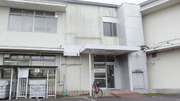 "Take Off Toward a Dream!"
―Company slogan
HIDEN Manufacturing Co., Ltd. (飛電製作所, Hiden Seisakusho) is a new company developed by Aruto Hiden after Gai Amatsu became CEO of Hiden Intelligence. Its purpose is to recover and restore Humagears following Gai Amatsu's recall.

History
Following the workplace competition between Hiden Intelligence and ZAIA Enterprise Japan, which concluded with ZAIA Japan being declared the winner, Gai Amatsu initiated the take-over bid and usurped Aruto Hiden's position as the CEO. Gai's first order as CEO was to recall and dismantle all remaining Humagears.
Unknown to Gai, Aruto had collected the backup data of numerous Humagears and used it to create more Humagear Progrisekeys. Because Korenosuke Hiden left all Humagear and Zero-One technology to Aruto in his will, he is still able to use the Zero-One Driver. Despite this, Gai still makes repeated attempts to forcibly shut him down.
After Izu registered a new company online, Aruto and Izu formed HIDEN Manufacturing in hopes of recovering and restoring the Humagears as well as providing support for those who lost a Humagear during ZAIA's mass deactivations. After leaving A.I.M.S, Isamu Fuwa joins HIDEN Manufacturing as a security guard.
Known Employees
Aruto Hiden/Kamen Rider Zero-One - CEO and founder
Izu - Secretary and co-founder
Isamu Fuwa/Kamen Rider Vulcan - Security guard
Appearances
Community content is available under
CC-BY-SA
unless otherwise noted.