Wiki Targeted (Entertainment)
Play Sound
The Gunner A (ガンナーA, Gannā Ē) is a robotic tank that serves as Kamen Rider Accel's support droid. Its AI allows it to operate on its own from Accel. The technology is similar to Kamen Rider Double's Hardboilder and the front unit can also combine with the Gunner A to become the Hardgunner.[1]

Forms
AccelGunner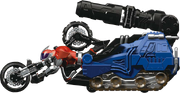 Accel BikeForm can combine with Gunner A to become the Revol Interchange AccelGunner (リボル換装 アクセルガンナー, Riboru Kansō Akuseru Gannā).
This combination is armed with the Gaia Cannon (ガイアキャノン, Gaia Kyanon) and the Gatling Wheel (ガトリングホイール, Gatoringu Hoīru), BikeForm's back wheel turned into a machine gun.
This form's finisher is the Gunner Full Break (ガンナーフルブレイク, Gannā Furu Bureiku): A powerful energy blast from the Gaia Cannon.
Appearances: W Episode 22, 32, 46, Movie War Ultimatum
The Hardgunner (ハードガンナー, Hādo Gannā) is the combination of the front unit of the Hardboilder and Kamen Rider Accel's Gunner A robotic tank. This combination is faster than the Hardboilder and also arms it with the Gaia Cannon.
This form is exclusive to Kamen Rider W Episode 35.
Appearances
References