Grinsha (グリンシャ, Gurinsha) was one of the last survivors of the Femushinmu civilization, having been transformed into a white Over Lord Inves before slaughtering countless weaker members of his kind when his world was touched by the Helheim Forest.
History
He is summoned by Rosyuo to assist Redyue. Under Redyue's leadership, he is ordered to capture a civilian for a sacrifice. Apparently he found where Kouta's sister, Akira Kazuraba and the survivors are hiding. When he was about to be destroyed by Gaim Kiwami Arms and Baron Lemon Energy Arms, he is saved by Redyue and knocked unconscious. The King's Power and the Queen's Resurrection When Redyue leaves the scene, he woke up for another round with the two Armored Riders later. However, he was defeated at the hands of Gaim Kiwami Arms and Baron Lemon Energy Arms. Mitchy's Ark
Revival
Grinsha is revived by Maja and helps subdue Kouta Kazuraba alongside his fellow Over Lords and the deceased, mind-controlled Armored Riders. When Kouta revives all of the fallen Armored Riders to his side, the battlefield becomes open warfare with the Riders, Maja, and the Over Lords all fighting. Fighting New Generation Riders Duke and Sigurd, Grinsha is soon enough destroyed again by their Lemon Energy Squash and Cherry Energy Squash respectively. Kamen Rider Gaim: Final Stage
Personality
He is very loyal to Rosyuo and Redyue and obeys their orders without questions. Even though without knowing he was used by Redyue to testing Kamen Rider Gaim Kiwami Arms' power, he continue to obey Redyue's orders in order to fulfill Rosyuo's wish.
Abilities
Grinsha is shown to be far more powerful than Demushu and Dyudyuonshu, as he is equally matched with Gaim Kiwami Arms. Grinsha wields the Aashuimu (アアシュイム, Aashuimu) sword as his main weapon. Alternately, he can attack with his horn at high speed.

Profile
Grinsha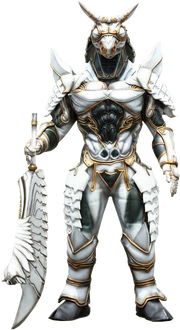 Behind the scenes
Portrayal
Grinsha is voiced by Yuki Anai (穴井 勇輝, Anai Yūki).
His suit actor is currently unknown.
Conception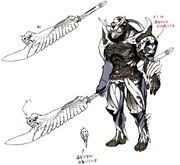 Grinsha was designed by character designer Chuohigashiguchi.

Ethymology
The origin of its name グリンシャ (, Gurinsha) might be coming from べこ (, Beko), which means "cattle" in Japanese.
Notes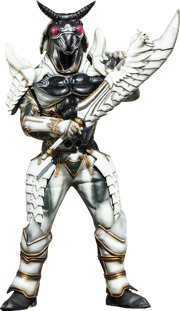 Appearances
External links
Community content is available under
CC-BY-SA
unless otherwise noted.